A data science degree- how important is it in 2022
Explore the importance of a data science degree. How to judge which is a good one and whether it is worth it. What are the alternatives?
Introduction
The increased demand for data-oriented products and solutions has driven up the demand for data scientists more than ever before. Data science job listings have soared, with employers offering mouth-watering packages. The figure below shows how much top tech companies are paying their data scientists.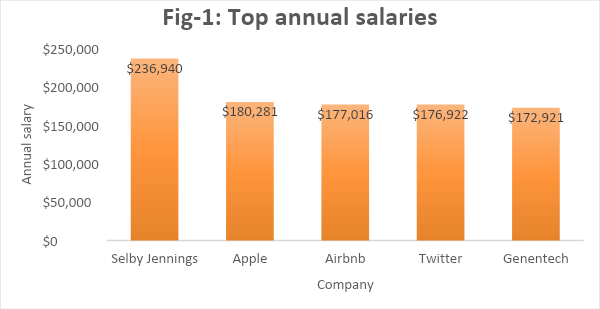 Source: Indeed.com
In recent years, few careers have received the same level of hype as data scientists'. Glassdoor has named data science as one of the best jobs in America (Glassdoor, 2021). Organizations need data scientists to perform a plethora of jobs, from data mining and analytics to building recommender systems. The high demand for data scientists has increased interest in the field, from prospective college students to those already in the workforce. Given the soaring demand for data scientists, several master's programs in data science, business intelligence, machine learning, and other related fields are springing up globally. These programs promise to teach the skills needed to glean business insights from raw data and to help create data science talents (Cote, 2021).
Data science is not just a temporary buzzword, it is a career that is going to be in demand for a long time. Universities are understanding the increasing need for data scientists and are developing programs in response. Data science programs blend aspects of statistics and mathematics with computer science. Given that some of these programs are new, there is a wide range in terms of depth, quality, and breadth of the programs offered. Data science degree programs also require an investment of at least 2 years and can cost thousands of dollars (Vickery, 2021).
This article aims to provide you with comprehensive information on a data science career. We aim to help you enter the data science job market, or enhance your position if you are already there. The next section discusses the relevance of a data science degree, including its advantages and disadvantages, and a discussion on alternatives to a data science degree. This mainly covers massive open online courses (MOOCs), including their pros and cons. A recommendation section will follow, pointing out the best data science MOOCs to pursue. The last sections offer career advice for an aspiring data scientist. (Malmgren D, 2020)
A data science degree—is it worth it?
A formal data science degree offers structure, depth, and social interactions with professors and fellow students. If you fancy these things, then you will benefit from enrolling for a master's degree in data science.
Getting a master's degree in data science can yield benefits if you are already working in the field (Berkeley Extension, 2021). It can give you a career boost by allowing you to apply for a senior data scientist position. Some job ads may specifically mention a master's in data science as a prerequisite. If you don't have a formal degree, you may miss out on these jobs. A master's in data science can also give you depth; you will learn more about data science and network with other data science fans.
Notwithstanding the merits of a data science degree, there are some disadvantages to pursuing a master's in data science. Data science degree programs are expensive, with some demanding more than the median household income in the United States (Tayo, 2021). These programs cannot provide you with any information for free or even cheaply. Many universities are offering their data science master's degrees on campus and online through platforms such as DataCamp, Coursera, and EdX. Professors from reputable universities are creating courses on these very platforms and so the courses are of quality and depth, just like master's programs.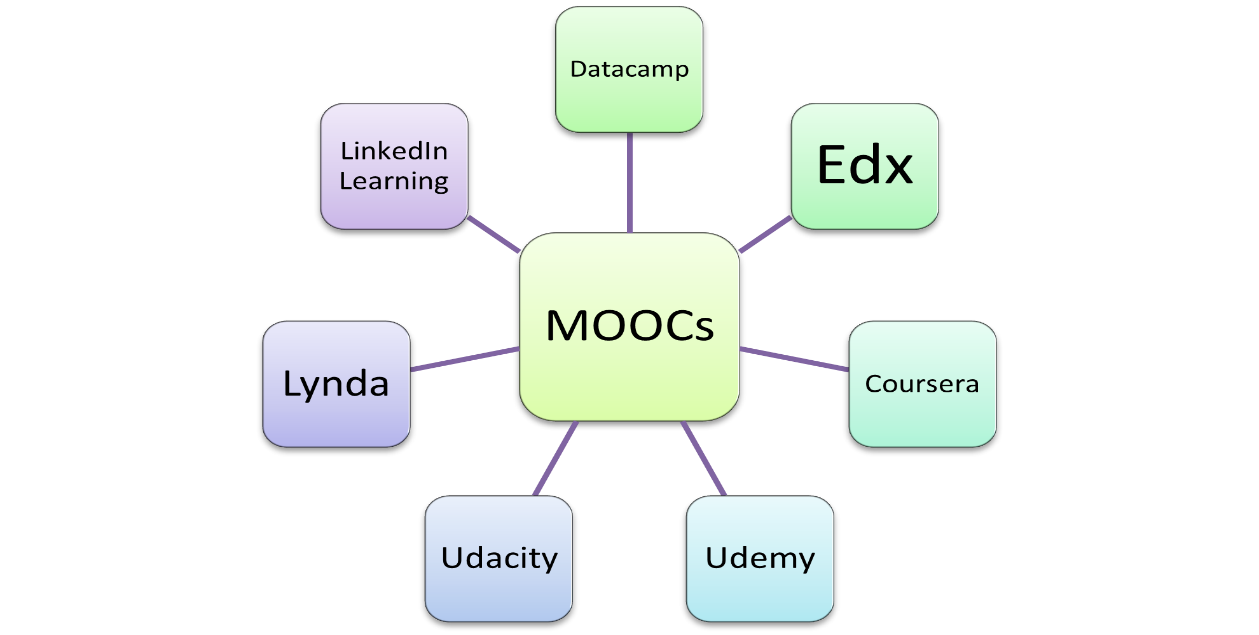 Fig-2: MOOCs platforms
A master's in data science can be worth it however. The ability to master data science is a plus for advancing professionally, and having a master's in Data Science can put you at the front of an interview queue. This is important where pedigree matters to employers. Some employers may even want to look at the schools you went to and your previous employers before deciding to interview you. A data science degree can add a level of prestige to your resume, allowing you to get an early boost in your career.
However, it is possible to learn employable data science skills from online courses on DataCamp, Coursera, and EdX, among others. Therefore, it may be unnecessary to spend thousands of dollars. A data science degree will cost you about $52,000 on-campus and $22,000 online (Masters Portal, 2021). Remember this is on tuition alone, without factoring in living costs. In addition, it will take you about 24 months to complete a master's in data science.
What's the point of spending all that money and time on a master's in data science? Some critics claim that many of the programs are not only expensive but also over-promise and under-deliver for future employment (Vickery, 2021).
While many colleges and universities offer data science degrees, there is still a shortage of data scientists.
Another concern about the explosion of data science programs is that while some graduates will get jobs they like and pay them very well, others may not be so lucky. Some newer data science master's degree programs may over promise students and under-deliver on future employment. Thus, having completed an undergraduate curriculum that covered units in mathematics, statistics, and/or computer science can provide a more comprehensive foundation than a data science master's degree program.
The next section provides information on how to choose a data science degree program.
Choosing a Data Science Degree
Data science is a broad field that encompasses various disciplines, including mathematics, statistics, economics, business management, and computer science. There is no one best path to becoming a data scientist. Everyone's path depends on their background. It is important to know the job prospects for a particular graduate program before committing the time and money (Mastersindatascience, 2021).
Many people working in data science jobs mainly have backgrounds in statistics, math, and/or computer science. Typical data science roles include responsibilities such as data preparation for analysis (cleansing, aggregating, and manipulating) and performing advanced data analysis to uncover patterns and information that help businesses to make informed decisions (Oracle, 2021).
The role of a data scientist includes crafting data preparation strategies, preparing data for analysis, exploring, analyzing, and visualizing data, building models (using programming languages, such as Python and R), and deploying models into applications.
Data scientists don't often work solo. Besides a data scientist, the team may include a business analyst (responsible for defining the problem), data engineer (prepares data), a system architect (in charge of processes and infrastructure), and an application developer (responsible for deploying models or outputs into applications and products).
Understanding what data science is and how it works paves the way for those interested in the field to make informed career decisions. Before moving forward in applying to a data science degree program, consider the following factors:
Know your data science pathway
At the basic level, all data scientists should have foundational skills in data analysis, statistics, MS Excel, and data visualization. There are two main data science career pathways: data-centric careers (such as data scientist, data analyst, machine learning engineer, and data engineer) and business analytics (functional analysis and business intelligence analyst). The infographic below shows some roles and the required skills.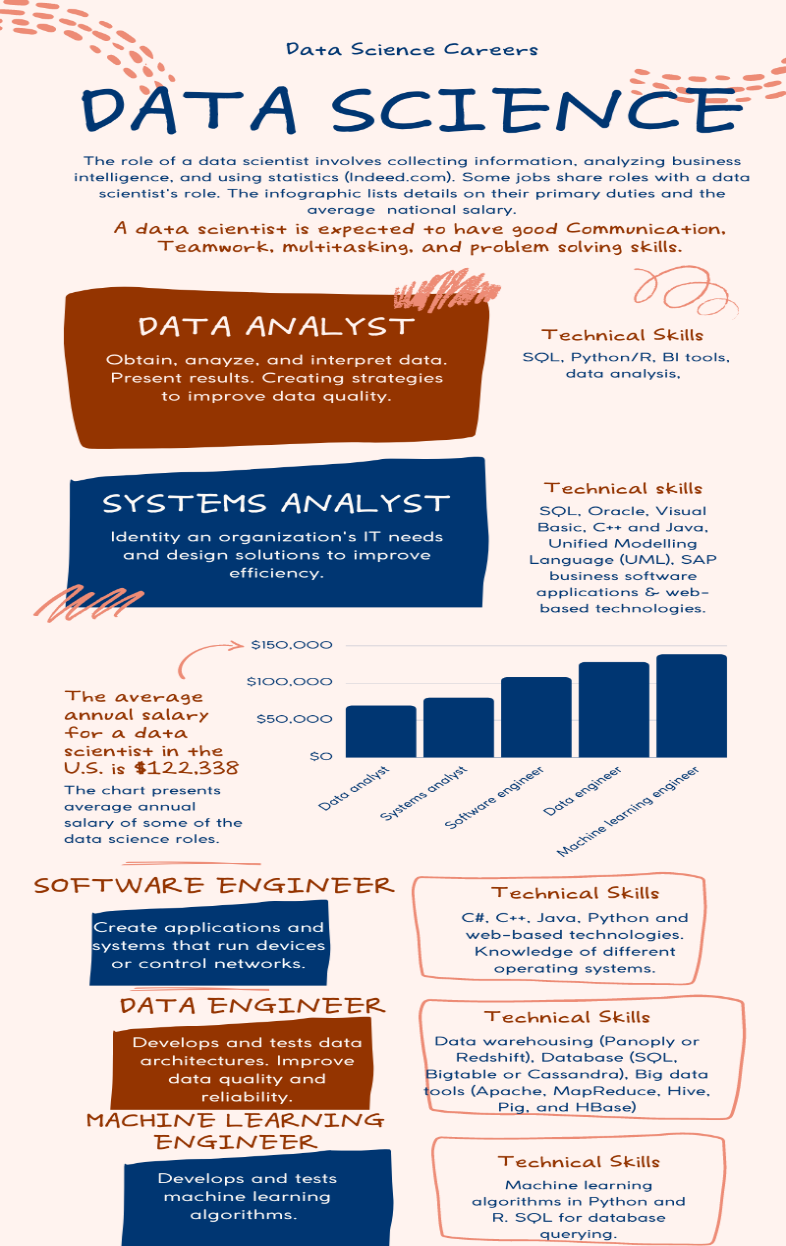 Fig-3: Data science career
You will need to consider the path you want to take and follow a pathway to be a leader in that field. This decision can be life-changing if you are returning to school looking to make a clear career change.
Research the school's reputation
Data science is a hands-on career that requires a lot of depth and breadth. It carries an enormous responsibility. It is important to assess the school's reputation for a program. For new programs, assess the university's reputation, notably in computer science, math, and statistics programs.
Consult about the curriculum's depth and quality
A comprehensive data science curriculum should include statistical, computational, and professional aspects of data science, such as ethical practices. In addition, a curriculum should teach students how to tell data stories to users. This is a key skill that hiring managers are looking for.
Research on the alumnus network
You will need to assess the kinds of jobs that graduates hold, and (if possible) the approximate number of those that are working. You will also need to know about networking opportunities. This will ultimately help you get a job in the field.
Ask about opportunities to build
projects for your data science portfolio A data science project portfolio is more valuable than a resume. A portfolio will outline your projects, including codes and documentation. This can help you get a data science job faster than by just presenting your resume. You need to make sure that the data science degree program allows you to build a portfolio of projects as you go. It is a plus to have a capstone project at the end of the program. Hiring managers hunt for data science talent that has a strong background in skills like Python, R, and SQL. A candidate should have excellent communication skills, and be able to present their results and findings to a non-data science audience. Your resume should outline these skills and link to projects you've completed.
Enquire about the program's value to employers
If you are looking to pursue a data science career, then you will need to understand what skills hiring managers are looking for. As a prospective data scientist, choose the best education. There are many opportunities for you to develop and hone your skills in data science. This does not mean that you should quickly sign up for the least expensive option. You will likely want to use your time and money wisely. For every input, you will want to make sure that you get something meaningful that can boost your portfolio or resume.
Can you become a Data Scientist without a degree?
You can become a Data Scientist without a formal degree. A master's degree indeed teaches you a lot about data science. You'll become a confident coder and have strong statistical and mathematical knowledge. However, you don't have to get a university degree to gain these skills. There are many free and paid online resources that'll teach you the ins and outs of programming and data science. Having the right skill set is not enough. You will need to prove your competency. While a master's degree does show that you've put in the time and effort to study data science, it is not the only way to equip yourself with data science skills. Instead of studying for a degree, you can build projects using knowledge from online courses and showcase them to prospective employers (Berkeley Extension, 2021). While it is possible to become a data scientist without getting a master's degree, you will need to carefully choose what you learn.
The rise of massive open online courses (MOOCs)
Technological advancement has completely revolutionized the education sector. Online education has turned what used to be 'distance learning' into live and interactive learning. Dave Cormier introduced the term 'MOOC' to refer to a massive open online course in 2008 (Cormier, 2008). MOOCs provide a learning platform that is not limited by time and place. A learner from one corner of the world can get real-time access to a course offered in another corner of the world. All you need is an internet connection. According to Class Central (Class Central, 2021), there are over 1,500 data science MOOCs—with each course averaging over 50,000 enrollments. The success of MOOCs is massive; over 75 million learners have enrolled. In early stages of development, MOOCs suffered problems like student motivation, dropout, and grading of MOOCs. There are issues affecting student motivation, such as learning support, content design, visuals, and self-assessment. Thus, very few universities globally have implemented MOOCs in their curriculum (Class Central, 2021).
Online MOOCs providers have come to fill the gap. MOOCs are widely popular, educating millions of people looking to learn tech skills. The information taught in MOOCs is the same as in degree programs. Online learning platforms like DataCamp are also great for new students, especially those making a career change to data science. You can quickly learn the fundamentals of programming in key languages like Python and R. DataCamp conveniently groups skills required for a particular career into 'career tracks.' They also offer many assignments and examples for you to practice concepts and hone your skills. If you want to know more about DataCamp, follow this link.
Advantages of Data Science MOOCs
MOOCs offer free and paid online courses and are available for anyone to enroll. MOOCs provide an affordable and flexible way to learn new skills (Kursun, 2016). MOOCs cover a broad spectrum of online courses in leadership, analytics, data science, machine learning, professional skills, engineering, business & management, humanities, computer science, and much more. These courses are usually offered by top universities across the world, like MIT, Harvard, UC Berkeley, and the University of Michigan. Some courses are also offered by big corporations, such as IBM, Google, and Microsoft. The greatest advantage of MOOCs is the opportunity they offer to learn from leaders and experts, and the privilege of taking courses from the world's top universities without pouring thousands of dollars into a degree. Even if you already have a computer science background, MOOCs will allow you to gain the skills to prove that you can be hired in data science roles (Romero, 2017).
Disadvantages of data science MOOCs
If you are interested in exploring the field of data science, I would recommend starting with MOOCs. After building a solid background in data science fundamentals, you may then use the methods discussed in the next section to advance your knowledge in the field. There are numerous data science MOOCs available online. Thus, choosing which ones are right for you can be a challenge.
Most data science MOOCs providers offer a wide range of courses, from introductory-level courses to advanced courses. These courses are good for individuals that don't have a solid background in a complementary discipline (physics, computer science, mathematics, engineering or accounting). There are even data science specializations that are best in terms of quality and rigor for advancing those with deeper knowledge in complementary disciplines. In summary, MOOCs cover a wider variety of students than data science degrees. It is this wide variety that can present a challenge to beginners when deciding on the appropriate courses to pursue (Parker, 2021).
Looking for the best data science course?
This article recommends DataCamp as the best platform for MOOCs (DataCamp, 2022). DataCamp is on a mission to change the world by helping individuals and companies to become data fluent. DataCamp specializes in educating the best data scientists in the world.
Why DataCamp? DataCamp's courses are both engaging and effective for learning data science. DataCamp courses are highly interactive, hence boosting student motivation. There is no other MOOCs platform that focuses on data science like DataCamp. At DataCamp, students don't need to install any software to run programs in key languages such as SQL, R, and Python. The platform leverages artificial intelligence to personalize learning and provide instant feedback to students. Students spend at least 70% of their time on the keyboard, actively solving challenges. They receive instant and personalized feedback on coding challenges. This approach not only leads to higher engagement but also allows students to build their skills and experience with programming languages fast (DataCamp, 2022).
DataCamp also has an interactive practice mode that is great for students learning new skills. Datacamp's interactive practice mode encourages students to practice regularly. It is through spaced repetitions they can increase knowledge retention.
DataCamp has also invested in a mobile app that allows students to learn new skills and practice coding on the go.
At DataCamp, students learn to make better decisions based on data and generate insights from data. They can also work on real data science projects, which help them transition quickly into the real world of data science. DataCamp's primary aim is to deliver a learning experience for students that is close to what they would work on in an actual data science job. For example, if you have a background in software engineering but lack a background in data, DataCamp offers you the opportunity to improve your data skills. You can learn how to perform data analysis and build data visualizations. You can then build data analysis projects in a portfolio that you can share on GitHub (DataCamp, 2022).
Things that an aspiring data scientist should do in 2022
Set definitive career goals as a data scientist
There are two primary data science pathways that allow you to use your data science skills to grow data-centric careers: become a data science professional—pursuing jobs like data analyst, database developer, or data scientist—or transition into an analytics-enabled role like a functional business analyst or a data-driven manager. Both career paths require foundational skills and knowledge in data analytics, programming, data management, data mining, and data visualizations.
DataCamp has a unique skill assessment tool. It allows you to test your existing skills in a subject and suggests a tailored learning path for you. You'll get to see how much you know and what you still need to learn. It's an excellent tool for finding skill gaps and learning everything about the topic.
The most significant advantage of DataCamp is the availability of career tracks that help you learn all about a topic. A single membership fee unlocks full access to all these features. You don't have to worry about course quality, as only certified subject experts are available as instructors.
Assess data science trends
Data science is a rapidly developing industry. It needs professionals who can keep up with the current industry standards. The internet of things (IoT), analytics, and other open-source tools are the trends that are most likely to stay in 2022. However, merely learning about these trends will not help one navigate their career. It is imperative to understand and apply these learnings to one's career. You can get information on the latest technology and tools from MOOCs available online.
Network with people in the data science community
It is important to get in touch with people who have similar interests in data science. Networking with such people can help you access relevant information regarding important resources and tools. Networking can also help you gain valuable insights from industry professionals. You can access some professional groups via LinkedIn and Quora. It is important to join relevant data science groups that apply to your career path. On LinkedIn, you can join groups such as Data Science and Artificial Intelligence. Identifying and engaging with data science communities is vital for career progression.
Master key skills
As a data scientist, you need to know a combination of programming languages. Key skills include database querying with SQL, data analysis in python and/or R, and data visualization tools, such as power BI and Tableau. You can dedicate 2022 to working on key programming languages and visualization tools. Data scientists use visualization tools to tell data stories. Data is meaningless on its own. A data scientist must present results skillfully to help executives in making informed decisions. You will need to practice and master data storytelling for people who are not from a data science background.
Build your Data Science Portfolio
You should understand that getting certificates alone will not make you a data scientist. Data science is a hands-on career that requires the application of various skills. After getting your data science course certificate, you may want to seek an internship and/or take part in real-world projects on platforms like Kaggle and GitHub. The most important part of building a good data science portfolio is to figure out what to add to your portfolio. In your data science portfolio you need to have some projects on GitHub, your website, or your blog. You should structure each project properly to allow a hiring manager to evaluate your skills quickly.
Conclusion
This article has outlined the merits and demerits of getting a data science degree when compared to enrolling for MOOCs. In summary, a master's degree in data science will surely provide you with in-depth knowledge. Studying for a degree may make you more likely to land a job and even pursue a research degree with a recognized university. However, this does not mean that a master's degree is necessary. The high cost of pursuing a master's degree in data science is prohibitive, especially when funding is an issue. You can get the same knowledge online at a cheaper cost.
Taking a good MOOC with a recognized provider like DataCamp can increase your chances of landing the same job without a master's degree. As a result, you may not have to invest your time and thousands of dollars pursuing a university degree, since MOOCs may provide you with the same knowledge.
By pursuing a well-guided data science course with a leading provider like DataCamp, you will gain current practical skills that increase your chances of landing a good data science position.
References
Berkeley Extension. (2021). Is a Degree in Data Science Worth It? Pros, Cons & Alternatives to Consider. Retrieved from Berkeley Extension: bootcamp.berkeley.edu/blog/data-science-degree-worth-it/
Class Central. (2021). Data Science. Retrieved from classcentral.com/subject/data-science
Cormier, D. (2008). The CCK08 MOOC–Connectivism course, 1/4 way. Retrieved from Dave's Educational Blog: davecormier.com/edblog/2008/10/02/the-cck08-mooc-connectivism-course-14-way/
Cote, C. (2021). WHAT IS DATA SCIENCE? 5 APPLICATIONS IN BUSINESS. Retrieved from Harvard Business School: online.hbs.edu/blog/post/what-is-data-science
DataCamp. (2022). Datacamp. Retrieved from Datacamp: app.datacamp.com/learn.
Glassdoor. (2021, 12 20). 50 Best Jobs in America for 2021. Retrieved from Glassdoor: https://www.techrepublic.com/article/the-10-best-tech-jobs-in-america-for-2019/
Kursun, E. (2016). Does Formal Credit Work for MOOC-Like Learning Environments? The International Review of Research in Open and Distributed Learning, 17.
Malmgren D, M. S. (2020). How Do I Become a Data Scientist? An Evaluation of 3 Alternatives. Retrieved from IDEO: ideo.com/datascope/how-do-i-become-a-data-scientist
Masters Portal. (2021). Tuition Fees for Master's Degrees in the USA - Average Costs for Popular Subjects. Retrieved from Masters Portal: mastersportal.com/articles/1762/tuition-fees-for-masters-degrees-in-the-usa-average-costs-for-popular-subjects.html
Mastersindatascience. (2021). Master's in Data Science—Your Guide to Data Science Graduate Programs in 2021. Retrieved from Mastersindatascience: mastersindatascience.org/
Oracle. (2021, 12 21). What is Data Science? Retrieved from Oracle: https://www.oracle.com/ke/data-science/what-is-data-science/#:~:text=Data%20science%20encompasses%20preparing%20data,leaders%20to%20draw%20informed%20insights.
Parker, B. (2021). MOOCs: What are they and why are they so popular? Retrieved from ZDNet: https://www.zdnet.com/education/moocs-what-are-they-and-why-are-they-so-popular/
Romero, C. &. (2017). Educational Data Science in Massive Open Online Courses. Wiley Interdisciplinary Reviews: Data Mining and Knowledge Discovery.
Tayo, B. O. (2021). DataScienceHub. Retrieved from KDNuggets: kdnuggets.com/2020/07/data-science-moocs-superficial.html
Vickery, R. (2021). Why You Shouldn't Take a Data Science Masters Degree. Retrieved from Towards data science: towardsdatascience.com/why-you-shouldnt-take-a-data-science-masters-degree-c40c2f02f1e1