Why Data Culture Matters
This blog post summarizes how and why data culture is a variable in any successful analytics endeavor, the meaning of data culture, and how it is an extension of organizational habits.

Sudaman Thoppan Mohanchandralal, Regional Chief Data and Analytics Officer at Allianz Benelux, joined us to discuss the impact of building a data culture within an organization. If you want to learn more about Sudaman's expertise in building data cultures, you can watch the full webinar.
Why is it important to build a data culture?
When customer needs evolve, the business needs to evolve with it. Over the last decade, it has become easier for organizations to collect enormous amounts of data that can serve as the basis for innovative products, novel business strategies, and increased operational efficiencies. Nevertheless, the majority of organizations barely extract value from their data. The biggest challenges to creating a data-driven organization are not technical, they are cultural. Sudaman defines company culture as an aggregated and collective set of habits carried by the people within the organization. Culture design is not an easy task, it requires time and discipline to build organizational habits.
During the webinar, Sudaman explained how industries have shifted from mass-market to personalized services. For example, in the financial industry, the relationship with customers has evolved to a more personal experience, where customers are the center of an ecosystem of service providers that are creating personalized experiences for them. Data is the engine that powers this personalization, and building a data culture empowers organizations to maximize the value it extracts from it.
"Data culture is not just an option to succeed in data analytics initiatives, it is business-critical" — Sudaman Thoppan Mohanchandralal
How to build habits that lead to a data culture?
Building data culture starts with the reinforcement of habits and routines within the organization. Habits define the culture, and data-related habits and routines will transform the organization's culture into a data culture.
Sudaman referred to the book "The Power of Habit" by Charles Duhigg, which defines a habit as a three-element cycle. A habit starts with a cue or trigger, then a routine, and finally the reward. Every action in an organization is led by a specific reward and a trigger; however, the routine to obtain the reward can be changed to improve the organization's habits.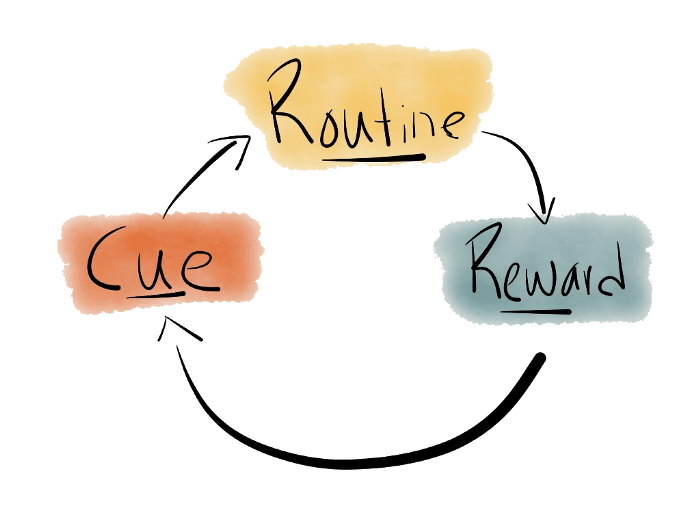 Sudaman mentioned that "the golden rule of habit change is to keep the cue, provide the same reward, but insert a new routine". While evaluating the decision-making habits at Allianz Benelux, the Sales and Distribution Team realized that data was not as heavily used within the broker steering process. In this case, the routine was steering the broker, the reward was the business, and the cue was the timeframe and seasonality. The team was able to improve the cue and reward by implementing more data-driven decisions within the broker steering. More importantly, to change the routine and enable a high level of data culture, organizations must keep in mind three key elements:
Common language: the key to data culture success is to combine data literacy and subject matter expertise.
Data governance: it is important to determine responsibilities for data ownership within the organization.
Continuous measuring: building a data culture involves constant culture reassessment. Hence, organizations need to implement a continuous learning loop.
Obstacles towards building a data culture
There are two main hurdles that commonly stop companies from building a data culture.
Hurdle #1 - Prioritization: besides understanding the importance of data culture, it is important to deal with the conflicting and unavoidable urgencies that pop up. Every organization has limited resources, hence, it is important for managers to know where data culture is in the list of priorities.
Hurdle #2 - Sustained Investments: data culture transitions take time and require constant reinforcement. Hence, it is important to maintain a consistent allocation of time and resources while the transition takes place.
Before the organization decides to allocate time, effort, and money into building a data culture, it is important that they make sure to clarify three main factors.
Define your value: Why does an organization exist, and how does it maximize value for its customers?
Measure deviation: What type of data is available and needed, and how can it be leveraged to further maximize value for customers?
Appropriate re-prioritization and intervention: What should the organization do differently to develop the capabilities to extract value from data at scale?
Finally, organizations must remember that achieving a data culture and data literacy within the organization is a continuous and iterative process.
How did Allianz Benelux operationalize its culture transformation program?
While scaling out its culture transformation program, Allianz Benelux developed a data-driven decision-making (D3M) framework, designed to measure and evaluate the impact of the data culture. The D3M framework can be broken down into three main components:
Dimensions: these are universal in nature and measure the insights of data culture. Among these are data, strategy, technology, people, process, customer centricity, experimentation.
Operationalization areas: These can be customized to the needs of the company based on the main areas of operation. The Allianz Benelux team determined the following: data infrastructure, leadership, tools, data literacy, embeddedness, customer centricity, experimentation.
Subjects: subjects offer more granular insights around dimensions and operationalization areas. Among these are data availability, vision and strategy, usability, business integration, experimentation, customer-centricity.
Sudaman explained how his team implemented the D3M framework by using surveys to derive scores for every dimension, operationalization area, and subject. By using this feedback loop, Allianz Benelux was able to determine the change in scores, and evaluate how and when to intervene in its culture change program. Through surveys, Allianz Benelux was also able to provide personalized learning combining external and internal resources from the global Data Analytics Academy for individuals to shore up their skill gaps, therefore elevating Allianz Benelux's data culture and data fluency.
Successful ingredients of a data culture program
As mentioned by Sudaman, data culture starts with data literacy and skills. This is why the Data Analytics Academy partnered with DataCamp to roll out three custom learning programs with real-world data covering the gamut of data skills, from data literacy to data analysis and data science. In just a few months, more than 1000 Allianzers around the world are using DataCamp to improve and learn the fundamental skills needed to extract value from data at scale. This has allowed Allianz Benelux to maintain continuous reinforcement of their data culture and increase the rate of data literacy within the company.
In summary, to build a data culture, Sudaman recommends that organizations have a clear idea of the following:
Know your impact. How are we generating value for customers?
Know the moves you need to make. What kind of decisions are different business functions making?
Know your default behavior. What are the current habits of the organization?
Reprogram redundant behavior. What habits are stopping the organization from adapting?
Prioritize energy. develop a framework that fits the needs and priorities of the organization.
Develop project lifecycle: monitor and measure ROI. Iterate every time it is needed.
If you want to learn more about Sudaman's insights on building data cultures, you can watch the full on-demand webinar.

---
---
← Back to blog