Anita Sarma
Associate Professor at Oregon State University
Anita Sarma joined Oregon State University in September 2015 where she is an associate professor in the School of Electrical Engineering and Computer Science. She holds a Ph.D. degree in information and computer science from the University of California, Irvine. Her research interests are at the intersection of software engineering and computer-supported cooperative work.
See profile
.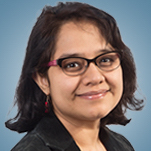 Projects led by Anita Sarma
Find the true Scala experts by exploring its development history in Git and GitHub.
GuidedData ManipulationData VisualizationImporting & Cleaning Data