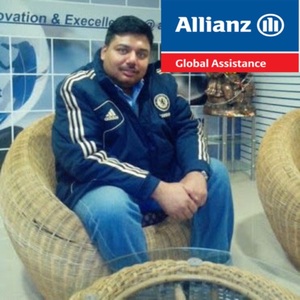 Yogesh Aggarwal
Coordinator
Allianz partners | Gurgaon, Haryana, india
DataCamp Course Completion
Take a look at all the courses I've completed on DataCamp.
My Work Experience
Where I've interned and worked during my career.
Allianz Partners | Jun 2022 - Feb 2023
Coordinator
The AWP is so amazing place to work that you will feel keep doing positive work for everybody in Allianz partners. It's one of the most edge place to work and show your talent. Opportunities are endless with Allianz partners. Management of Allianz partners is remarkable and cooperative that it help every individual to grow, develop, nurture, expand to new horizons, giving ample opportunity to everyone in the company for people who love to work for Allianz partners and show their talent for betterment of the company. I learned a lot about lot of things. Allianz partners is the only company which keeps me alive always . Always love to work under the higher management team of Allainz partners . So systematic and understanding cooperation. A bond of perfect organisation in Gurgaon . Thank you always for supporting me in my future endeavours and helping me grow. Respect every word what AWP ceo and directors say and communicate so that the whole team reaches to the goals of higher management. Will always love to work under Top management learning all the skills to handle difficult tasks and understanding roles to manage in all the ways for betterment of the company. Allianz partners is a giant under Allianz the mammoth. Always love to hear from higher management. Love you Allianz always for my entire life. Communication · Problem Solving · Teamwork · Statistics · Business Analysis · Data Analysis · Microsoft office 365 · Cybersecurity · Tally ERP · Accounting · Microsoft Word · Leadership · Ownership · Microsoft Office · Finance · Financial Modeling · Mergers & Acquisitions (M&A) · Financial Reporting · Report Writing · Leveraged Buyouts (LBO) · DCF Valuation · Financial Statements · International Financial Reporting Standards (IFRS) · Financial Analysis
TRADE FOR LESS | Mar 2010 - Mar 2021
TRADE FOR LESS · Self-employed
Live analyzing of financial markets based on derivatives data is what I am doing from last 10 years even when I was active in different roles of jobs. As most of the fund managers work on derivatives (as more reliable, easy & fast way to do trades). For markets I was using live feeds through different players who are providing data on Open Interest specifically for NSE through TRUEDATA and ICHARTS, for CME I was using rithemic with level 10 data, similarly I was using the same for NYSE but with the data for ARCA options. Creating own excel data sheets with power query, different new formulas of excel 365, maintaining data source as folders on drive and updating them regularly. Reaching to a point after 5 to 7 years of research, where you will feel satisfaction of "you get the right thing in right manner with results". I was using Ninja trader to analyze for CME futures contracts monthly, analyzing for Cot data from CFTC to predict next move on futures of commodities, analyzing the data on different indicators and understanding will that make any difference to the specific stock in live market to compare with weekly, monthly and yearly charts. I came to lot of conclusions after understating the data of OI when the contracts get over. It shows specific delivery view of the stocks which change the mindset for what you must do live for next day till end of next contracts. Similarly, the same I was doing with NSE stocks in India, and I came to more and more predictable data which became a major understating.
UnitedHealth Group | Apr 2015 - Sep 2015
Medical Coder
UHG IS A BRAND AND PULSE OF USA IN MEDICAL INSURANCE. Amit Joshi sir gave me ample opportunity to grow and expand. Amit sir a remarkable person, wonderful human being and a dedicated to uhg completely. The whole management team of optimism is so remarkable that they helped me all the ways in Traning completing ceus and grasping new technology in JIRA for enhancing medical coding automation Software's. Optum is so amazing place to work that it keep giving you edge to learn new technology everyday in medical science. The teams are who do medical research in uhg are so advanced and sophisticated that you need time to learn what they do to get and met with the results so sophisticatedly. Amit Joshi is a champion. Uhg is one of the best companies I ever worked with. Advanced always amazing work culture and multidimensional management enhancing uhg every pulse of second as soon as the innovation happen in medical research, medical coding . I really miss working for Amit Joshi. Data Analysis · Cybersecurity · CPT Coding · Medical Coding · ICD-10
LTD.) · Full-time | Nov 2008 - Nov 2009
Sales Manager
Industry: Import/Export/Business branding/ chemical industry. Job Profile: Searching for new dealers and sales agents in India who can Mark sales. I started selling material on my own in open Delhi market. Later I was in searching division, I Got rights for first company who was looking for opportunities in India "Muangkuang chemicals". Then we kept Meeting people in and around India for further business and later I got Offer to work for an international client Spolytech, we introduced Company in Middle East and got good business. I started from scratch and kept on building my position with my regular efforts. Searching for new international clients and raw material providers, working on hovers, understanding companies who are interested to give sole distribution Rights for India, raw material procurement. Projects: 1. Company- Spolytech - 2 Months Creating Market in Middle East for Spolytech products in UAE. Generating Sales for Further Business. Presenting the company in BIG 5(UAE) Website: https://www.spolytech.com/eng/ 2. Company- Muang kuang chemicals -3 Months Generating Business for Muang kuang chemicals in India. Generating sales for further Business in India. Website: https://mkchem.en.ecplaza.netIndustry: Import/Export/Business branding/ chemical industry.
vCustomer | Apr 2007 - Sep 2007
CCE (CUSTOMER CARE EXECUTIVE)
Work Description: With V-customers I came to know how to handle Situation's when customers were not happy with the services. It may be Service or product, but everything matters, when you are working on Behalf of your client. It becomes more sensitive to be prefect and precise with not a single word mistake for product and service description. Handling international calls for internet service providers, providing Support to customers who are unable to use internet in U.S.A, International Call center with fantastic working environment for Employees.Industry: BPO Work
Indian Armed Forced | Jan 1999 - Dec 2005
Canteen Manager
Work Description: I worked as a canteen manager. I was handling day to Day routine of managing staff. Ordering items going short in the store. Providing products as per the needs of the people. Understanding Demands of the officials. Working with them for procurement of items they need officially. My family was financially not working well at that point of time so helped my family and supported myself to study further, be something in life.
My Education
Take a look at my formal education
Bachelor of Business Administration - BBA, Business Administration and Management, General
Algappa university | 2010