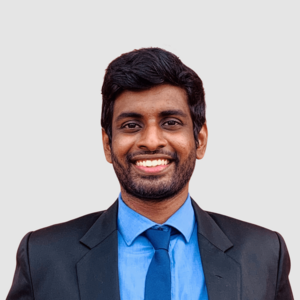 Arunn Thevapalan
Senior Data Scientist & Technical Writer
DataCamp Course Completion
Take a look at all the courses I've completed on DataCamp.
My Work Experience
Where I've interned and worked during my career.
DataGrads | Feb 2022 - Present
Founder & Lead Data Scientist
Building a one-person business on the side, in the crossover of data science and writing. Services - I help data science & AI companies with Content Strategy, Technical Writing and Upskilling Data Teams. You can check www.datagrads.com and drop a mail at [email protected] to talk more.
YData | Aug 2021 - Present
Data Scientist
● Build use cases from solution designing, data preparation, model training, experimentation, evaluation, and creating solution frameworks in the domain of data privacy, synthetic data and data-centric AI. ● Founding member of the Data-Centric AI Community, growing to 1000+ members within 6 months of launch and writing articles of 500K+ views driving open-source partnerships.
John Keells Holdings PLC | Sep 2020 - Mar 2022
Senior Data Scientist
● Led use-case teams of 4 for problem scoping, solution designs, architecture designs, optimizing use-case pipelines, and migrating machine learning models into production in the retail domain. ● Fresh Promotions Effectiveness: Predict best-performing promotions for fresh produce and an evaluation framework leading to an annual business impact of 80 Million LKR. ● Premium Personalization: Segment high-value customers and design personalized offers to maximize margin leading to an annual business impact of 75 Million LKR. ● MLOps Feature Store: Propose and implement a customized feature store architecture for the organization, and formulate a process for data science teams to follow MLOps best-practices.
Trabeya | Sep 2018 - Sep 2020
Machine Learning Engineer
● Pioneered the development of 3 AI-suite products from researching, prototyping, modelling, deployment to the cloud environment, and pitching the benefits of the products to stakeholders. ● Led teams of 4 to develop bespoke solutions based on client needs involving problem scoping, building data warehouses from siloed data sources, model building and dashboard development while handling weekly client meetings following agile development practices. ● Rapid implementation of proof-of-concept projects involving research on the latest cutting-edge technologies in computer vision and data privacy, assessing the viability of a bespoke solution/addition to AI-suite
My Education
Take a look at my formal education
Master of Business Administration - MBA, Management of Technology
University of West London | 2020
Bachelor of Technology, Computer Science and Engineering
National Institute of Technology Durgapur | 2018