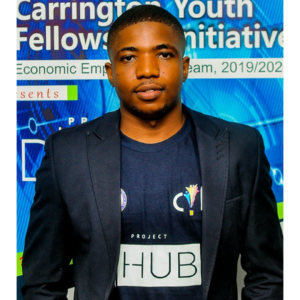 Victor Ndukwe
Business Analyst
AXA
DataCamp Course Completion
Take a look at all the courses I've completed on DataCamp.
My Work Experience
Where I've interned and worked during my career.
AXA Mansard | Apr 2022 - Present
Business Transformation Analyst
TASCK | Nov 2021 - Apr 2022
Digital Marketing Strategist
PureForm Pet Health | Apr 2019 - Jan 2021
Digital Marketing Strategist
• Led the strategy development & execution of Black Friday and Cyber Monday sales campaign that saw sales increase. We surpassed the sales KPI by 22%. • Proposed & worked with the development team to revamp the Shopify website, changing the look and feel of the old one. This change increased the conversion rate and website session time. • Implemented full SEO strategy on the website. Researched keywords, created blog posts and performed on-page SEO tactics that saw the website traffic increase by 800+ unique visits weekly. • Collaborated with the director to create a campaign to get user-generated content from pet parents organically. We recorded massive success as about 120 pet parents filled in for the campaign, with about 50 new leads generated.
Jelurida Africa | Jun 2019 - Jan 2020
Digital Media Representative
• Digital media landscape grew from 0 followers and engagements to over 1k+ organic Twitter followers plus an average of 50+ engagements per post. • Researched and wrote two long-form articles on the blog weekly. • Handled the media coverage for the finals of the Campus blockchain hackathon held in Abuja. • Secured tech media partnerships that saw the brand's articles and reports in media houses like Techpoint, Vanguard, Nation and other tech blogs. • Successfully organized blockchain conferences to sensitize the public about the impact of blockchain technology in various industries.
Young Innovation Leaders Fellowship | May 2019 - Oct 2019
Team Lead, Project-Based Learning solution team.
I worked with other young minds at the Young Innovations Leaders (YIL) fellowship in developing a solution to improve the learning and teaching of STEM-related subjects in secondary schools. I was inducted a YIL Fellow afterwards. Within this position, I functioned as the team lead for the Edtech project we were working on. I organized the team members and got everyone up and doing for the period of 4 months, after which our solution was ready and pitched to investors.
Acadium | Mar 2019 - Jun 2019
Digital Marketing Apprentice
• Distil briefs, brainstorm with relevant teams and develop marketing strategies that are focused on digital media and Sales. • Conduct user research to get good grasp of target audience segmentation and draw relevant insights. • Create end-to-end campaigns that improve brand perception, increase top of mind awareness and encourage engagement. • Analytics and Reporting. • Responsible for analyzing data for insights and implementing winning activity plans that deliver on objectives.
KAYBABS Consult | Feb 2019 - Jun 2019
Program Management Intern
● Scoping, architecting and managing both internal and external communications aimed towards the success of the project. ● Overseeing and managing development of social media & content marketing campaigns. ● Preparing project reports and analytics. ● Responsible for managing digital accounts. ● Management of digital team - graphics designer, printing press, volunteers and assisting in concept development and creatives for online campaigns. ● Build and Manage online communities of university students across the country.
Dahiru Maigana college of health science and technology, Maigana. | Apr 2018 - Dec 2018
Lecturer in Mathematics
Served as a National Youth Service Corp (NYSC) member in Kaduna and i was employed to teach First year students Mathematics and Physics as a Part time Lecturer.
National Youth Service Corps | Jan 2018 - Dec 2018
Mathematics Teacher
-Taught Mathematics to senior secondary school students -Set examination questions and supervised both internal and external examination. -Organised activities like football and science competitions among the students.
Global SNCO West Africa Ltd. | Apr 2017 - Dec 2017
Customer Service Manager
I worked as a Customer Service staff and also Managed and supervised the Customer Service Team of the firm and gave feedbacks and reports to the CEO.
My Education
Take a look at my formal education
Growth Marketing 
CXL | 2021
Bachelor of Science - B.Sc, Mathematics and Computer Science
Ebonyi State University, Abakaliki. | 2016