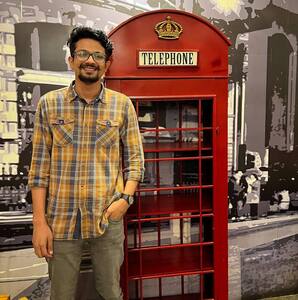 Data Operation Officer
InsideMaps Inc | Bangladesh
My New Certification
Data Analyst Associate
My New Course
Exploratory Data Analysis in SQL
My New Project
When Was the Golden Age of Video Games?
My New Certification
Data Analyst Associate
Passionate Data Analyst | Turning Data into Insights | Certified Data Analyst | Officer, Data Operations @InsideMaps
My Certifications
These are the industry credentials that I've earned.
Other Certificates
DataCamp Intermediate SQL Queries
DataCamp Understanding Data Visualization
DataCamp Introduction to Statistics
DataCamp Introduction to SQL
DataCamp Intermediate SQL
DataCamp Joining Data in SQL
IBM Data Analysis with Python
IBM Python for Data Science, AI & Development
IBM Python Project for Data Science
IBM Databases and SQL for Data Science with Python
IBM Data Analysis and Visualization Foundations Specialization
IBM Data Visualization and Dashboards with Excel and Cognos
IBM Excel Basics for Data Analysis
IBM Introduction to Data Analytics
Coursera Introduction to Data Analysis Using Excel
Coursera Linear Regression for Business Statistics
Coursera Business Statistics and Analysis Specialization
Coursera Business Statistics and Analysis Capstone
Coursera Business Applications of Hypothesis Testing and Confidence Interval Estimation
Coursera Basic Data Descriptors, Statistical Distributions, and Application to Business Decisions
Coursera Business Operations Support in Google Sheets
DataCamp Course Completion
Take a look at all the courses I've completed on DataCamp.
My Work Experience
Where I've interned and worked during my career.
InsideMaps | Aug 2023 - Present
Officer, Data Operations
What I do: • Maintain, update, and verify databases with precise customer and account data; liaise with customers and sources for validation. • Analyze policy documents, extract pertinent data, and input into the platform; ensure data accuracy. • Organize and structure source data for efficient input processes; prioritize tasks as per guidelines. • Accurately input detailed customer and account information, maintaining strict attention to detail. • Follow established procedures, and policies, and regularly update supervisors; achieve team targets.
Eskimi Limited | Apr 2022 - May 2023
Associate Data Analyst
What I Do: • Retrieve data from various systems. • Verify data by comparing it with the source document. • Study business data and prepare trends. • Propose recommendations to the business team based on data analysis. • Prepare periodical reports.
bZm Graphics Limited | Apr 2021 - Oct 2021
Senior Production Analyst
Responsibility: •Create, Analyze and maintain the KPI dashboard of the production team. •Forecast the required human resources with the production capacity and demand. •Plan, implement, and control the production system with continuous improvement. •Ensure efficient collaboration and coordination between the Production team & Management. •Supervise the Production Analysts and other production teammates.
bZm Graphics Limited | Jul 2020 - Mar 2021
Production Analyst
Responsibilities: •Analyze production, identification, and solve problems. •Plan, Implement, and control the production schedule by preparing and maintaining the production report. •Monitor and review the performance of staff and organize necessary steps for improvement. •Proven strong leadership skills with the ability to motivate, inspire and build a high-performing team.
My Education
Take a look at my formal education
Bachelor of Science - B.Sc, Mathematics
Khulna University | 2020
Higher School Certificate, Science
BCIC College, Dhaka | 2015
Secondary School Certificate , Science
Mirpur Bangla High School And College, Dhaka | 2013