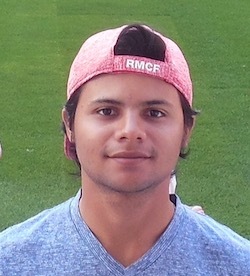 David Pinedo De La Hoz
Research Data Analyst
New York University
My New Course
Introduction to Python
My New Project
Introduction to DataCamp Projects
My New Track
Importing & Cleaning Data
My New Course
Introduction to Python
Data explorer, embarking on expeditions to uncover hidden insights.
My Work
Take a look at my latest work.
My Certifications
These are the industry credentials that I've earned.
Other Certificates
Google Google Cloud Essentials
DataCamp Course Completion
Take a look at all the courses I've completed on DataCamp.
My Work Experience
Where I've interned and worked during my career.
New York University | Jan 2023 - Present
Research Data Analyst
Publicis Global Delivery | Jul 2022 - Nov 2022
Associate Data Scientist
SYKES Colombia | May 2022 - Jul 2022
Trainer II Media Ops
I train new hires on how to effectively engage with the Campaign Manager role.
SYKES Colombia | Jul 2021 - May 2022
Campaign Manager
I build reports for one of the biggest social media platforms Media Strategy and Operations department. I share those reports insights with the Account Managers from premium advertisers to guide their marketing decision-making regarding spend, pacing, search queries, campaign strategies, ads quality, among others.
Universidad del Norte | Aug 2021 - Feb 2022
Research Assistant
I am responsible of the quantitative aspect of a research on Accelerating Women-Led Ventures in Latin America. I am building mixed effects (multilevel) models to analyze whether there is an impact of cultural values, psychosocial factors and socioeconomic conditions on entrepreneurial gender gap.
Universidad del Norte | Aug 2021 - Jan 2022
Teaching Assistant
I co-hosted a Data Analysis with R course where I taught R programming to undergraduate students, graduate students and alumni from Universidad del Norte. Moreover, I led a team adjoint to the Economics Department Data Analysis Lab with the main task to develop dashboards with R-Shiny.
Pensiero International Advisors | Apr 2021 - Jun 2021
Consultant
Conducted macroeconomic and market analysis, build reports, and give decision-making recommendations to Vecol, an important agroindustrial firm in Colombia, leader in production of vaccines against foot-and-mouth disease.
National Planning Department DNP | Jul 2020 - Jan 2021
Intern
My Education
Take a look at my formal education
Master in Data Science
Pontificia Universidad Javeriana, Cali, Colombia | 2023
Bachelor in Economics
Universidad del Norte, Barranquilla, Colombia | 2021