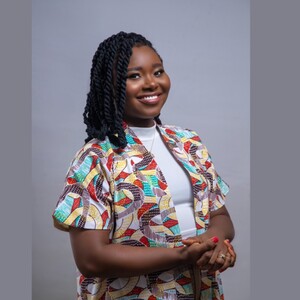 Esther Reginald Yeboah
Data Analyst
Vodafone
My New Course
Introduction to Python
My New Project
Introduction to DataCamp Projects
My New Workspace
Competition - Everyone Can Learn Python Scholarship
My New Course
Introduction to Python
I am a data analyst, you can become one too! Talks about #dataanalyst, #datascience, #womenindata, #dataanalytics, and #datavisualization
DataCamp Course Completion
Take a look at all the courses I've completed on DataCamp.
My Work Experience
Where I've interned and worked during my career.
Vodafone | Jul 2023 - Present
Digital Transformation Analyst
Abeyie Innovation Studios | Apr 2023 - Present
Data Analyst
Volunteering as a Data Analyst to undertake Data collection, mining and Analysis of She Rock and Abeyie App Project.
DataLighter | Nov 2022 - Present
Data Literacy Evangelist
365 IMPACT LTD | Aug 2022 - Feb 2023
Business Intelligence Analyst
• Created visually appealing dashboards and presentations to effectively communicate research insights and results to key stakeholders. • Utilized data from the 2021 Ghana population census and Ministry of Health to design and implement a health app that improves rural communities' access to quality healthcare and timely treatment. • Developed an Excel-based automation solution for efficient tracking of device SIM card usage.
Blossom Academy | May 2022 - Aug 2022
Data Analyst Apprientist
Calvary Baptist Church, Accra | Aug 2016 - Feb 2022
Procurement and General Service Officer
• Analyzed spend data to identify patterns and trends in spending, as well as opportunities for cost savings. This analysis resulted in the identification of several cost-saving opportunities and helped drive down procurement costs. • Forecasted demand by analyzing historical procurement data and industry trends. This helped me plan procurement activities more effectively and reduce waste in the procurement process. • Successfully led a 5-member team in streamlining daily workflow, resulting in a 20% increase in productivity.
My Education
Take a look at my formal education
University College of Management Studies, Accra | Invalid Date
Data Analytics
DataCamp | 2023
Google Data Analytics Certificate, Data Analytics  · (November 2021 - March
Coursera | 2022
Diploma, Project Management
Ghana Institute of Management and Public Administration | 2018