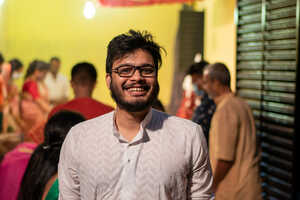 Sibashis Chakraborty
Data Scientist
Tiger Analytics
My New Course
Introduction to Python
My New Course
Introduction to Python
Quantitative detective, uncovering the truth hidden in the depths of data.
My Work
Take a look at my latest work.
DataCamp Course Completion
Take a look at all the courses I've completed on DataCamp.
My Work Experience
Where I've interned and worked during my career.
Tiger Analytics | Jul 2022 - Present
Senior Data Scientist
Tiger Analytics | Jul 2021 - Jun 2022
Data Scientist
Tiger Analytics | Aug 2019 - Jun 2021
Senior Analyst, Data Science
Developed Custom Analytics solutions leveraging AI/ML for a Fortune-500 US Conglomerate in the manufacturing domain.
Nielsen | Dec 2017 - Aug 2019
Executive, Advanced Analytics Consulting (MMM)
Helped clients understand the impact of their Media and Promotional strategies on their Sales in terms of several KPIs using robust Statistical Models. Enabling them to optimise their Media Mix to build better strategies in yielding maximum returns. Core Responsibilities involve a. Develop analytical solutions to solve Business problems. b. Consulting with off-shore clients/consultants to understand specific business questions and providing them with comprehensive custom solutions. c. Mentoring junior resources in the team.
Mentor Classrooms | Apr 2016 - Dec 2017
Co-Founder
Roles and Responsibilities ■ Developing the Business Plan. ■ Lead faculty for Statistics and Economics. ■ Understanding the dynamics of the business domain and taking necessary actions from time to time. ■ Brand promotion.
My Education
Take a look at my formal education
Business Analytics Certification Program, Business Analytics
Ivy Professional School | 2018
Master's degree, Economics
University of Calcutta | 2016
Bachelor's degree, Economics
Gurudas College | 2014