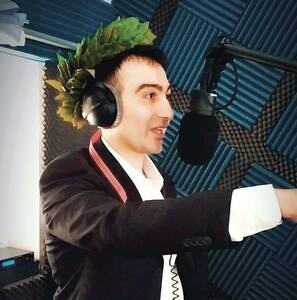 System Engineer
Alascom s.r.l. | Monza
My New Certification
Data Scientist Associate
My New Course
Introduction to Python
My New Project
Dr. Semmelweis and the Discovery of Handwashing
My New Certification
Data Scientist Associate
Quantitative storyteller, weaving narratives through data analysis.
My Work
Take a look at my latest work.
My Certifications
These are the industry credentials that I've earned.
DataCamp Course Completion
Take a look at all the courses I've completed on DataCamp.
My Work Experience
Where I've interned and worked during my career.
POLI.RADIO | Sep 2022 - Present
Direttore dei Programmi
Come direttore dei programmi mi occupo di stilare il palinsesto, curare gli spazi pubblicitari pro bono e assicurarmi che il clock venga rispettato da tutti i programmi. Ho introdotto i podcast come entità singola e prodotto originale disaccoppiato dalla programmazione radiofonica.
Radio 105 Lab | Dec 2021 - Nov 2022
Conduttore radiofonico
Per un anno ho fatto parte del progetto "Radio 105 Lab", una sottorete del network di Radio 105 voluta da Marco Mazzoli. Ho co-condotto un programma ispirato a ImprepaRADIO, avendo modo di migliorare la regia e l'autorato in una realtà con un respiro nazionale.
POLI.RADIO | Nov 2018 - Present
Regista radiofonico
Sono stato per quattro anni regista di ImprepaRADIO, un programma di stampo umoristico conclusosi dopo quattro stagioni. Attualmente sono podcast editor de Il Salotto, il primo video-podcast di POLI.RADIO.
POLI.RADIO | Nov 2018 - Present
Speaker
POLI.RADIO | Nov 2018 - Present
Autore radiofonico
Nel collaborare a vari programmi ho avuto modo di esplorare anche l'autorato radiofonico. Sono stato autore di rubriche e blocchi, nonché di interviste a nomi noti del teatro italiano.
POLI.RADIO | Nov 2018 - Present
Addetto post-produzione
Mi sono molto spesso occupato di sound engineering, sound design e montaggio di podcast e interviste varie. Ho fatto parte di Soundcheck come fonico e tutt'oggi curo la post-produzione de Il Salotto, il primo video-podcast di POLI.RADIO
C.D.O. Sas | Jul 2018 - Present
Consulente ICT
Come parte delle mie responsabilità, ho attivamente contribuito a creare un sistema di gestione inventariale usando NodeJS e SQL che migliorano l'efficienza del workflow. Ho consegnato un'efficiente soluzione di intercom fra medico e paziente, aiutando il medico a comunicare col paziente evitando l'esposizione a radiazioni dannose generate dalle macchine mediche.
My Education
Take a look at my formal education
Laurea Magistrale LM, Automation and Control Engineering
Politecnico di Milano | 2023
Laurea breve, Ingegneria dell'automazione
Politecnico di Milano | 2018
Diploma di Maturità Classica 
Liceo Classico Statale "G.Palmieri" - Lecce | 2012