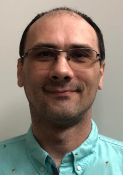 Dragan Golic
Student
DataCamp
My New Course
Introduction to Python
My New Project
Risk and Returns: The Sharpe Ratio
My New Workspace
Data Manipulation with pandas
My New Course
Introduction to Python
Data guardian, protecting the integrity and privacy of valuable information.
My Work
Take a look at my latest work.
My Certifications
These are the industry credentials that I've earned.
Other Certificates
Coursera Google IT support professional
DataCamp Course Completion
Take a look at all the courses I've completed on DataCamp.
My Work Experience
Where I've interned and worked during my career.
Golic Construction Company, Inc. | Jan 2015 - Jan 2021
Founder and President
Golic Beekeeping | Jan 2000 - Jan 2021
Founder and Beekeeper
HIP - Petrochemia AD | Jan 2005 - Jan 2014
Specialist for Rotational Equipment
Taekwondo Club Proleter | Jan 1994 - Jan 2014
Founder and Head Coach
Yugoslavian Taekwondo Association | Jan 1996 - Jan 1996
Member of 1996 Yugoslav National Team
My Education
Take a look at my formal education
Data Analysis with Python, SQL, Tableau and Excel in Data Manipulation and Visualization
Datacamp | 2022
OpenEDG Python Institute | 2022
CompTIA A+
Per Scholas | 2022
Mechanical Engineering, AD 
Mechanical Engineering College - Zrenjanin, Serbia | 2003