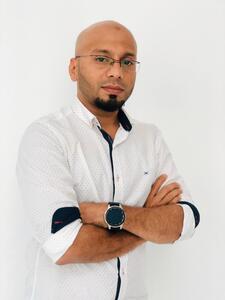 Imtiaz Daud
Finance Manager
Galco Limited - GSM | Dar Es Salaam
My Certifications
These are the industry credentials that I've earned.
Other Certificates
Project Management Institute (PMI) Project Management Professional (PMP)
National Board of Accountants and Auditors (NBAA) Certified Public Accountant (CPA)
DataCamp Course Completion
Take a look at all the courses I've completed on DataCamp.
My Work Experience
Where I've interned and worked during my career.
GALCO Limited - A GSM Group of Companies | May 2022 - Present
Finance Manager
Kilimanjaro Cement Company Limited | Oct 2021 - May 2022
General Manager
GSM Group of Companies | Apr 2021 - Sep 2021
Ass. Project Manager
Galco Limited - A GSM Group of Companies | Oct 2018 - Mar 2021
Finance Manager
Galco Limited – A Logistic company with a fleet of over 500 Trucks Galco ICD Limited – An inland container depot (Best performer in 2020) Galco CFS Limited – A container and Freight Station Company Domus International Limited – A clearing and Forwarding Agent Company Galco Insurance Broker – An Insurance brokerage Company • Reporting of accurate financial performance, financial position and statement of cash flows of Logistics Business Cluster to the CEO, CFO and Board of Directors. • Providing leadership, appraisal, direction and management of finance and accounting team. • Managing and administering the process of financial planning, budgeting, forecasting and control. • Ensuring internal compliance and external compliance as well as control assessments including risk management with the assistance of Internal Audit and Taxation Departments. • Assist in implementation of finance strategy, taking into account company interests, relevant regulations, corporate standards and guidelines.
GSM Tanzania Limited - A GSM Group of Companies | Jul 2017 - Sep 2018
Finance Manager
• Reporting of accurate financial performance, financial position and statement of cash flows of GSM Tanzania to the CEO, CFO and Board of Directors. • Be accountable for delivering the financial plan as per CFO recommendations. • Delivering the financial strategy and aligning the finance department with other units such as Commercial department, Operations department, Marketing department, and HR department. • Review of Financial Reports of GSM Tanzania Branches and advising on recommendations to the Operations Manager as well as the General Manager • Review and Implement the Annual Budgets and Financial Projections. • Ensure internal control compliance and managing External Audits including Financial and Tax Audits. • Lead, Train and guide finance team to achieve departmental goals.
GSM Steel/Foam Limited - A GSM Group of Companies | Jul 2016 - Jun 2017
Assistant General Manager
• Assisting the planning and managing the use of labor resources, equipment and daily operations activities for multiple shifts. • Following up on plants planned production requirements. • Ensures adherence to GSM Steel and GSM Foam standard operating procedures, safety practices and manufacturing protocols. • Ensures the safety of all Manufacturing Operations employees through compliance with all company policies, procedures, safety rules, and regulations. • Ensuring GSM Tanzania requirements are channeled properly to GSM Steel and GSM Foam Staff and aligning supply chain to ensure smooth transition of products from the plants to GSM Tanzania. • Reviewing landed cost of products and reviewing of unit costs of GSM Steel and GSM Foam products. • Setting Transfer pricing of GSM Steel and GSM Foam products which will be as purchase price for GSM Tanzania.
GSM Tanzania Limited - A GSM Group of Companies | May 2015 - Jun 2016
Branch Controller
• Examines, analyzes, and evaluates operations of individual branches of GSM Tanzania branches and make sure adherence to company standards policies. • Travels from branch to branch and visually checks physical structures & surroundings, noting degree of maintenance required. • Review of compliance documents such as TIN/VRN Certificates, Tax Clearance Certificates, Business License, OSHA Certificates and Fire Safety Certificate. • Examines books of account of individual establishment. • Prepares report, summarizing findings including recommendations for maintenance, repair, changes in operational procedures, and purchase requirements, and submits report to Finance Manager and Operations Manager.
OILCOM TANZANIA LIMITED | Mar 2014 - Apr 2015
Accountant
• Perform daily postings and ledger closings, including journal entries in SAP. • Preparation of various balance sheet schedules and P&L statements. • Preparation of various tax reports. • Prepare and book bank deposits and transfers; upload PosPay files. • Reconcile various general ledger accounts monthly in SAP. • Prepare annual depreciation and depletion tax schedules in Excel.
INNOVEX | Mar 2013 - Feb 2014
Associate Auditor
• Obtain and present appropriate audit evidence, address the relevant audit objectives, and demonstrates its relevance to the rest of the audit. • Document the results of their audit work in accordance with Innovex Audit Methodology, regulatory requirements, and using applicable IT tools. • Demonstrate knowledge of prevailing accounting standards, accounting disclosure requirements, and applying these to allocated work. • Attend and apply all audit and accounting training within the set deadlines. • Ability to coach interns effectively during fieldwork.
My Education
Take a look at my formal education
Postgraduate Diploma, Project Management
Tanzania Institute of Project Management (TIPM) | 2018
Postgraduate Diploma, Finance
Strathclyde Business School | 2013
Advanced Diploma, Accounting
The Institute of Finance Management | 2010