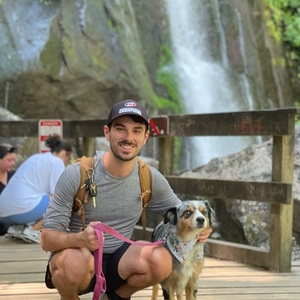 Jonathan Compton
Data Analyst
Valley Bank
My New Course
Introduction to Python
My New Project
Introduction to DataCamp Projects
My New Workspace
Introduction to Regression with statsmodels in Python
My New Course
Introduction to Python
Data visionary, envisioning a future transformed by the power of information.
DataCamp Course Completion
Take a look at all the courses I've completed on DataCamp.
My Work Experience
Where I've interned and worked during my career.
Valley Bank | Nov 2021 - Present
Senior Product Data Analyst
In my time at Valley, I am responsible for gathering insights, performing data visualization and optimizing performance for product and marketing.
eHealth, Inc. | May 2020 - Nov 2021
Marketing Technology Analyst
- Implemented digital marketing and product analytics tracking - Created standardized process to improve marketing data quality - Onboarded new marketing technologies into eHealth's stack - Helped drive cross-channel strategy for marketing tech, data and tracking
SecureLink | Aug 2019 - Apr 2020
Marketing Campaign Specialist
syndication, remarketing, webinars and email nurture. -Analyzed backend data with SQL to optimize email send time and increase open rate and click-through rate. -Created a re-marketing process to nurture legacy leads through marketing automation.
Magna Life Settlements | Apr 2018 - Aug 2019
Marketing Operations Analyst
Reporting: -Measured and reported ROI data on all digital marketing campaigns on a weekly basis -Utilized Google Analytics regularly and helped develop strategies to increase website engagement and lead conversion. -Used data from CRM to track ROAS data on consumers at every stage of the funnel Marketing Automation: -Handled lead scoring and grading, to help ensure Magna was focused on the right leads. -Responsible for data integration with outside data sources -Built several e-mail drip campaigns and automation rules to keep strong engagement with leads Other -Managed social media pages -Helped make sure website was optimized for SEO by performing technical audits -Regularly looked for ways to help user experience with website
Digital Creative Institute | Feb 2018 - Mar 2019
Fellow
Learned digital marketing best practices and implemented projects during year long apprenticeship process that helped gain strengths in SEO, content marketing, UX, marketing automation, digital analytics, data visualization and inbound marketing.
Texas Motor Speedway | Nov 2015 - Dec 2017
Fan Relations intern
My Education
Take a look at my formal education
Bachelor of Business Administration - BBA, Marketing
University of North Texas | 2017
Cedar Park High School | 2013