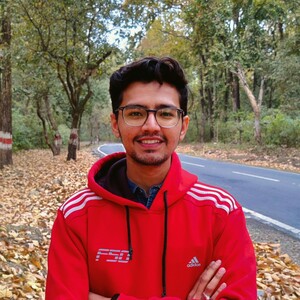 DevOps Engineer
ZetApp | Ahmedabad
My New Certification
Data Scientist Associate
My New Project
Dr. Semmelweis and the Discovery of Handwashing
My New Workspace
Classify Song Genres from Audio Data
My New Certification
Data Scientist Associate
Analytical storyteller, weaving captivating narratives with the threads of data.
My Certifications
These are the industry credentials that I've earned.
Other Certificates
Amazon Web Services (AWS) AWS Certified Solutions Architect – Associate
Splunk inc. Splunk Enterprise Certified Admin
HashiCorp HashiCorp Certified: Terraform Associate
DataCamp Course Completion
Take a look at all the courses I've completed on DataCamp.
My Work Experience
Where I've interned and worked during my career.
Zetapp (Previously known as OneCode) | Jan 2023 - Present
Senior DevOps Engineer
Oracle India Pvt Ltd | Oct 2021 - Jan 2022
Senior Member Of Technical Staff
Crest Data Systems | Jul 2021 - Oct 2021
Project - Netskope DevOps
- Automating deployment & upgrade of new stacks - Support dedicated deployments
Crest Data Systems | Jun 2019 - Jun 2021
Project - Centrify DevOps
Exhibited POC for handling large amounts of logs which were a bottleneck for existing logging-infra and improve it with cost-effective, available very latest logging data for the customer issues troubleshooting to developers and CSM. Writing PowerShell script, terraform infrastructure scripts and integrating to CD tool Jenkins for efficient workflow for deployment and maintaining the architecture. Deployments scripts using salt architecture and adding functionalities to make it more secure. Troubleshoot/test ongoing customer issues. Ensure the security of infrastructure by following monthly FedRamp activities. Automating product deployment and management for the production customers.
Crest Data Systems | May 2018 - Jun 2019
Project - Splunk Site Reliability Engineer & Certified Splunk Enterprise Admin
Deploying (Terraform, Jenkins, Docker) & managing (Puppet) Splunk Cloud Architecture stacks for the customers. Troubleshooting the customer incidents. Finding more efficient ways for the process and task to be implemented in the work environment. Provided consultation to Splunk Cloud and On-Prem customers to troubleshoot their side of core deployment, dashboarding and application troubleshooting.
Crest Data Systems | May 2018 - Jun 2018
Site Reliability Intern
Architectural fundamentals during this phase with hands-on manual deployments of the Splunk architecture. We also learnt debugging by implementing the past production bugs, which help me build more strong fundamentals. I have also suggested & applied newly learned phenomenons in the work environment. Learning and sharing the new topics in the team was more exciting. Agile methodology was followed by our company which helped us gain more knowledge in more effective way.
My Education
Take a look at my formal education
Diploma of Education, Machine Learning & Artificial Intelligence   in Applied Machine Learning
University of Hyderabad | 2022
Bachelor's Degree in Information Technology
Nirma University, Ahmedabad, Gujarat, India | 2018