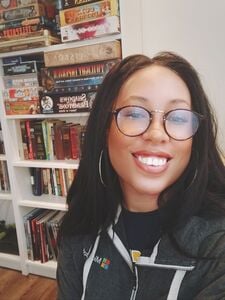 Sr. Data & Applied Scientist
Microsoft | Los Angeles, CA
Authored Curriculum
Take a look at the content that I created on DataCamp.
My Most Recent Course
Data Storytelling Case Study: College Majors
1 hours
6 Videos
22 Exercises
887 Learners
My Certifications
These are the industry credentials that I've earned.
Other Certificates
Cognitive Class Mathematical Optimization for Business Problems
DataCamp Marketing Analytics with Python Track
DataCamp Data Scientist with R Certification
University of Michigan Data Science Ethics
Harvard University Professional Certificate in Data Science
DataCamp Deep Learning in Python Track
AT&T AT&T Technology Academy Fellow / Extern
University of Colorado - Boulder Algebra and Differential Calculus for Data Science
Pluralsight Applying Differential Equations and Inverse Functions in R
Pluralsight Understanding Statistical Models and Mathematical Models in R
DataCamp Big Data with PySpark
Udacity Introduction to Machine Learning on Azure
DataCamp Course Completion
Take a look at all the courses I've completed on DataCamp.
My Work Experience
Where I've interned and worked during my career.
LRG Scientific LLC | Apr 2023 - Present
Founder & Chief Data Officer
LRG Scientific, LLC was founded in 2023 by applied data and information scientist, Leondra R. Gonzalez. Based in Indianapolis, IN, LRG was created to demystify and democratize data science, AI, and analytics for all. Services include: Career Development Corporate Training Consulting Mentorship Research Speaking Engagements
Microsoft | Oct 2022 - Present
Sr. Data & Applied Scientist
Microsoft | Dec 2021 - Oct 2022
Senior Analytical Program Manager, Market Science
Wpromote | Nov 2020 - Dec 2021
Director, Data Analytics
blackcomputeHER | Mar 2020 - May 2021
Predoctoral Fellow
Google | Jan 2021 - Apr 2021
PhD Computer Science Research Program (CSRMP)
Quigley-Simpson | May 2020 - Nov 2020
Manager, Analytics and Data Science
University of the Cumberlands | Jan 2020 - Present
PhD Researcher, School of Computer and Information Sciences
Saatchi & Saatchi (We Are Saatchi) | Dec 2018 - May 2020
Manager, Analytics & Operations
Sunset Studios (Netflix) | Dec 2017 - Dec 2018
Data Analyst, Operations
Twentieth Century Fox | Sep 2016 - Dec 2017
Manager, Supply Chain Analytics
Twentieth Century Fox | Nov 2015 - Sep 2016
Data Analyst, Home Entertainment Data Administration
NKSFB | May 2015 - Nov 2015
Data Analyst, Royalties and Residuals
Carnegie Mellon University | Jun 2014 - May 2015
Graduate Researcher
Amazon, Prime Video | Jan 2015 - Apr 2015
Data Analytics, Production Insights Intern
and Public Policy | Sep 2013 - May 2014
Product Manager, Game Creation Society
Ohio Department of Insurance | Sep 2007 - Mar 2008
Actuarial Science Intern
My Education
Take a look at my formal education
Doctor of Philosophy - PhD in Information Technology, Data Science and Big Data Analytics
University of the Cumberlands | 2024
Master in Business Administration (MBA) in Data and Decisions (Statistics)
Quantic School of Business and Technology | 2019
Professional Certificate in Data Science
Harvard University | 2019
Masters in Entertainment Industry Management, Business Analytics
Carnegie Mellon University - Heinz College of Information Systems | 2015