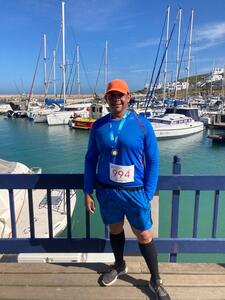 Senior Lecturer
Stellenbosch University
My New Course
Introduction to Python
My New Track
Data Scientist
My New Workspace
Climate Change and Impacts in Africa (Python) (copy) (copy)
My New Course
Introduction to Python
Analytical conductor, harmonizing data symphonies for actionable insights.
My Work
Take a look at my latest work.
My Certifications
These are the industry credentials that I've earned.
Other Certificates
openSAP Python for beginners
DataCamp Course Completion
Take a look at all the courses I've completed on DataCamp.
My Work Experience
Where I've interned and worked during my career.
Stellenbosch University | Jul 2019 - Present
Senior Lecturer
Stellenbosch University | Apr 2014 - Present
Researcher/Lecturer
The Southern African Grain Laboratory | Apr 2013 - Mar 2014
Postdoctoral researcher
Using my extensive experience in spectroscopy and Chemometrics, I pioneered the development and deployment of cutting-edge multivariate models to accurately predict maize milling index from NIR spectra, which resulted in significant cost savings and increased efficiency in production processes. In my role, I also played a pivotal role in refining and enhancing calibration models to deliver precise predictions of moisture, protein, and fat content for a range of crops, including maize, wheat, sunflower, and soybeans. Utilizing advanced techniques such as principal component analysis and cluster analysis, I was able to uncover valuable insights from rheological data and evaluate results, providing insightful recommendations to management on user-friendly Chemometrics software solutions that aligned with company objectives. To ensure the continued growth and development of the laboratory, I conducted enlightening workshops and training sessions to educate laboratory technicians on the principles of NIR spectroscopy, instrument usage, sample presentation, and Chemometrics and model development. As a mentor to new laboratory technicians, I effectively imparted knowledge on the use of NIR spectroscopy and Chemometrics to enhance their capabilities, contributing to a highly-skilled and capable team. Overall, my contributions to the laboratory not only resulted in significant improvements to production processes, but also fostered a culture of innovation and growth within the team.
Stellenbosch University | Jan 2009 - Dec 2012
PhD Student Researcher (Food Science)
As a researcher, my work has focused on investigating various aspects of fungal development in maize kernels. One of the key techniques I have utilized for this research is NIR hyperspectral imaging, which has allowed me to differentiate between different species and strains of Fusarium associated with maize. By utilizing multivariate image analysis, I have also been able to examine the growth characteristics of three different Fusarium species. In addition to my work with NIR hyperspectral imaging, I have also used X- ray micro computed tomography to investigate the internal structure of maize kernels infected with Fusarium verticillioides. This has provided valuable insights into the way that this fungus interacts with the plant and has helped to further our understanding of how we can combat this important agricultural pathogen. Through my work, I have gained a deep understanding of the importance of spectroscopy and its broad application to many disciplines, particularly in the field of data science. My research has allowed me to develop strong skills in data analysis, statistical modeling, and image processing, and I am confident that these skills will allow me to make valuable contributions in any research or industry setting.
Stellenbosch University | Jan 2007 - Jan 2009
MSc Student Researcher (Food Science)
As the MSc student, I spearheaded a pioneering study that utilized NIR hyperspectral imaging and multivariate data analysis to classify maize kernel hardness and detect Fusarium verticillioides contamination in maize kernels. This groundbreaking research was the first of its kind and has yet to be widely adopted in the industry, representing a significant opportunity for businesses to gain a competitive advantage. By leveraging advanced techniques, we were able to achieve exceptional results, providing accurate and reliable classification and detection of these key properties. Our work has the potential to drive significant improvements in production processes, delivering greater efficiency and yield, and ultimately helping to ensure the production of high- quality maize products.
My Education
Take a look at my formal education
Postgraduate Diploma, Industrial Engineering - Data Science  · (January
Stellenbosch University | 2021
PhD, Food Science
Stellenbosch University | 2012
MSc, Food Science
Stellenbosch University | 2009
BSc, Food Science
Stellenbosch University | 2006