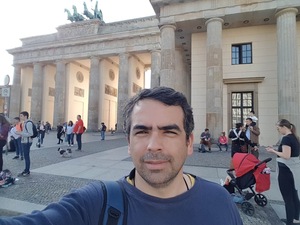 Senior Data Scientist
Freelance | Lima
My Certifications
These are the industry credentials that I've earned.
Other Certificates
Microsoft Azure Fundamentals
DataCamp Course Completion
Take a look at all the courses I've completed on DataCamp.
My Work Experience
Where I've interned and worked during my career.
CIBERTEC | Oct 2018 - Present
Python Data Science Instructor
Responsible for the Python Data Science Curriculum at Cibertec.
Freelance / Self-Employed | Jan 2017 - Present
Data Scientist
Ferreyros S.A. | May 2013 - Dec 2015
Project Manager - Information Management
Led the project for the implementation of an executive dashboard containing the key strategic performance indicators (KPIs). These KPIs follow the four categories of the balanced scorecard. Additionally I was head of the Business Intelligence (BI) section with two direct reports. ♦ Organized the BI & Analytics section in order to improve the management of information in all the business areas by leading 8 projects and in turn improving the positioning of the technology, processes and innovation division. ♦ Achieved a better alignment between the business strategy and operations by making the company's KPIs more visible while creating an inventory that served to identify improvements for the information management. ♦ Implemented the 33 strategic dashboard KPIs within 4 months leading a team of technical consultants. ♦ Designed a high-impact dashboard for the executives facilitating decision- making highlighting the KPIs that require more attention on the first screen (Kahneman intuitive decisions - system 1) and presenting more details on a second screen (Kahneman rational decisions - system 2). ♦ Reduced by 100% previous delays affecting executives allowing them to access up to date management information. Keywords: KPI|Executive Dashboard|Performance Management|Business Strategy|Change Management
My Education
Take a look at my formal education
Master of Business Administration (MBA), Management Information Systems, General
European Business School Oestrich-Winkel | 2012
Master of Science (MSc), ICT in Business
Universiteit Leiden | 2005
Bachelor of Science (BSc), Computer Science
Webster University Vienna | 2002