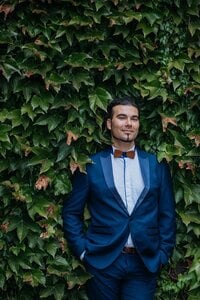 Entry-Level Data Scientist
KS | Novi Sad, Serbia
My New Track
Data Scientist Professional
My New Track
Machine Learning Scientist
My New Track
Data Scientist Professional
Quantitative storyteller, weaving narratives through data analysis.
My Certifications
These are the industry credentials that I've earned.
Other Certificates
IBM Data Science
Google Project Management
IBM Machine Learning Professional Certificate
IBM Applied Data Science Specialization
DataCamp Course Completion
Take a look at all the courses I've completed on DataCamp.
My Work Experience
Where I've interned and worked during my career.
Pitas imarton | Apr 2010 - Sep 2022
Business Owner
• Orchestrated end-to-end operations for a successful family-owned pie shop, including financial management, process optimization, and boosting sales. • Led a dedicated team in crafting premium artisanal traditional pies, setting high-quality standards. • Expanded the customer base and drove sales growth through exceptional service. • Innovated recipes and techniques to stand out in a competitive market, increasing profitability. • Maintained stringent quality control, ensuring consistent high customer satisfaction. • Demonstrated strong leadership by assigning roles, coaching staff, and making strategic decisions that fueled significant business growth.
EDOMER | Jan 2005 - Jan 2006
Civil Engineer Technologist
• Collaborated seamlessly with architects, contractors, and regulatory bodies, ensuring full compliance with building codes, resulting in a 20% faster project timeline. • Compiled and submitted project documentation for swift regulatory approvals, optimizing project timelines. • Conducted site inspections to address construction challenges, ensuring smooth project progress. • Managed project budgets, timelines, and schedules expertly, consistently delivering on time and within budget. • Maintained transparent communication by providing timely project updates and managing stakeholder expectations throughout the project lifecycle.
Anakataskevi | Jan 2004 - Jan 2005
Civil Engineer Technologist
• Led construction projects, managing all aspects from planning through execution. • Worked closely with architects, contractors, and regulatory bodies to ensure strict adherence to building codes and regulations. • Efficiently handled project document preparation and submission to expedite approvals and project timelines. • Performed thorough site inspections to monitor progress and address unforeseen construction challenges. • Demonstrated increasing proficiency in budget management and consistently delivered projects within budget constraints.
Choros 4 | Jan 1999 - Jan 2004
Civil Engineering Intern
Working as a student during summer holidays
My Education
Take a look at my formal education
MicroMasters Program in Statistics and Data Science in Data Science
Massachusetts Institute of Technology | 2024
Master of Business Administration - MBA in Business Administration and Management
Cardiff University / Prifysgol Caerdydd | 2008
Bachelor's degree in Civil Engineering Technology
University of Applied Sciences of Central Macedonia / TEI of Central Macedonia | 2004