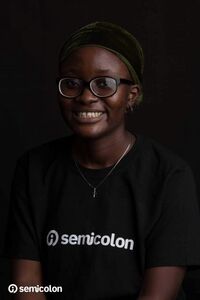 Data Scientist
Omdena | Lagos, Nigeria
My New Certification
Data Analyst Associate
My New Course
Introduction to Python
My New Project
Analyze International Debt Statistics
My New Certification
Data Analyst Associate
Data lover, passionate about all things data-driven.
My Certifications
These are the industry credentials that I've earned.
Other Certificates
University of Helsinki | MinnaLearn Elements of AI
Coursera Data Science Ethics
Coursera | Google Introduction to Data Analysis using Microsoft Excel
DataCamp Associate Data Analyst
Coursera | Google Google Data Analytics Professional Certificate
DataCamp Course Completion
Take a look at all the courses I've completed on DataCamp.
My Work Experience
Where I've interned and worked during my career.
Omdena | Jul 2023 - Present
Junior ML Engineer
Contributing to data science and machine learning open-source projects.
Ecobank Nigeria | Jun 2023 - Sep 2023
Account Officer, Corporate Banking (Oil and Gas)
Managing accounts for some Oil and Gas corporates as well as improving the customer experience of the representatives.
Mungin | Mar 2022 - May 2022
Backend Engineer
- Deployed the backend application using Heroku and Github actions automating deployment by 100% - Wrote and implemented unit tests on the repository and service layer with >80% coverage - Reviewed the proposed fields for some of the models - Implemented necessary methods, endpoints, and APIs using Spring Security - Tested APIs using Postman
Mungin | Dec 2021 - Apr 2022
Backend Engineer Intern
Understanding the startup's mission and going through the existing codebase
Semicolon | Jan 2021 - Mar 2022
Digital Native (Software engineer trainee)
• Trained in Design thinking, Industrial Design and Critical thinking. • Introduced to software engineering through SDLC, Software architecture, Object-oriented design, Agile software development and Programming with different languages and frameworks, Databases with SQL, Data Analytics with R, and Data Science with Python. • Trained in Business Management by Henley Business School in collaboration with Lagos Business School. • Interned with a startup (Mungin Technologies Limited) under the institution using Spring Boot to contribute to the backend software.
Federal Airports Authority of Nigeria | Mar 2019 - Aug 2019
Industrial Trainee
Worked under 3 subunits of the Mechanical engineering department; Refrigeration and Air conditioning, Internal transport and Heavy Duty.
DE WORKMANSHIP LTD | Feb 2019 - Mar 2019
Industrial Trainee
Worked under different supervisors for facility management in a contracted building in Lekki, Lagos
Covenant University | May 2017 - Jul 2017
Student Work Experience Program
I was shuffled among other engineering students to each engineering department in the University; Chemical, Civil, Electrical & Information, Mechanical and Petroleum engineering departments. I learnt how to make detergent using the wet and dry method, paints, junction boxes, weld, construct a mini refrigerator etc.
Omoregie Motors | May 2016 - Jul 2016
Intern
Learnt how to service different Toyota cars with little or no supervision; oil changes, air and A/C filter changes and cleaning.
My Education
Take a look at my formal education
Data Science and Machine Learning Certificate in Data Science and Machine Learning
AI Saturdays Lagos | 2023
Data Analyst Nanodegree in Data Analysis
Udacity | 2023
B.Eng. in Mechanical Engineering
Covenant University | 2020