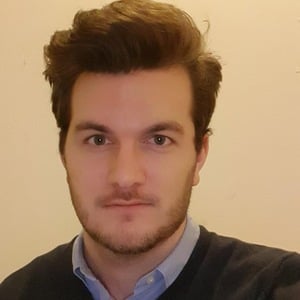 Data Analist
Quion
My New Certification
Data Analyst Professional
My New Certification
Data Analyst Associate
My New Course
Introduction to Python
My New Certification
Data Analyst Professional
Champion of data ethics, navigating the fine line between insights and privacy.
My Work
Take a look at my latest work.
My Certifications
These are the industry credentials that I've earned.
DataCamp Course Completion
Take a look at all the courses I've completed on DataCamp.
My Work Experience
Where I've interned and worked during my career.
Quion | Jun 2023 - Present
Data Analist Hypotheken
TPS | Jan 2023 - Jun 2023
Trainee Business IT & Data
SQL • Python • PowerBI • Data Storytelling • Data Science • Scrum • Lean Six Sigma
Coolblue | Aug 2022 - Jan 2023
Technical Application Specialist
Stakeholder management • Applicatiebeheer • Security • Analytische vaardigheden • Reporting • Data management
Coolblue | Nov 2020 - Aug 2022
Televisie specialist
Coolblue | Jul 2020 - Aug 2022
Customer Service Advisor
Taken: -Producten telefonisch adviseren en verkopen gepast op de vraag van de klant -Wekelijkse verkooptargets halen -Inkomende telefoontjes over algemene vragen over producten en vertragingen van bestellingen beantwoorden -Trainingen over producten volgen en maken Ontwikkelde skills: -Flexibiliteit -Adviseren -Empathisch luisteren -Effectieve gespreksvoering -Sales
Ergotherapie Zeker | Feb 2020 - Jun 2020
Student Intern
FamilyCare | Sep 2019 - Jan 2020
Student Intern
Taken: -Samen met artsen en IT'ers gewerkt aan een medische app waarbij ik de taak had de richtlijnen van ergotherapie overzichtelijk in de app te zetten -Andere ergotherapeuten op de hoogte brengen van deze leverancier en het verkopen van producten door middel van koude acquisitie -Analyseren en huisbezoeken doen om hierna een gepast advies te geven over huisaanpassingen Ontwikkelde skills: -Marketing -Netwerken -Innovatie -Sales -Analyseren -Behandelen -Adviseren
Coolblue | Jun 2018 - Dec 2018
Customer Service Advisor
Taken: -Producten telefonisch adviseren en verkopen gepast op de vraag van de klant -Wekelijkse verkooptargets halen -Inkomende telefoontjes over algemene vragen over producten en vertragingen van bestellingen beantwoorden -Trainingen over producten volgen en maken Ontwikkelde skills: -Flexibiliteit -Adviseren -Empathisch luisteren -Effectieve gespreksvoering -Sales
My Education
Take a look at my formal education
Ergotherapie
Hogeschool Rotterdam | 2020
Occupational Therapy/Therapist
Rotterdam University of Applied Sciences | 2019
CAE level English (C1) 
Byron Bay English Language School | 2014
HAVO diploma, NG + Economie
Dalton Voorburg | 2013