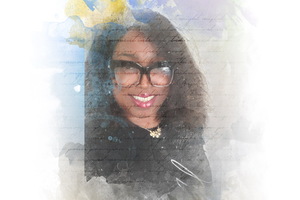 Catrina Powell
Founder
Imminent Flair
My New Course
Introduction to Python
My New Project
Dr. Semmelweis and the Discovery of Handwashing
My New Workspace
Phyllotaxis: Draw Flowers Using Mathematics
My New Course
Introduction to Python
Insights artist, transforming data into visually stunning masterpieces of knowledge.
My Certifications
These are the industry credentials that I've earned.
Other Certificates
CISA Reverse Engineering
Coursera Cybersecurity Analyst
Coursera Deep Learning with Keras
Coursera Machine Learning with Apache Spark
Coursera Data Science Professional Certificate
Testout Network Pro
Testout Security Pro
DataCamp Course Completion
Take a look at all the courses I've completed on DataCamp.
My Work Experience
Where I've interned and worked during my career.
Plush Figure Boutique | Jun 2019 - Present
CEO
Manpower/IBM | Sep 2018 - Nov 2019
Executive Assistant
Administrative skills, MS Office Outlook experience (calendar management/ scheduling meetings), travel arrangements, expenses. Heavy Meeting scheduling / Calendar Management.  Telephone etiquette (take, record, retrieve and relay accurate telephone messages.  Managed Client's calendars with minimal direction from Client.  Scheduling meetings for Client.  Processed routine correspondence and uncomplicated forms/reports.  Create, revise, send, store and retrieve documents electronically.  Scanning, copying, mail management.  Originate and verify data in reports and reconcile errors.  Maintained in-depth awareness and sensitivity of activity within Clients' scope of operation and its business impact.  Make travel arrangements via online travel system CONCUR.  Prepare expenses for Client via online system CONCUR.  Provided backup coverage to other support assistant's desks.
Robert Half | Dec 2016 - Nov 2017
Executive Assistant
Raquel Roche' Boutique | Jun 2016 - Present
Chief Executive Officer
Imminent Flair | Jan 2016 - Present
Founder
Managed the day-to-day operations of an expanding IT company. Implemented core strategies for marketing of business initiatives. Handled technical aspects of company policy and ensured compliance. Responsible for supporting the company's cyber security initiatives by implementing security protocols based upon NIST infrastructure. Identified security vulnerabilities and produced reports that focused upon corrective measures. Ensured that all hardware and software was configured and installed correctly for departmental units.
UC Irvine | Feb 2015 - Sep 2015
Executive Assistant
The skills optimized within this position involved critical analysis, contributing to the overall productivity of the business unit and providing excellent service externally for clients. The position focused upon administrative, financial and business functions that supported executive level employees in various departments. Skills utilized: Database management, administrative, document creation, calendaring, scheduling and other responsibilities.
Beechstreet Corporation | Feb 2009 - Oct 2011
Executive Assistant
Administrated legal contracting for physicians enabling providers to secure credentialing into medical networks. Assisted medical clients in interpreting key information prevalent within their medical insurance contracts and provided organizational directives for executive management. Key responsibilities involved handling physician requests for credentialing information and medical networks, organizing key documentation for administration in critical client medical analysis and other duties.
UnitedHealth Group | May 2007 - Jan 2009
Pharmacy Customer Service Specialist
administrators and executives in a medical health network call center. Assisted in promoting communications between network and physicians involving credentialing, medical legal issues and coordinated escalation for pharmacy review. Facilitated verbal feedback between vendors, members, physicians and specialty pharmacy. Performed ongoing process review for operational needs.
Auto Club of Southern California | Jul 2005 - Apr 2007
Member Service Representative
Actively assisted members with membership issues regarding Department of Motor Vehicle, travel and membership. Established relationships with clients to advance service for customer needs. Cross-selling of financial, automotive and travel products. Performed financial measures with bookkeeping and handled multiple assignments under schedule deadlines.
University of Michigan | Sep 2002 - Apr 2004
Executive Student Assistant
Maintained correspondence between department executives, students and other stakeholders. Assisted in developing strategic financial planning for budgeting and operational processing. Assisted executive and staff with calendar management, technical support for students and inventory management. Created databases for information management regarding technical support. Cross-functional support for University of Michigan Ann Arbor and other satellite campus.
Leather Limited | Mar 1999 - Aug 2002
Store Manager
Ensured consistent and positive customer service experience for clients. Maintained back-office operations, advanced revenue operations for store and supervised sales professionals. Delegated, improvised and administrated operations for business needs. Developed strategic business plans to build revenue according to company standards. Achieved stellar sales results above company revenue sales targets.
US Navy | Aug 1998 - Dec 1999
Operations Specialist
Communicate tactical information to supervisors regarding aircraft and ships. Utilized radar system for identification for air to sea operations. Provided navigational support for ship's automatic plotting system. Performed maintenance tasks for operational equipment. Acquired specific knowledge of procedural protocols in administration of proper fleet navigation and maintenance of Combat Information systems. Completed basic training and training school. Served previously as JR-ROTC in high school for four years.
Enzo Angiolini | Mar 1995 - Jun 1998
Store Manager
Directed sales goals, polices and directives that advanced store revenue. Maintained sales records, financial store documentation and reports for accounting. Established store operating procedures that cultivated selling teams towards sales and service goals. Managed inventory operations systems and merchandising goals while advancing vendor relationships. Assessed risk analysis of management processes through statistical methods. Created reports that focused upon financial status for accounting, bookkeeping and store revenue targets.
My Education
Take a look at my formal education
Master's Degree, Cybersecurity, Political Science and Government, Business Administration and Man...
Stanford University | 2017
Network Administrator, Information Technology
Saddleback College | 2017
Bachelor's Degree, Political Science and Government
University of California, Irvine | 2016
Bachelor's Degree, Business Administration and Management, General
University of Michigan | 2015
Associate of Science - AS, Business Administration and Management, General
Saddleback College | 2014