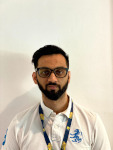 Mohamad Fadil
Senior Data Scientist
CIMB Bank Group Berhad | Malaysia
DataCamp Course Completion
Take a look at all the courses I've completed on DataCamp.
My Work Experience
Where I've interned and worked during my career.
CIMB | Feb 2022 - Present
Assistant Manager, Data Scientist
ADA | Aug 2021 - Jan 2022
Data Scientist
Handle ad hoc analysis for clients. Built MLOps framework for model production and maintainability and develop machine learning models for different business problems that are introduced by clients
Digi Telecommunications | Jun 2019 - Aug 2021
Data Scientist
Responsible to preprocessing multiple dimensions of data and building models to analyse patterns in data that could help business to enhance their marketing, besides that, building models to forecast multiple factors that effects the telecommunications hardwares and networks. Researching new ways to enhance models to have better output for business use cases.
OCK Setia Eng Sdn Bhd | Dec 2018 - May 2019
Software Engineer
Ombré | Nov 2017 - Jan 2019
Backend Developer
Developed the full backend ecosystem for ombre, worked with languages such as elixir, golang and ruby. Experienced developing micro services based software and used grpc and protobuf protocol for communicating between the services, used aws as cloud service for deployment.
P&F bersatu sdn bhd | Nov 2015 - Nov 2017
Freelance Software Engineer
Worked on multiple freelance projects such as building portal for SME employees, worked on building API for mobile application, developed startup application called sonikl and chargeup.
(MaGIC) Malaysian Global Innovation & Creativity Centre | Aug 2016 - Nov 2016
Part-Time Mentor
To mentor a group of students for a 10-week t course focusing on ruby on rails.
Amanie Advisors | Aug 2015 - Oct 2015
Android Application Developer
Develop and test android apps. Create Mockups.
Hezmedia Interactive Sdn Bhd | Mar 2015 - Jul 2015
Project Manager
Handling projects. Creating SRS Document for projects. Creating Game Design Documents. Handling timeline and development team.
My Education
Take a look at my formal education
Bachelor's in Computer Science (Hons.), Computer Software Engineering
Management and Science University | 2018
Diploma in Games design and Animation, Computer Games and Programming Skills
Management and Science University | 2014
High School, Information Technology
Sekolah Menengah Kebangsaan Seksyen 7 | 2011