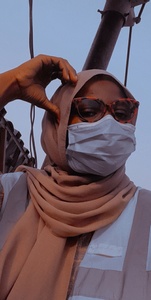 MULIKAT ABDULRAHMAN
Designer
My Certifications
These are the industry credentials that I've earned.
Other Certificates
Coursera Foundations of User Experience (UX) Design
Domestika Web Design with Figma: Building Striking Compositions
DataCamp Course Completion
Take a look at all the courses I've completed on DataCamp.
My Work Experience
Where I've interned and worked during my career.
EM-ONE Energy Solutions | Sep 2021 - Present
Operations Engineer
Managing Operations and Maintenance on a 1.5MWp Microgrid project powering Federal Ministry of Works and Housing Abuja
Zuri Team | Apr 2021 - Jun 2021
Product Design Intern
EM-ONE Energy Solutions | Jan 2020 - Present
Health Safety Environment Officer
Managing HSE across multiple sites.
Sunhive Ltd | Apr 2019 - Jan 2020
Solar PV Engineer
At Sunhive, I - Designed and installed Solar PV capacity of up to150kWp PV Hybrid systems utilizing SMA Sunny Design Web, Victron system software and HOMER Pro. - Managed Health & Safety on site - Operated the man lift for the transport of materials and people to rooftops, ensured safety compliance, and coordinated installation of inverters, cabling, and other accessories.
Greco power & energy | Jul 2018 - Mar 2019
Graduate Engineering Trainee
• Installed 5kW Off-grid PV system at AMEFOND Vandeikya school, Mbaduku community with custom "battery box" design created via SolidWorks. • Designed Minigrid systems and conducted energy audits & simulations for proposed solar PV systems in Abuja. • Collaborated with Creeds Energy in Installation of 90kWp PV/ESS/Diesel Genset hybrid solution & 98kWp PV/Battery solution for office complex & day& boarding school respectively. • Partnered with Bluecamel energy to carry out site survey, energy audit, design installation and maintenance for residential solar PV systems.
Federal University of Technology Minna | Jan 2014 - Sep 2016
Student Research Assistant
- Conducted research, design, and analysis for a proposed wind farm project at the Federal University of Technology Minna - Collaborated with a team of 4 student engineers to develop an efficient windmill system for water pumping - Evaluated markets and provided recommendations to optimize the performance of the wind farm
My Education
Take a look at my formal education
Diploma, Product Design
AltSchool Africa | 2023
Minigrid designer training
Lagos Energy Academy | 2018
Bachelor of Engineering (B.Eng.), Mechanical Engineering
Federal University of Technology Minna | 2016