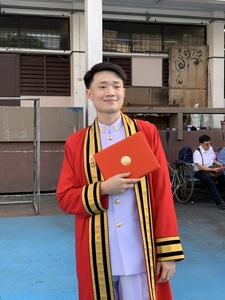 Pichai Aresanasuwan
Data Engineer
King Mongkut's Institute of Technology Ladkrabang | 307/9-10 Soi Ratchaprarop 12, Ratchaprarop Rd., Makkasan, Ratchathewi, Bangkok 10400
My Certifications
These are the industry credentials that I've earned.
Other Certificates
GOOGLE CLOUD CERTIFIED GOOGLE CLOUD CERTIFIED PROFESSIONAL DATA ENGINEER
DataCamp Course Completion
Take a look at all the courses I've completed on DataCamp.
My Work Experience
Where I've interned and worked during my career.
MFEC Public Company Limited | Sep 2021 - Present
Data Engineer
- Create data pipeline for ingest data from raw zone storage to ADLS in order to select data from raw data instead persist data. - Test ETL process framework for ingest data from on-premise to AZURE and in order to load data to Databricks and Synapse. - Investigate the root cause of the defects after run ETL process framework and data reconciliation. - Cloud: Azure and Google Cloud Platform - Python, Databricks SQL
CommExpress Thailand | Dec 2020 - Mar 2021
Technical Support Engineer
- Support customer who buy product along with training a product. - Implement a project such as wireless network for backup and view cctv.
INET Managed Services Company Limited | Jun 2020 - Nov 2020
System Engineer
Backup and Disaster Recovery role in System Engineer. Backup as a Service is reponsible to service, monitor and schedule to backup databases, file systems, and virtual machines along with restore databases, file system and virtual machines if customer needed. Disaster Recovery as a Service is reponsible to monitor and schedule to replicate virtual machines from customer's data center to INET's data center.
National Institute of Technology, Kumamoto College | Jun 2019 - Jul 2019
Summer Intern
My Education
Take a look at my formal education
Bachelor of Engineering - BE, Telecommunications Engineering  · (สิงหาคม
สถาบันเทคโนโลยีพระจอมเกล้าเจ้าคุณทหารลาดกระบัง | 2020