How a Nonprofit Leveraged DataCamp to Get Learners Employed, Fast
Our partnership with LaunchCode is getting real people real jobs.
One of the first DataCamp Donates partners is LaunchCode, a nonprofit offering free tech education and job placement opportunities, headquartered in St. Louis, MO. DataCamp Donates is our initiative to donate Premium DataCamp subscriptions to those who need a leg up to start a career in STEM in today's harsh economy. Eight months later, we've donated over 21,000 subscriptions all over the globe, and we are witnessing how DataCamp has equipped real people in local communities to achieve their career goals.
"DataCamp fits directly into the mission we have here at LaunchCode—to provide free education for anyone looking to learn how to program regardless of what experience you have prior to taking a LaunchCode course," says John Woolbright, Community Engagement Manager at LaunchCode. "When we started our partnership, we had next to no support for people who wanted to learn Data Science in Kansas City. Since then, I have been able to transition our students from web development into data science to get a more broad learning experience."
Achieving high engagement and adoption on DataCamp
The partnership was an instant hit with many of their learners. "I was excited to have a new avenue for personal and professional growth," says Forest Roberts.
Other learners like Jen Murphy locked onto specific courses. "Introduction to Data Visualization with Seaborn explains concepts with clear videos. The hands-on learning is built in such a way that each question required more of me as a learner. By the last step, I was providing almost all of the required code on my own."
The excitement generated by becoming a DataCamp Donates partner has led to extremely high adoption and engagement levels. "Our students have truly enjoyed DataCamp and find that time spent with the software is exceptionally valuable," says John Woolbright. The numbers don't lie—LaunchCode learners have completed an average of four DataCamp courses each (in addition to LaunchCode's own computer science and programming courses).
DataCamp builds skills for job readiness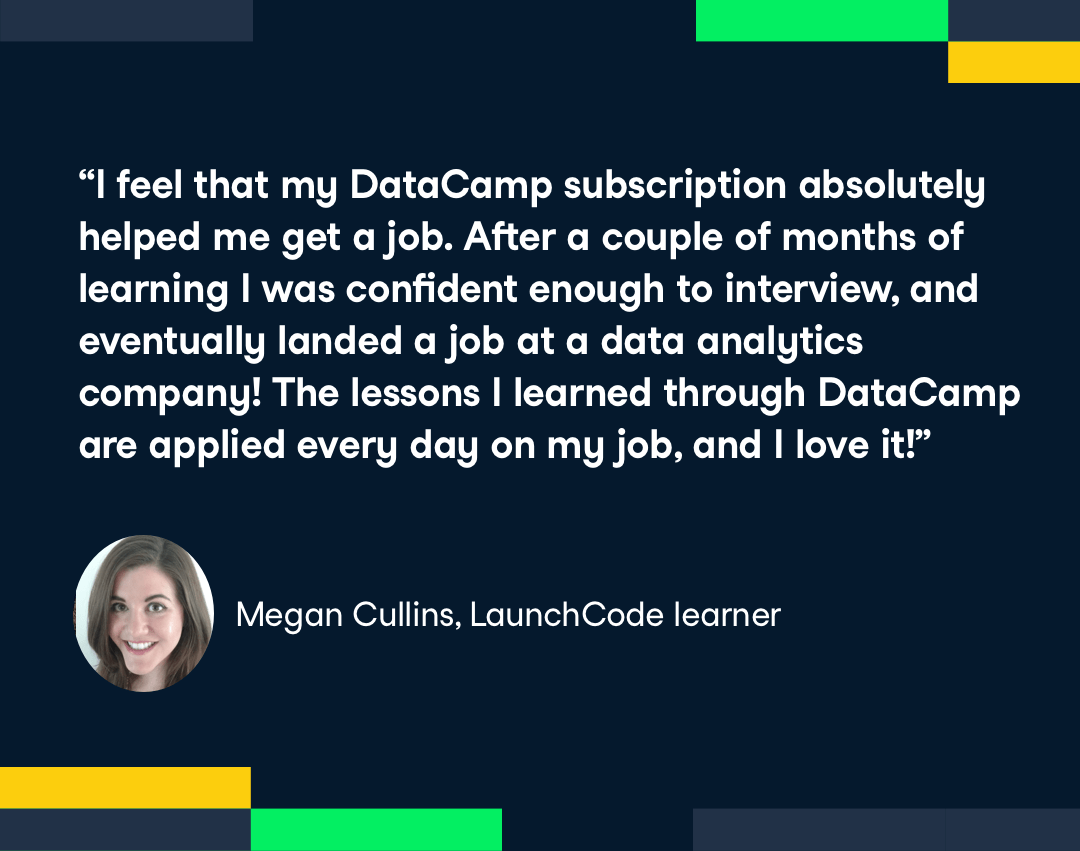 Some members of the LaunchCode community have even landed jobs with skills gained from DataCamp Donates partnership. Megan Cullins was in her ninth year working at an office furniture company when she first started learning with LaunchCode and DataCamp. She completed 50 DataCamp courses and accumulated 322,000 XP to expand her Python skills. "After a couple of months of learning, I was confident enough to interview and eventually landed a job at a data analytics company! I didn't know any Python before this class, but because of DataCamp I was able to honestly tell an interviewer that I did have experience, which helped me get a job with their company."
John wasn't surprised Megan was able to secure a position. It's the speed at which she and others achieved job readiness that was so impressive. "We started by rolling out 25 seats for Kansas City in September. Onboarding students was a breeze. By the end of the year, four of the top DataCamp learners got jobs in data science with no previous experience—just three months of learning on DataCamp."
The correlation between time spent learning on DataCamp and job readiness is not lost on Megan. "I feel that my access to DataCamp absolutely helped me get a job," she says. "The lessons I learned on DataCamp are applied every day on my job, and I love it!"
To learn more about DataCamp Donates, read our recent blog post announcing 20,000 licenses donated to nonprofits as well as the DataCamp Donates FAQ. To apply on behalf of an organization, email [email protected]. If you live in the greater Kansas City and St. Louis areas and would like free data science education or you want to support LaunchCode's efforts directly, visit www.launchcode.org.