Introducing New Associate Certifications
DataCamp has launched two new Associate Certifications for entry-level data analysts and data scientists to prove to employers they're ready to get started in a new role!
What is Associate Certification?
Certification programs often offer levels of certification that may be classified as associate or foundational, professional, and expert or master. These levels offer more flexibility and allow you to prove your knowledge and ability at different stages of your career.
Last year, DataCamp launched Professional Certifications that measure the skill level typically seen after one to two years of professional data experience. Now, we're excited to announce the addition of Associate Certification that will allow those of you just starting out to earn your first official data certification.
The Data Analyst and Data Scientist Associate Certifications were developed in partnership with industry experts that have extensive experience hiring for data roles across many different industries.

How is the Associate Certification Different from Professional?
The Associate Certification measures entry-level competencies across data-specific domains like data management, exploratory analysis, statistical experimentation, modeling, data science programming, and data communication.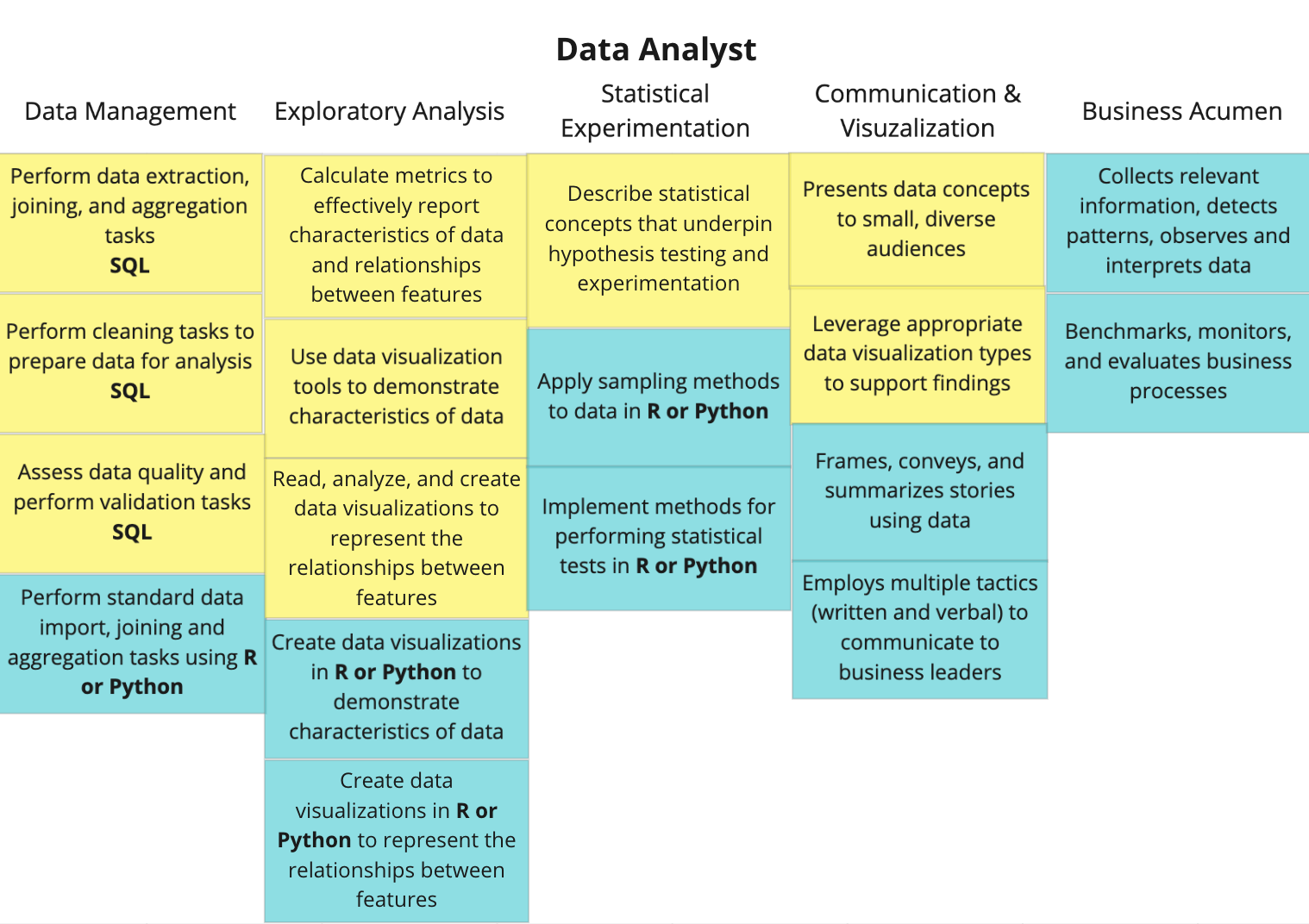 Yellow = associate level competency. Blue = professional level competency.
For Data Analyst Associate, the certification requirement is only one exam and case study, and for both Associate Certifications the case study requirement involves only a written report instead of a recorded presentation required for the Professional Certification.
Data Analyst Associate certification measures SQL and data visualization skills.
How do I Get Started with Associate Certification?
It's easy to get started! Head on over to the new DataCamp Certification dashboard and review the requirements for either the Data Analyst or Data Scientist Associate Certification. There you'll find a list of courses you can take on DataCamp to help you prepare. Once you feel ready for the certification, you'll register to begin the first exam.
Also, when you earn the Associate Certification, you'll be fast-tracked for the Professional Certification once you're ready by skipping the first exam requirement. Get Certified today!