Employee Spotlight: Ariel Hendrick, Director of Revenue Operations
In this interview, we get to know Ariel Hendrick, Director of Revenue Operations at DataCamp. We reflect on her journey toward joining DataCamp and what the future might hold for her.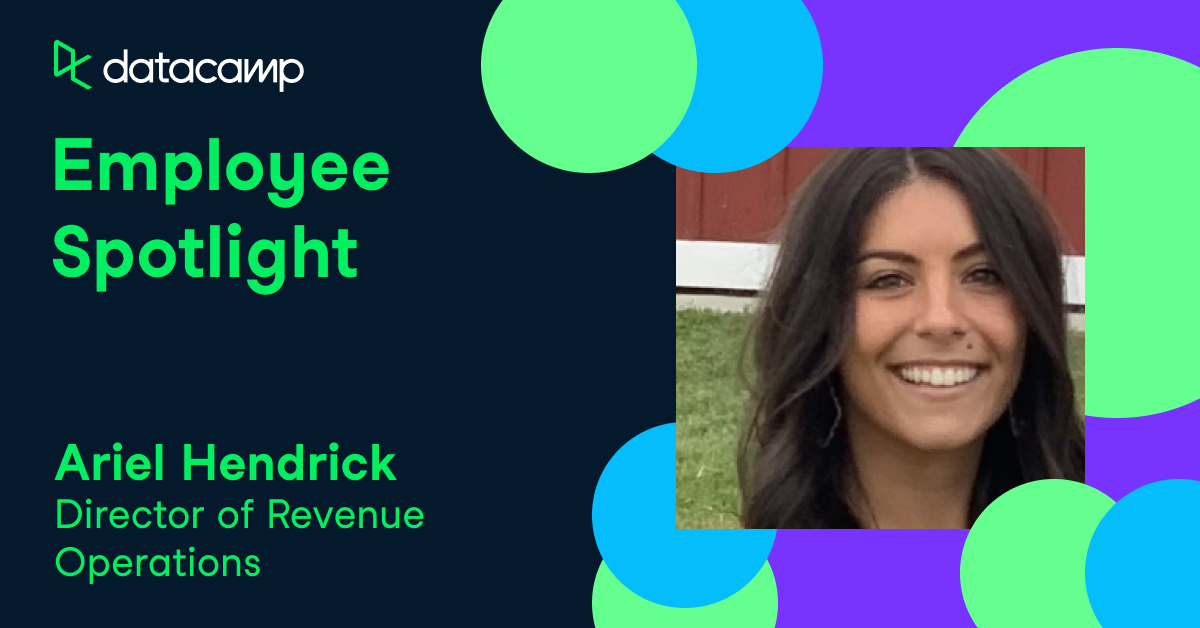 What is your job within DataCamp?
I'm the Director of Revenue Operations which is still a fairly new title within the tech industry and DataCamp. The role itself has evolved over the past few years. What used to be sales operations, primarily focused on sales organizations, has now evolved into Revenue Operations, which focuses on sales, marketing, customer success, and finance. We are the engine that keeps all these teams aligned and running efficiently. The goal of Revenue Operations is to use technology and data to improve efficiency, drive predictable revenue, and ultimately achieve revenue growth. Before this role existed, every department had its own silo to manage which we can now bring together to look at everything as a whole which is much more useful.
Did you always dream of ending up in your current role?
I originally went to university to become a teacher. I love working with kids and always loved teaching as well so to me that was the logical path to take. After I had finished my first semester I realized I didn't want to take this route anymore. Once I got to college and learned what other people were majoring in, it opened my eyes to other possibilities. I wanted to pick a career path that would be more flexible than teaching. I decided to change things up and applied to business school. I picked a major in Marketing because it seemed like the most flexible option. When I graduated, I decided to pursue marketing jobs and got hired as a marketing associate at a very small startup. They needed someone to figure out how to operate a new system they purchased, Marketo, so I offered to take this on. That was my first experience with operations, though I didn't know it yet. Next, they asked for my help with understanding how their paid marketing campaigns were performing. They gave me access to Salesforce and I started poking around when I realized all the data on this was wrong. I ended up doing research and came back to the team with a standardized framework for tracking these campaigns which was my first step in the world of Marketing Attribution and Analytics. I was having a ton of fun working with the marketing team and the work I had done on Salesforce got me promoted to Marketing Analyst, which was more in line with my interests and work. At that point, I realized I wasn't enjoying the marketing work as much as I was enjoying the systems and analytics.
After a few years at the company, I wanted to change things up and decided to work towards becoming a Data Scientist. Whenever I applied to different roles they usually got back to me to let me know I really needed to learn SQL, which led me to DataCamp's SQL course. Ultimately I ended up in a marketing operations role which was my first time on a proper revenue operations team and I loved it! My marketing experience helped me work really well with the marketing team and my knack for the systems and analytics helped me out in the revenue operations team. We were a very central team within the company and drove a lot of the decision-making.
Though I loved my job there, my goal is to become Cheif Revenue Officer (CRO) one day so I knew I needed to understand the sales and sales ops side of things better. I began looking for a role that would give me that experience. When I began looking I saw DataCamp had a marketing and sales operations role which was exactly what I was looking for.
How did you end up working at DataCamp?
A friend of mine had seen the job posting and sent it to me after she realized she wasn't a good fit. I ended up applying because it seemed like a really great next step for me and in line with my career goals. When I got the offer at the end of the interview process I was still on the fence since I really loved the company and the team I was working with. I was also nervous to start a new job mid-COVID. Ultimately, I did decide to take it because this role paves the way for the road I want to take in the future. It's been one of the best decisions I've made and my favorite job so far (and I'm not just saying that)!
What's your superpower?
My ability to learn new technologies and systems. A lot of what we do within revenue operations is working with different systems so being able to pick them up fairly quickly is a great skill to have.
Are there skills you would like to be more proficient in?
There are many skills I still need to learn, however, what I'm always looking to understand more is how to grow a business and how you determine the right strategy to do this. So far, I've learned there's definitely no one way to do this.
Can you describe your experience in 5 words or less?
Challenging but fulfilling.
This is probably the hardest I have ever worked in my career but this is also my favorite job I have ever had. They have given me the opportunity to take and run with this role. I have a lot of trust from the people around me which I really appreciate. I'm making so many big decisions so early on in my career as well, which is just awesome to me. I always appreciate how they give me the room to do what I think is best and in return, I'm being appreciated as a professional. It's definitely been the most I have ever worked but I also don't mind it because I have learned so much, which is what I'm here for, after all.
What is your favorite DataCamp memory or moment?
There have been a lot of them, especially recently because the world is starting to open up more and more. I just got back from Miami for our fun sales kickoff.t was great seeing everyone meet in person for the first time.
But my favorite memory at the moment might be the karaoke back in November. That was the first time I got to meet most of my colleagues face-to-face and the cherry on top was everyone singing together. I still laugh when I think about it because there were about two people who were actually good at singing, but still we all had a blast and everyone participated!