How DataCamp Donates Connected Pakistani Students During COVID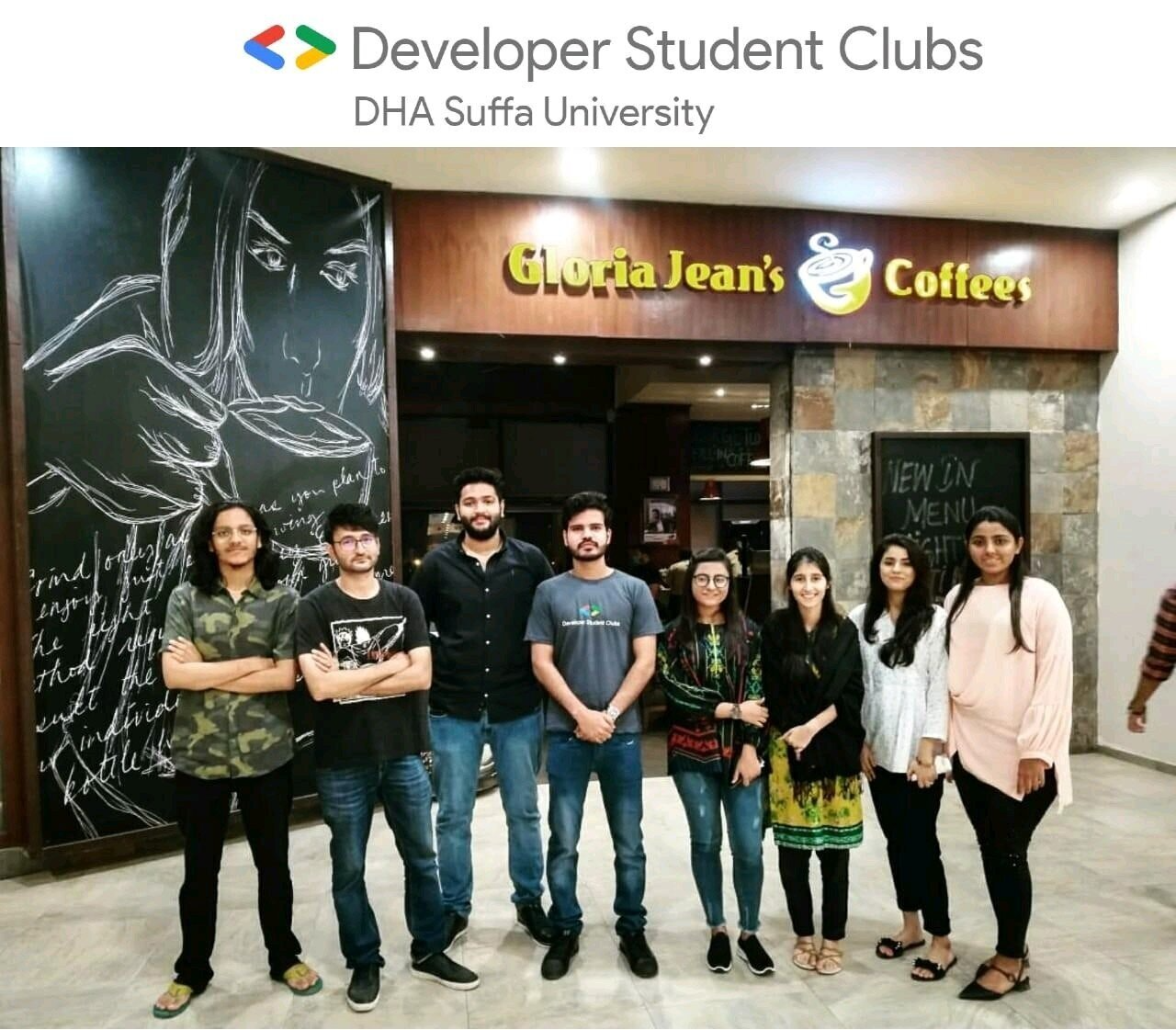 [email protected] Core Team (left-to-right): Tarun Kumar, Shaham Mahmood, Abeer Shaikh, Syed Ateeq (GDSC Lead), Sarah Nasir, Amina Kazim, Nimra Nasir, Muskan Halani. Not pictured: Alishan, Bahawal, Abdul Rauf Bughio, and Shifali.
The Google Developer Student Club at DHA Suffa University helps students grow knowledge in a peer-to-peer learning environment and build solutions for their community and businesses. I was selected as the first GDSC Lead from DHA Suffa University in part because I believe you cannot change the world, but you can change yourself. So instead of changing the world, I focused on my college community and promoted real-world practical applications by doing online boot camps. But the cherry on top was when I secured the partnership from DataCamp Donates.
"DataCamp Donates was a dream-come-true opportunity for me that I jumped at. I instantly fell in love with the detailed instructions and practical exercises. Thanks, DataCamp, for this exciting opportunity and for being a part of my career journey." —Ayesha [email protected] Member
It's great news when you see an email that you are selected to work at Google, and you're the first one to be selected in your university. However, it comes with a lot of responsibilities and struggles. And then: we all were hit with the COVID-19 outbreak. All of the educational institutions were closed and so were the plans of doing tech events, talks, or boot camps. GDSC took COVID-19 as a challenge and shifted their all activities online using Google Meet. The problem GDSC solved is that we provided a proper roadmap to learning specific technologies. If someone wanted to learn front-end development, we conducted an online boot camp in Flutter with a proper roadmap and guidance from the experienced alumni network.
But teaching data science, which is new in Pakistan with very few opportunities, was still a long procedure because its novelty means people have more to learn.
We were fortunate enough to hear back promptly from DataCamp after applying to become a DataCamp Donates partner. We received a generous amount of DataCamp Professional accounts which we shared with students not only in DHA Suffa University but also to other of the universities in Pakistan and some good friends in Malaysia. With all the amazing tools and curricula at our disposal, it instantly became clear for all of us what we wanted to learn to achieve our personal and professional goals.
The best thing about DataCamp is the combination of video and exercises of one concept at one time that keeps the interest, engagement, and excitement throughout the learning experience very well. The instructors are able to ignite the fire of passion for data science in students which has led students to enjoying and learning DataCamp courses at the same time.
"DataCamp is an addiction, if you study daily, you want to study more and more. They have the best hands-on exercises on every topic which is the best way to learn anything. You can make your skills sharper by practicing questions and projects." —Asad Ullah Bin [email protected] Member
The biggest challenge of keeping an online community together, especially in COVID times, has been a lack of motivation due to isolation and the inability to meet in person - organizing online boot camps with 70-80 people has been the most difficult part.
GDSC initiated the idea of connecting like-minded people together using a WhatsApp group in which we added motivational ideas. One was the person who completes any DataCamp statement of accomplishment will post in our online messaging group on WhatsApp. Everyone would offer their congratulations, which would motivate other students.
The environment with proper mentorship is the key to excellence in learning anything fast and productive. The highly experienced DataCamp instructors and a community who supports you to start and support you every day from one milestone to the next. This interactive approach to learning, coupled with the supportive GSDC WhatsApp group, has been integral to the success of the GSDC learners.
---
---
← Back to blog