DataCamp is the 36th Fastest-Growing Company on Deloitte's Technology Fast 500™
DataCamp grew 3,437% from 2015 through 2018.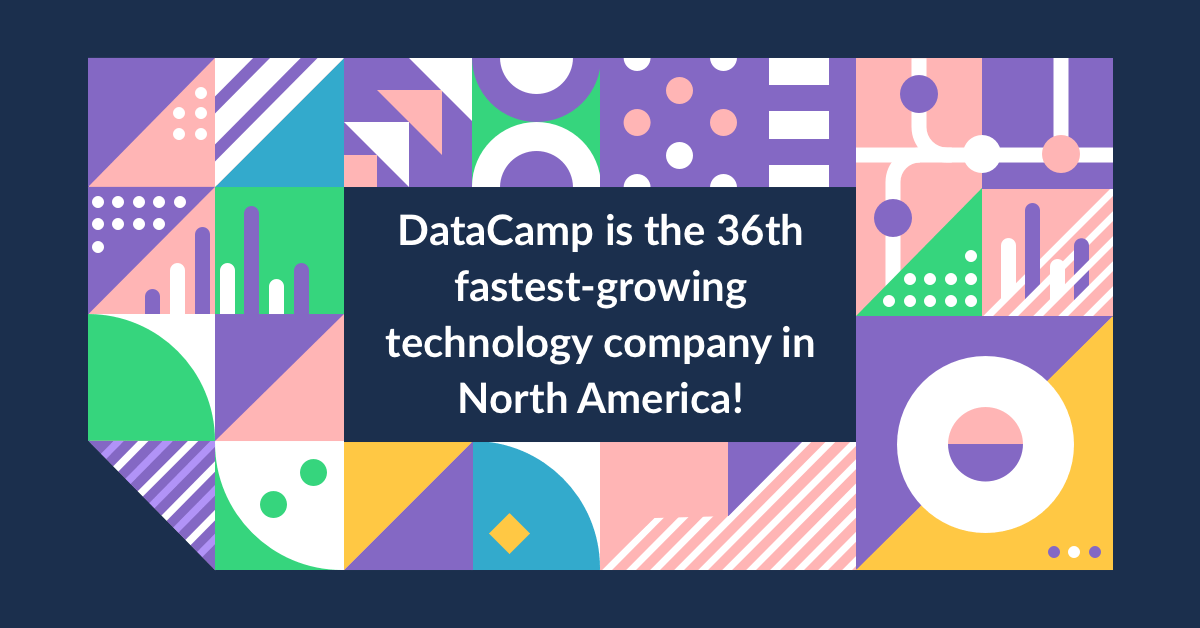 DataCamp is proud to announce that we ranked number 36 on Deloitte's Technology Fast 500™, a ranking of the 500 fastest-growing technology, media, telecommunications, life science, and energy tech companies in North America. DataCamp grew 3,437% from January 1, 2015, to December 31, 2018, and is the second-fastest-growing edtech company to have earned this distinction.
"DataCamp's rapid growth underscores the value our learners, enterprise customers, and the data science community are realizing from our platform," said DataCamp co-founder Martijn Theuwissen. "We're finding that as data makes its way into every aspect of business, the more all professionals are faced with having to interact with data on a daily basis. We've been laser-focused on helping businesses and individuals learn these critical skills, and will continue to build on our technology to offer the most effective, hands-on learning experience in the market. Deloitte's culture of innovation and industry leadership aligns perfectly with our mission to make data fluency accessible to everyone."
To learn more about DataCamp being named a Technology Fast 500™ award winner, read the full press release here.
DataCamp's stellar growth can be attributed to a number of factors, from the evolution of our platform and curriculum, to our instructor community and customer base.
Our Platform and Curriculum
DataCamp for Business
At DataCamp, we believe that data fluency—the ability to understand data, communicate insights from that data, and ultimately to make more informed decisions—is a requirement for data-driven companies and professionals in the 21st century. According to a survey we conducted of over 300 L&D leaders representing diverse industries, building data fluency is a moderate or high priority for 89% of companies. These companies are outperforming their peers in revenue growth, market share, profitability, and customer and employee satisfaction.
DataCamp for Business gives individual teams and entire organizations an online learning experience scaled to their data training needs—to de-risk their AI and machine learning initiatives, close their data skills gap, and track and report on their organization's data skill gaps and strengths. It's easy to implement and manage for teams of any size, with advanced analytics and insights, custom learning paths, and seamless SSO and LMS integrations.
Employees need the right level of training to develop the data skills that will enable them to be successful in each of their roles. DataCamp Professional Services is designed to help our customers identify the data skill sets they need within each team or across their organization to achieve their strategic business goals. We help teams map their core responsibilities to a custom set of recommended courses. Our custom learning programs ensure that teams are prepared to leverage their data, remove organizational silos and bottlenecks for increased efficiency, and make data-driven decisions that move their company forward.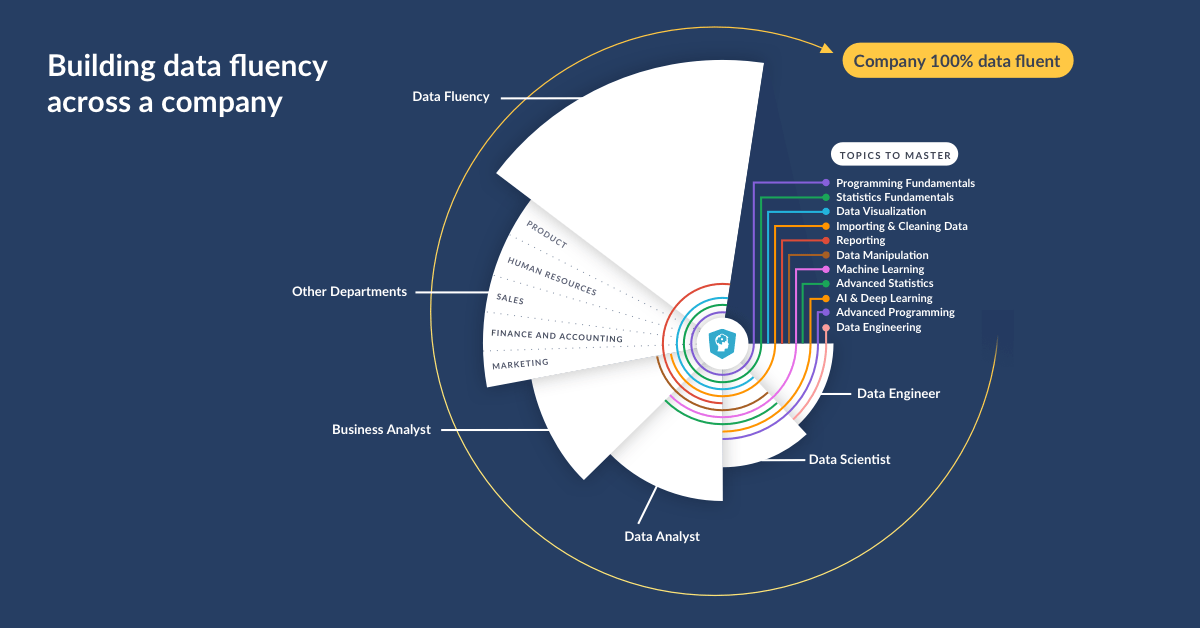 Creating the most effective platform to develop data fluency
DataCamp is the learning platform for data-driven companies to build and apply the data skills they need to make better business decisions.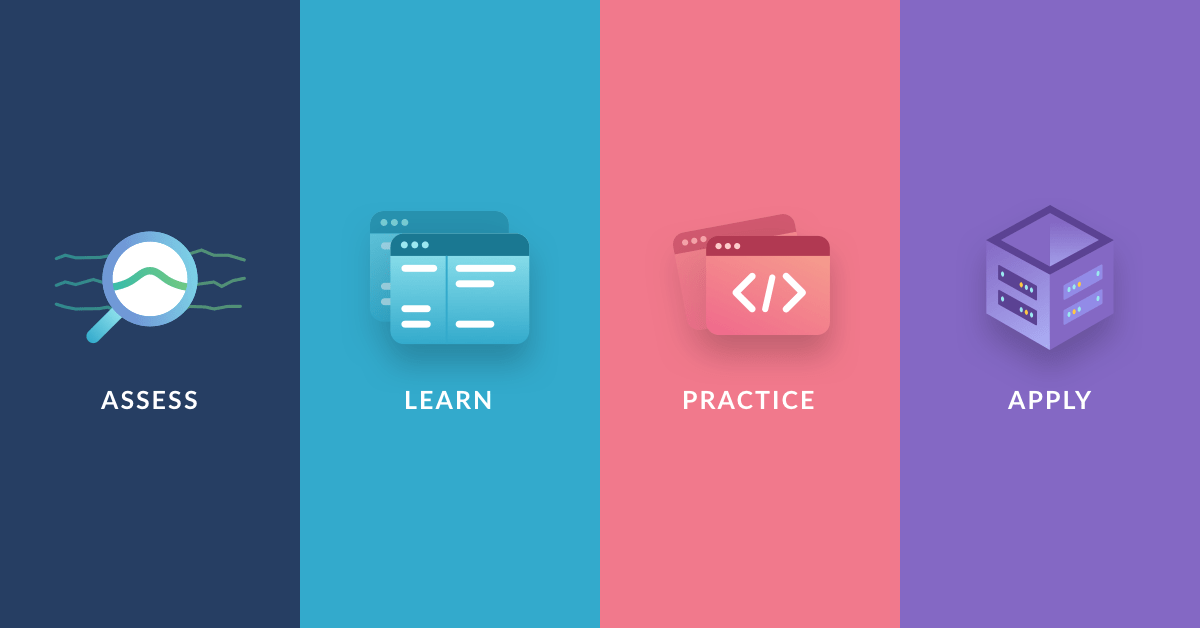 Assess
DataCamp Signal™, our adaptive skill assessment, helps teams and individuals quickly gain a bird's-eye view of their skill levels in Python and R. Signal isn't like other tests: learners write actual code in addition to completing multiple-choice questions, and the difficulty of the assessment automatically adjusts based on performance. Signal provides personalized course recommendations based on learners' strengths and skill gaps, helping them make the most of the time they spend learning on DataCamp.
Learn
To help our learners build data fluency, we've expanded our curriculum to cover a wide breadth of technologies and topics, including Python, R, SQL, Git, Shell, Scala, data engineering, spreadsheets, and data science for business leaders. Our library of interactive courses has grown from just one course on January 1, 2015, to over 300 courses today, and our average course completion rate of 60% is far higher than the industry average of just 15%.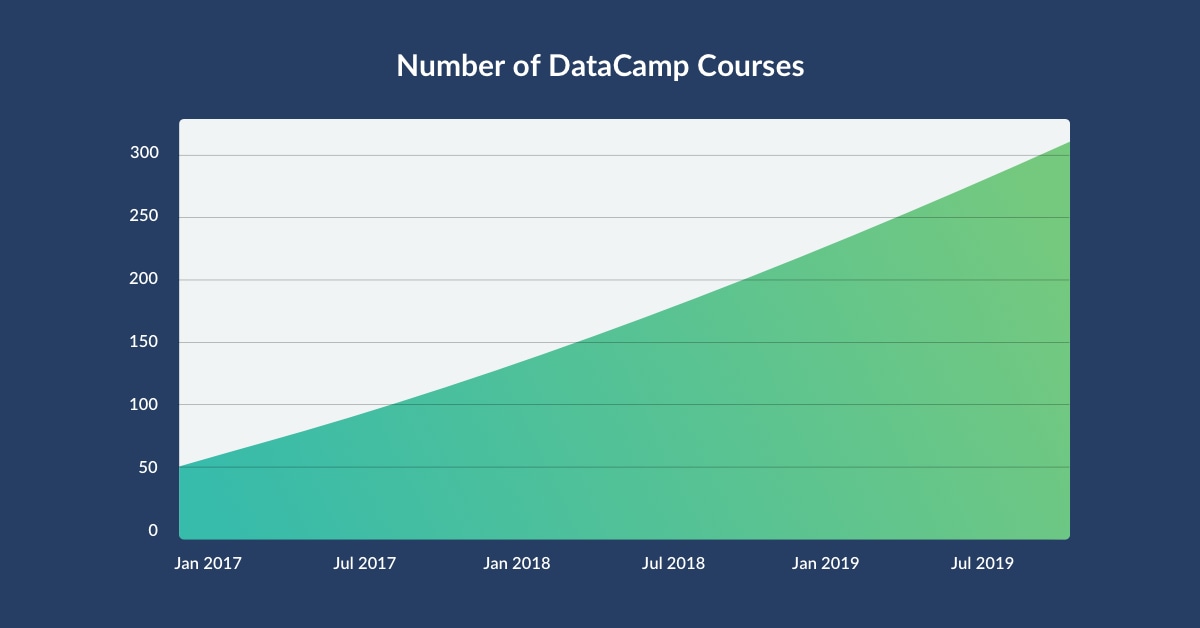 Practice and Apply
In addition to the massive growth in our course library, we've also added new ways for learners to build data fluency at their own pace, including a mobile app for on-the-go-learning, short daily practice exercises, and projects to apply their skills to real-world problems.
Our Instructor Community
Our instructors represent diverse fields of expertise, ranging from industry to government and academia, and teach from 36 countries and 32 U.S. states. We only work with the best instructors—we receive over 700 yearly applicants and accept just 20% of those who apply.

Our Customers
DataCamp's mission is to democratize data science and analytics education, and make data fluency accessible to millions of people and businesses around the world. Since 2015, we've grown our learners by over 5,600% to over 4.7 million, and now have more than 1,600 business customers around the world, including 3M, Credit Suisse, Ikea, Intel, Uber, and more. And through DataCamp for the Classroom, we've provided free access to DataCamp to more than 200,000 students from 180 countries.

About Deloitte's 2019 Technology Fast 500™
Now in its 25th year, Deloitte's Technology Fast 500 provides a ranking of the fastest-growing technology, media, telecommunications, life science, and energy tech companies—both public and private—in North America. Technology Fast 500 award winners are selected based on percentage fiscal year revenue growth from 2015 to 2018.
In order to be eligible for Technology Fast 500 recognition, companies must own proprietary intellectual property or technology that is sold to customers in products that contribute to a majority of the company's operating revenues. Companies must have base-year operating revenues of at least \$50,000 USD, and current-year operating revenues of at least \$5 million USD with a growth rate of 75% or greater. Additionally, companies must be in business for a minimum of four years and be headquartered in North America.