Radar Recap: Acing the Data Science Interview with Jay Feng
During the DataCamp Radar Conference, Jay Feng, CEO of Interview Query, outlined how to approach technical interviews for data roles.
As data science matures, technical interviews for data roles are becoming increasingly complex. If you are an aspiring data scientist hunting for your first data job, technical interviews are often the trickiest and most challenging part of the application process. During the interview, you will have to demonstrate not only your technical mastery but also your communication and problem-solving skills, as well as your ability to think under pressure.
As a part of the DataCamp Radar Conference, we hosted a session on how to ace the data science interview with Jay Feng, CEO of Interview Query, a remote data science interview prep platform whose mission is to help every data scientist land a job in the industry.
During the session, Feng broke down the most important things aspiring and junior data practitioners need to know about interviewing for data science roles. In this post, we present a summary of the event and the key takeaways.
The different types of data science interviews
One of the aspects that makes technical interviews in data science especially challenging is the great variety of interviews we can encounter. Data science is a complex and demanding discipline that requires data professionals to have knowledge and competencies in a wide array of domains and tools. Since technical interviews are designed to test these skills, you can expect many types of interviews depending on the requirements of the job at hand and the career path you choose (see next section).
According to Feng, "there are around 10 to 15 data science skill sets". The questions you may be asked range from data manipulation with SQL or Python, and the underlying statistics and algorithms behind machine learning, to use cases analyzing product metrics, and questions related to system design (e.g. how you would build a new dataset from scratch).
While interviews for other IT positions, such as software engineer, are mostly focused on coding, the multidisciplinary nature of data science provides more leeway for interviewers to ask data aspirants questions in different areas. As Feng pointed out, the questions we will deal with in the technical interviews are "the building blocks of what we will do in our actual job".
Typical Career Paths in Data Science
When looking for a data science job, it's important to put your efforts into those roles that require the skills you are good at. The good thing about structuring data jobs according to the competencies needed is that "you can align your skills to a position you want to jump in".
There are multiple career paths in data science, and the number is growing, as the rapid development of the discipline is resulting in more specialized roles. Below you can find a now exhaustive list of positions that were mentioned in Jay's Session:
Data Analysts collect, analyze and interpret data to solve business problems of all kinds. To do their tasks, they use a combination of programming tools and statistical methods.
Product Analysts are similar to Data Analysts, but, product analysts mainly focus on metrics that measure the growth and health of a given business product. For example, following the launch of a new app, product analysts will want to know how users interact with it. To do so, they will track metrics like the daily active users, and the number of sessions per user
Data Scientists share many tasks with data analysts. However, data scientists are expected to use more advanced data techniques, such as machine learning and deep learning, to extract insights from vast amounts of structured and unstructured data, and build predictive models.
Machine Learning Engineers devote their time to building, training, and deploying machine learning models that can learn from data to make decisions. According to Feng, the mission of machine learning engineers is to "develop models to turn data into products".
Researchers are constantly finding answers to fundamental questions and expanding the body of theoretical knowledge within data science. This is a highly technical track that requires the highest level of knowledge in math and machine learning theory.
Field Researchers are responsible for finding solutions to practical problems within a company. Field researchers focus on immediate commercial outcomes, for example, ensuring that new learning techniques can be applied to real-world datasets.
Preparing for a Data Science Interview
According to Feng, the preparation process for a data science interview can be broken down into four simple steps:
Research the data science role. As mentioned previously, you should focus on the roles you like the most and where you have more chances to succeed in the light of the skills you are best at. Hence, it's always worth investing some time in research before sending any application.
Benchmark your skills. How do you know if your skills are solid enough to get the job? Many people look for interview questions on the internet to benchmark their skills. This is not a good strategy, according to Feng, as these questions normally deal with simple, core topics, and are very unlikely to appear in an interview. "Interview questions are more like a case study, normally introduced by a problem statement". These are the types of real questions that you should use to test your skills.
Build a daily study plan. To strengthen your skills and increase your chances of landing your dream job, you need to be consistent. According to a survey conducted by Feng's company, Interview Query, users that studied more questions got an overall higher interview success rate. How to design your study plan? In Feng's words: "Make solving questions easy, solve one question a day, and practice on increasingly harder problems".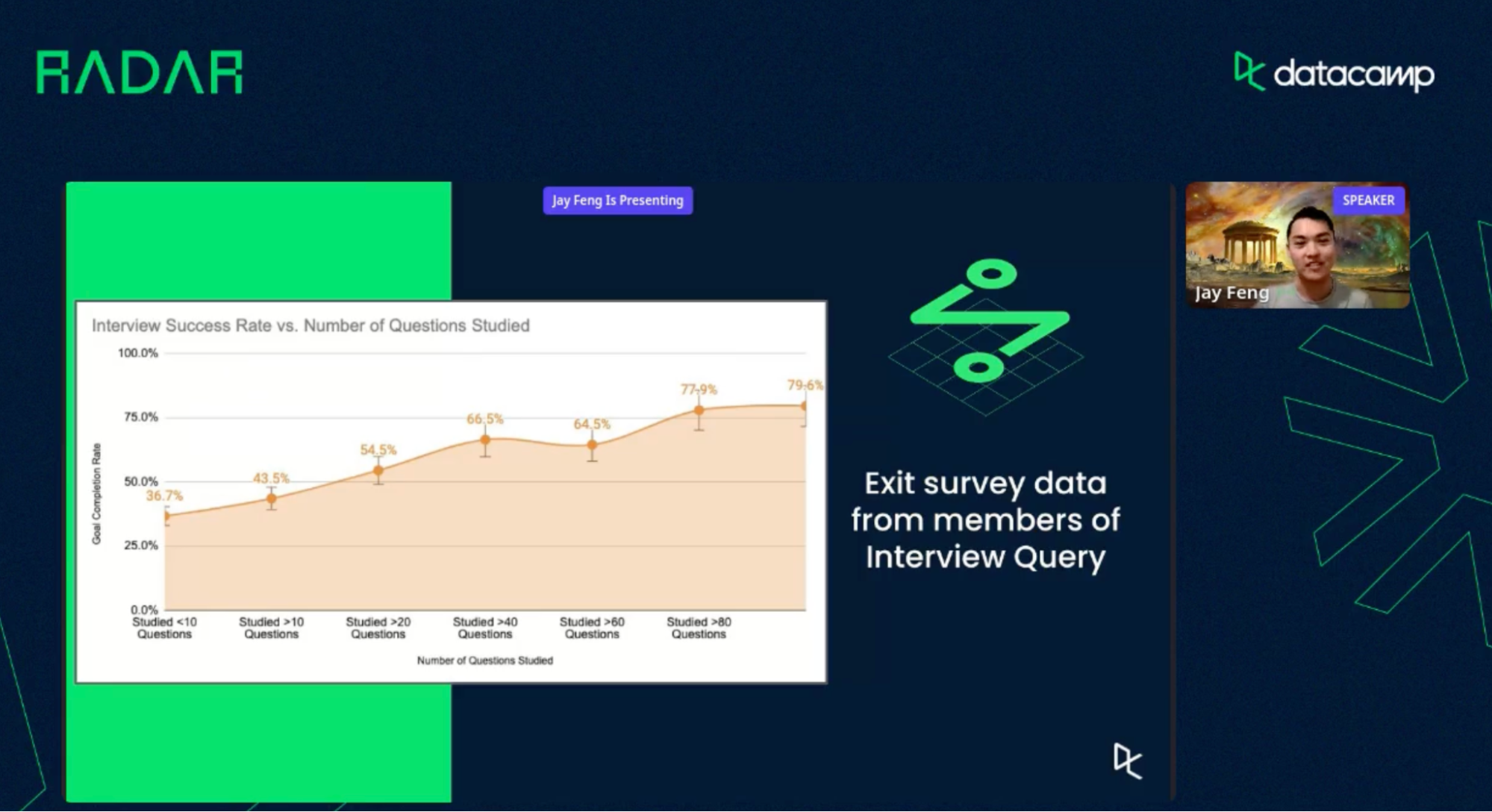 Get interview feedback. Finally, it is always good to have someone you can share your interview answers with and who can provide you with feedback and advice. This can be done by writing down your thoughts and sharing them with couches and specialists, yet, as Feng highlighted, the best way to get feedback is by speaking to them in person.
If you're interested in learning more, you can catch Jay's session in its entirety. Also, check out other sessions from Radar that you may be interested in.
Feel inspired by this advice?
Set up your jobs profile on Datacamp jobs