Radar Recap: Acing the Data Science Resume with Jen Bricker
During our DataCamp Radar Conference, Jen Bricker, Head of Career Services at DataCamp explained how to make the most of your data science resume during the application process
Professional resumes are a core part of any application process. Data science is not an exception. The majority of companies require a resume to apply to any data science open position. In fact, resumes are often the first layer for recruiters to filter job applications. That's why having an outstanding data science resume (i.e., a brief written account of your personal, educational and professional qualifications and experience) will have a great impact on your chances of landing your dream job.
As a part of the DataCamp Radar Conference, we hosted a session on how to ace the data science resume with Jen Bricker, Head of Career Services at DataCamp. In the session, she outlined the key strategies for acing the data science resume, discussed how to make a great first impression to recruiters with a resume, best strategies to beat automated applicant tracking systems, the ideal format for data science resumes, and how to best highlight technical expertise and work experience, and more.
In this post, we present a summary of the key takeaways from Jen's Session.
Jen Bricker discusses data science resumes
The first test for your data science resume will often be an application tracking system (ATS). Companies of all sizes and domains rely on these systems to filter out candidates that don't meet the requirements for the job.
"60% to 70% of applications get shifted out of consideration before humans actually look at the application". — Jen Bricker, Head of Career Services at DataCamp
How to beat ATS? First and foremost, keep your resume simple. You should always remember that it will be a system, the first reader of your resume, not a human. Hence, rather than convince the system of your suitability, you need to keep things simple so the risk of corrupting the ATS is minimized.
"You don't need a pretty resume in terms of design, you need an effective resume". — Jen Bricker, Head of Career Services at DataCamp
Below you can find a list of ideas to keep in mind when formatting your data science resume:
Use a single-column resume template
Integrate as many keywords from the job posting as possible
No charts or background art and images
Limit to 1 page (2 pages max)
Use a simple font
Include hyperlinks instead of lengthy URLs
Do not add explanations of skill levels (intermediate, advanced, etc.)
Top Resume Examples
To put theory into practice, Bricker presented several real, well-crafted data science resumes. In particular, the samples she presented were aimed at illustrating two very common applicant personas: an experienced professional transitioning to data science and a recent graduate with limited professional experience.
Career Transitioner Resume Examples
If you find yourself in the first scenario, you should put your strongest skills at the top of your resume, together with a strong summary explaining your objective and why you are transitioning careers. "You need to highlight the skills and domain knowledge you are able to bring with you from your past experiences". Following your skills, you have to include your education, including any data-related course, certificate, or training you have pursued.
Your previous work experience should go at the bottom of your resume. Make sure to highlight any tasks or responsibilities dealing with data. Yet not necessary, it's always good to include some data science portfolio projects.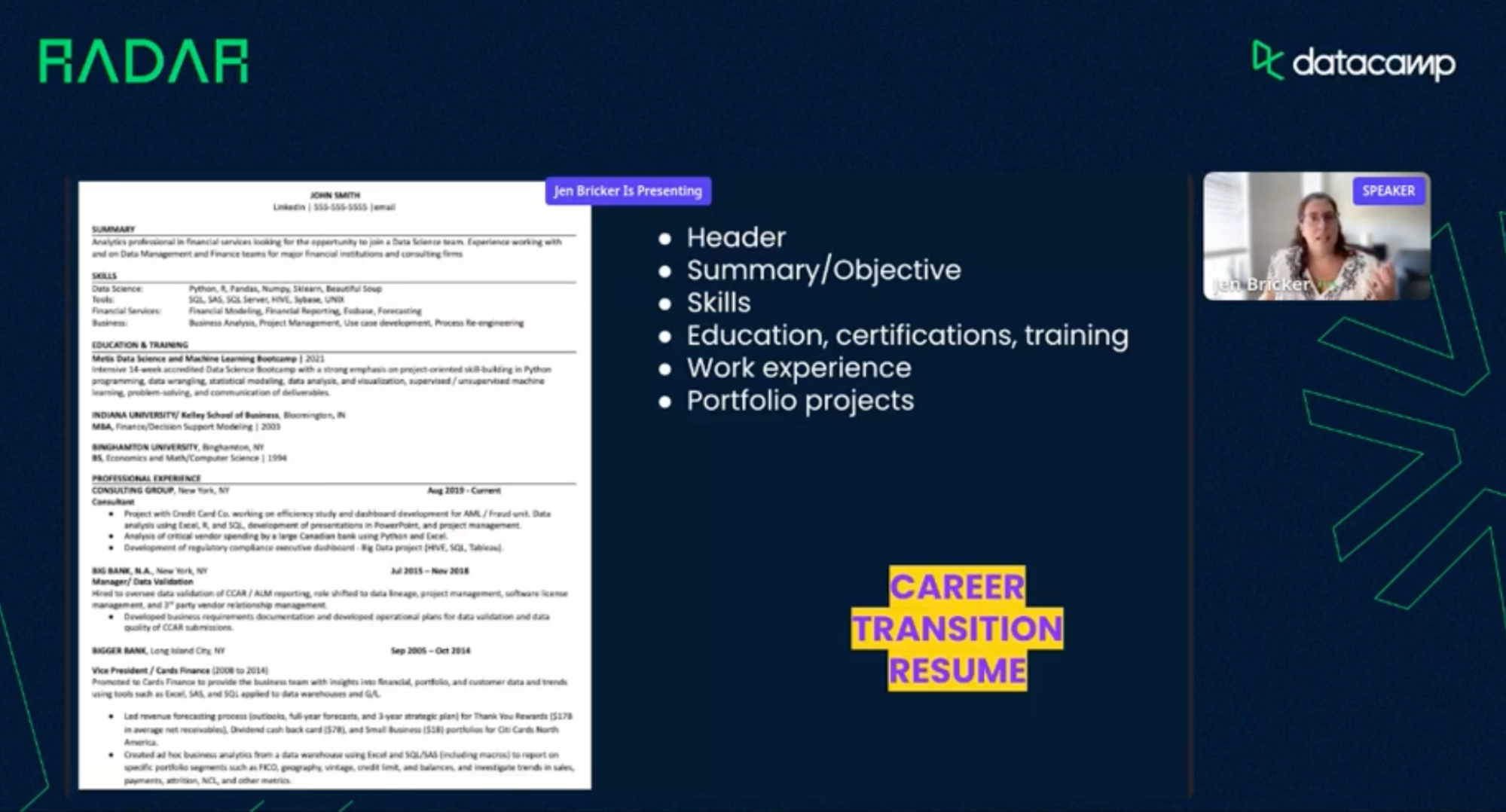 Career Transition Resume Example
Recent Graduate Resume Examples
On the other hand, if you are a recent graduate, the sequence of the section in your resume will change slightly. Since you cannot rely on previous experience to showcase your capability to work with data, your skills and portfolio projects become much more essential.
Equally, your education and certifications become more valuable, as they work as the validators of your skills. Finally, at the bottom of your resume, you should include a section about your work experience. Even if you have never worked with data, including experiences, such as internships or part-time jobs, show that you have a minimum level of professional experience.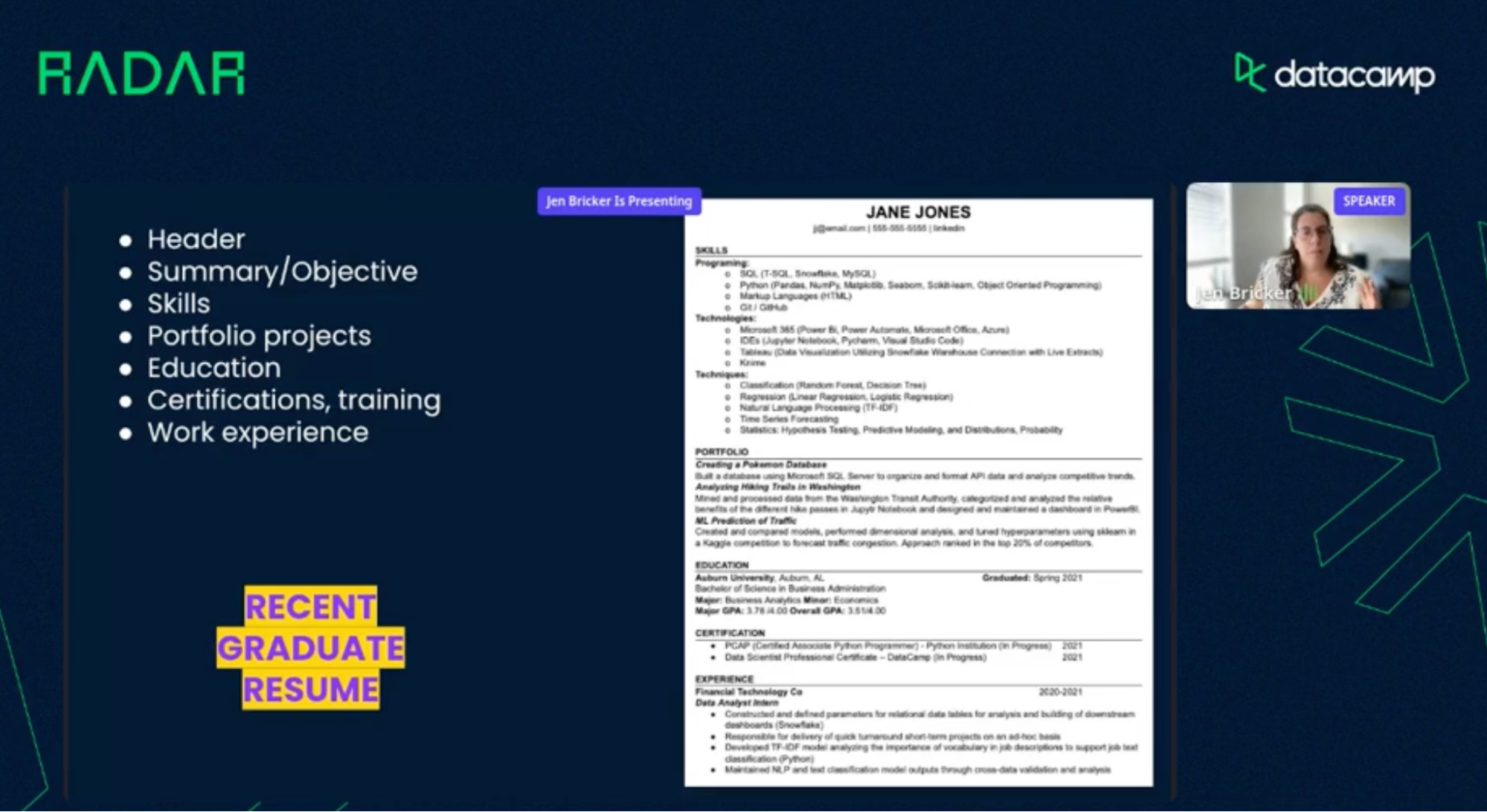 Recent Graduate Resume Example
Best practices for high-quality data science resumes
As important as the sequencing of the sections in your resume is the content of the sections. Since resumes shouldn't be larger than 1 page, you will need to prioritize the information you put on your resume. How to do it? As Bricker pointed out, it's important to personalize your resume for the role.
"You should focus on the skills and experiences that relate more to the roles you are applying to" — Jen Bricker, Head of Career Services at DataCamp
When it comes to the work experience section, the phrasing is extremely important. A good strategy, Bricker recommended, is describing previous experiences using PAR (problem, action, results) statements.
"Instead of being task-oriented, try to phrase your resume to highlight how you succeeded in your previous roles" — Jen Bricker, Head of Career Services at DataCamp
This way of phrasing your achievement entails using action verbs to begin every statement and quantify your results.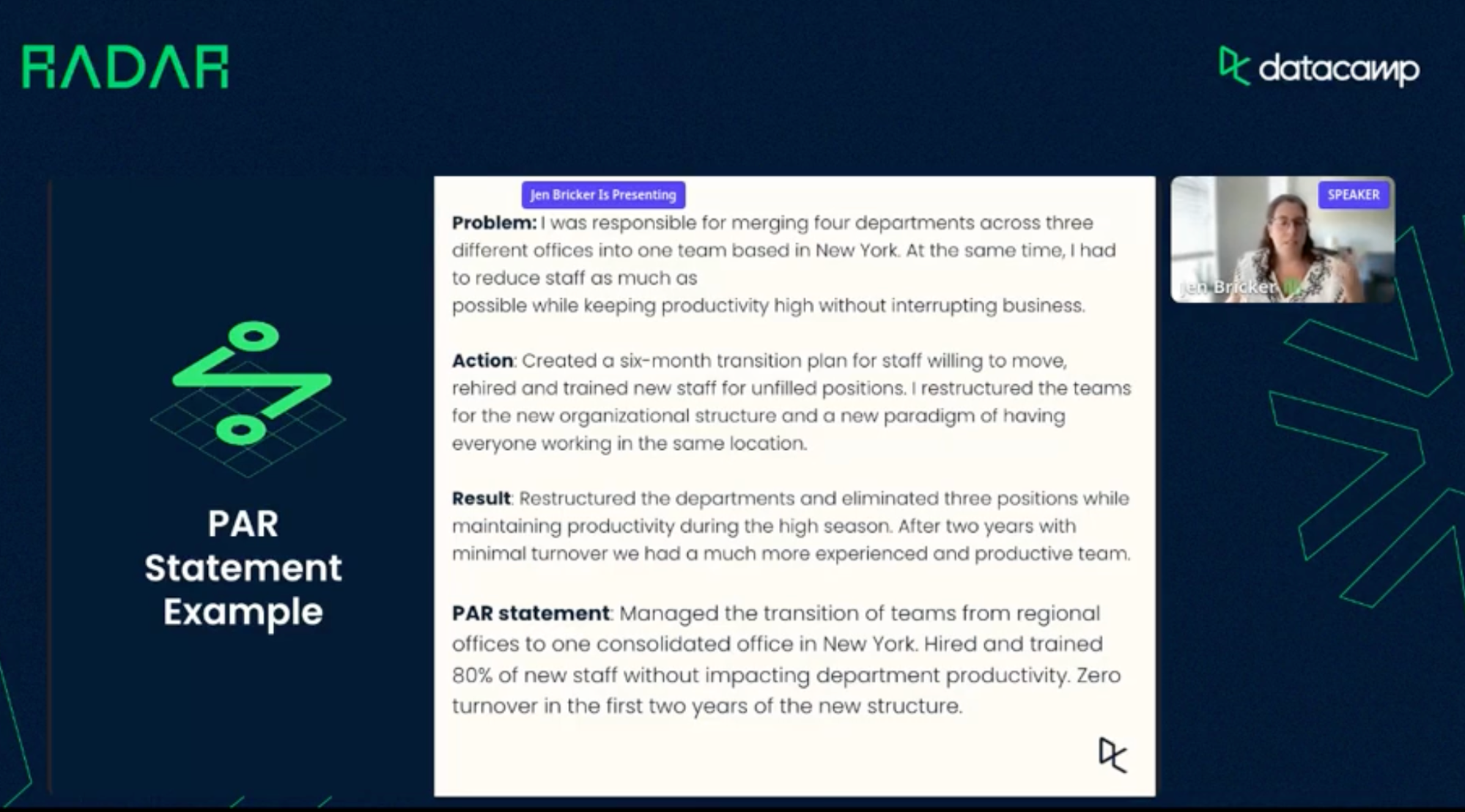 PAR statement Example
Finally, another critical aspect to keep in mind is to customize your resume and cover letters for every job you are applying to.
"Customization is the key to success with beating an ATS and getting in front of a recruiter" — Jen Bricker, Head of Career Services at DataCamp
By customizing your resume you are not only increasing your chances to move to the next step in the application process, but you are also showing a personal interest in the position and the firm, which can make a big difference during the interview phase.
Here is a list of advice to build a customized resumes
Use keywords and phrases from the job post, particularly in your objective or summary statement
The summary statement should highlight why you're the best choice for this particular role
Companies care more about what you can do for them, rather than what you hope to get out of the role
Showcase only the technical skills that are relevant to the position.
If you're interested in hear everything Jen had to see, you can view the session in its entirety. Also, check out other sessions from Radar that you may be interested in.
Feel inspired by this advice?
Set up your jobs profile on Datacamp jobs