Radar Recap: A Day of Data Career Insights
Overview
Last week, on June 23rd, Datacamp hosted Radar: an online job summit. The free event consisted of two simultaneous streams of talks, webinars, and panels led by data industry giants. The mission of Radar was to help both recruiters and job seekers to navigate the future of data careers.
Why now? With the consistent growth of the data science and analytics industry comes a demand for roles as well as those seeking to fill them. Datacamp knows how difficult it can be to hire and be hired in the ever-developing market. In celebration of the launch of our job board in the US, UK, EU and Canada, Datacamp wanted to give Radar attendees exclusive insight into the industry, readying them to use the site and find their perfect job or team.
Stats
Radar was a roaring success for Datacamp numbers. Over 18k professionals from around the world registered for a seat at the free online event. The impact on socials included 3 million impressions, 500k reach, and 10k engagements.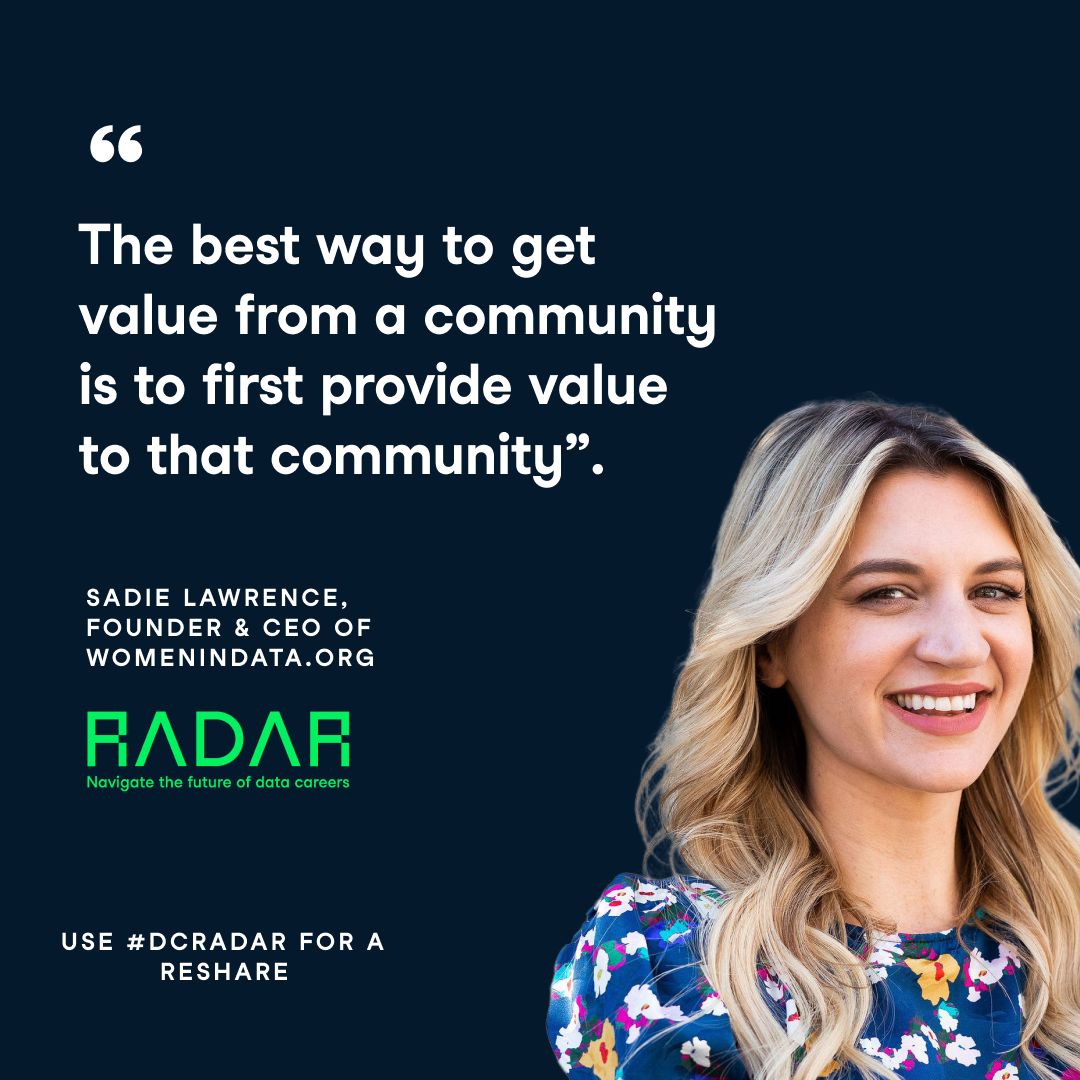 Speaker insights: Job Seekers
For stream 1 focusing on job-seeking , there were speakers including Sadie St Lawrence, Founder & CEO of Women in Data, and Jorge Vasquez, Director of Analytics at Datacamp. These talks were aimed at helping job seekers at all stages to start or advance their careers. Within these sessions, topics included how to launch your career, tips on acing a data science interview, and Q&As on nailing your resume and how to land your dream data job.
Sadie Lawrence shared her philosophy that "the best way to get value from a community is to first provide value to that community." She also provided top strategic tips, such as using a "Find Your Bridge" venn diagram to compare your current skills with your target job skill.
Feel inspired by this advice?
Set up your jobs profile on Datacamp jobs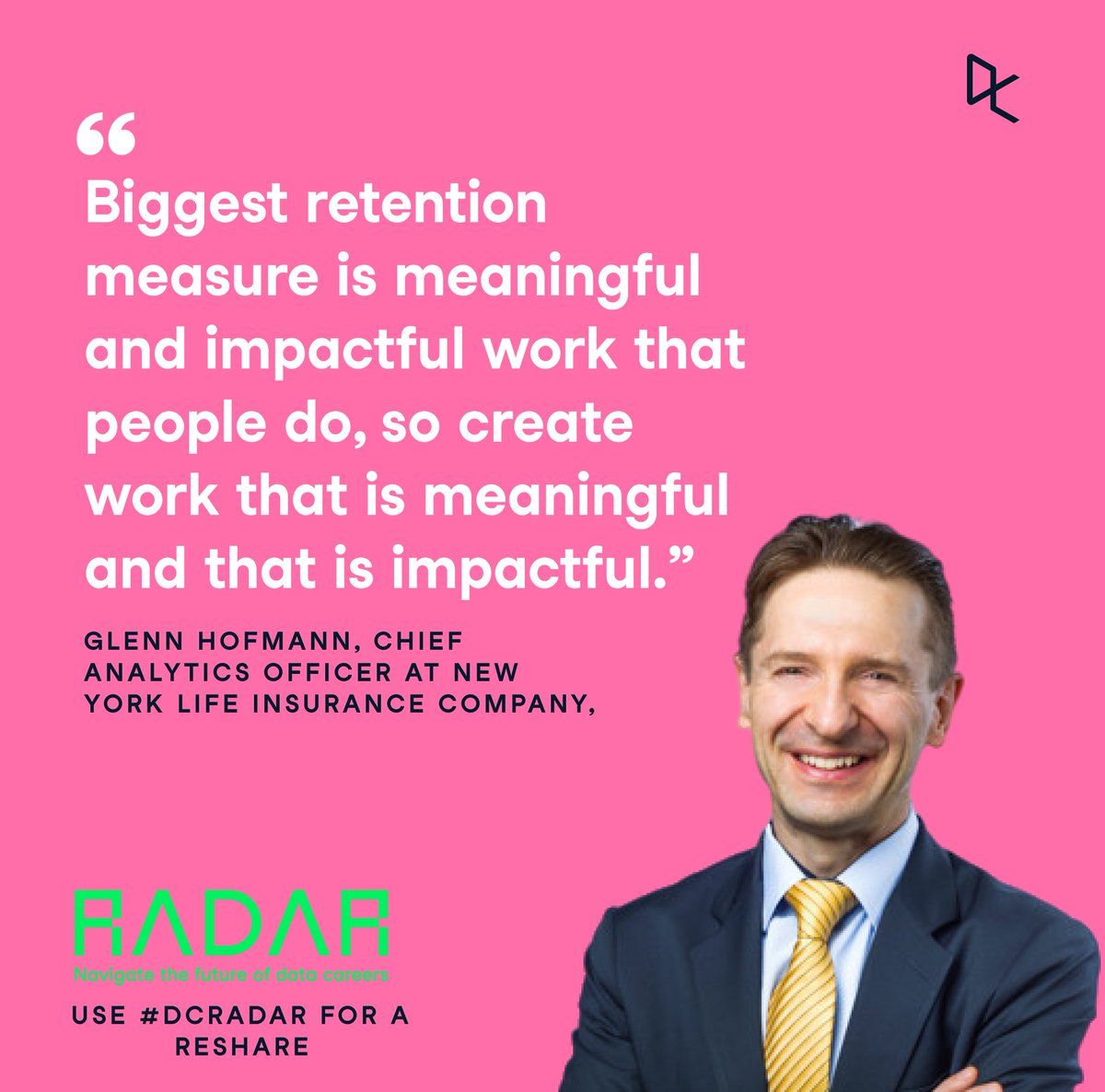 Speaker insights: Recruiters
For stream 2 focusing on hiring, the session topics were aimed at supporting recruiters across the entire hiring process. From how to hire and retain Data Talent, how to solve your employer branding problems, how to hire and build
high-impact data team, to building and scaling remote teams. The lineup discussing these points included Meenal Iyer, Senior Director of Enterprise Analytics and Data and Mariano Allegra, SVP at Lawrence Harvey.
Glenn Hofmann, Chief Analytics Officer at New York Insurance Company, explained that the "biggest retention measure is meaningful and impactful work that people do, so create work that is meaningful and that is impactful".
Looking to grow and scale your data team?
With DataCamp Recruit, we've made it easy to hire and scale your data teams through access to job-ready data professionals, clear insights into a candidate's skills, and the ability to filter exactly for the skills you need. Money back guarantee if no hires are made in the first 12 months.
Access recordings
If you didn't manage to bag your place at the Radar event, or want to revisit some of the inspiring talks don't fret! You can access recordings of all the panel discussions here. Click "Enter the event" and register for free to get access to all the replay videos from the event schedule.