Introducing DataCamp Competitions!
DataCamp's data science competitions are now live! You'll be able to put your data science skills into practice for the chance to win prizes, get new additions to your portfolio, and learn new approaches to a single problem from other people who solved it.
Why did we launch data science competitions?
We started DataCamp to help everyone build their data skills, through learning by doing. We're constantly innovating, making it easier for learners to go from learning to applying their skills to solve real-world challenges. For example, we've created over 80 different projects, we've launched our in-browser tool Workspace, and we've designed two of our certification's assessments to be based upon how well learners can apply what they know.
We are now pleased to announce the launch of data science competitions, in which you'll perform an analysis based on a dataset and problem statement. This data analysis will be performed and presented in a Workspace notebook, and it will then be assessed through an upvote system and a panel of experienced data scientists. There are huge prizes to be won and these will be a regular occurrence, starting today!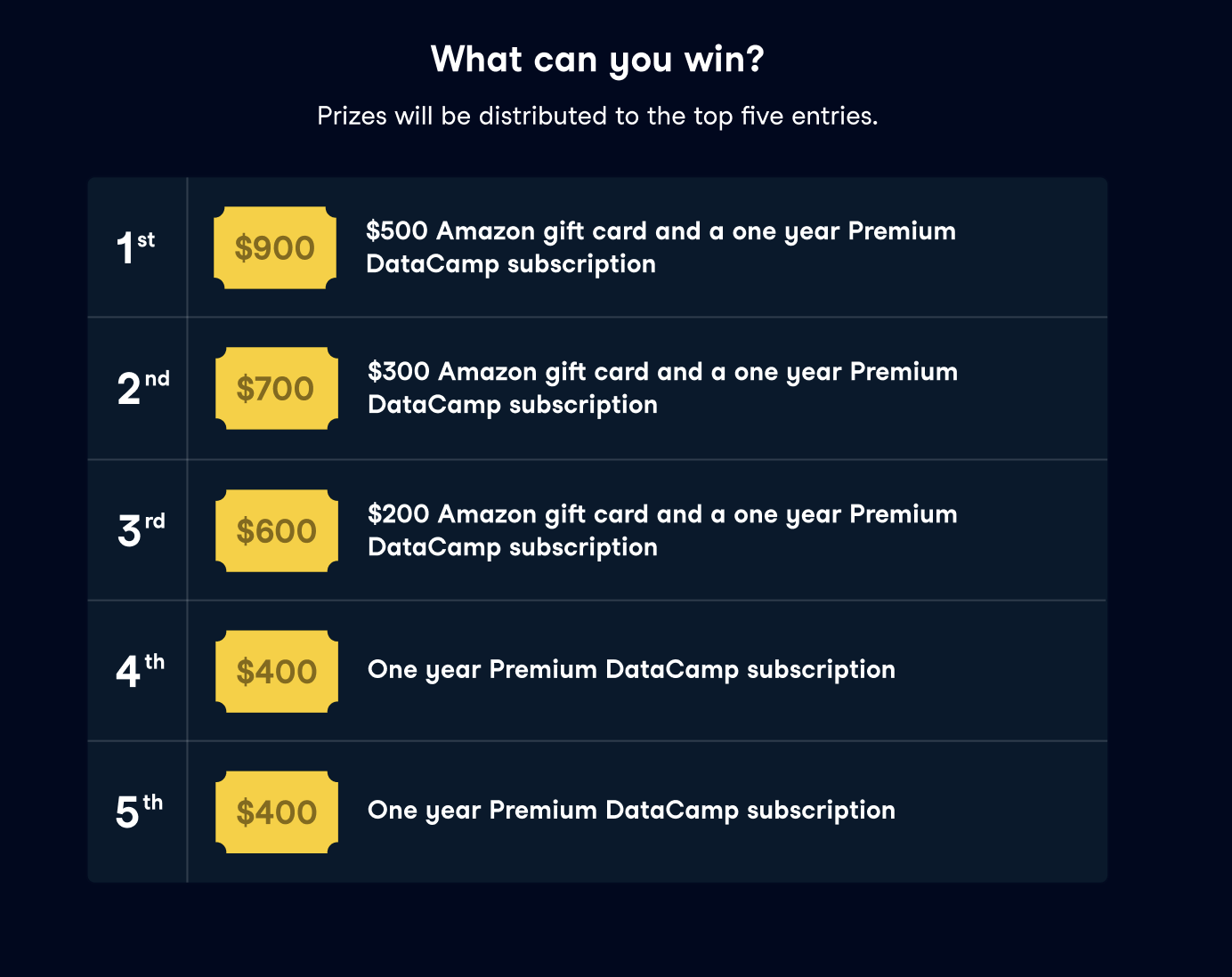 What is the first DataCamp data science competition?
Our first data science competition, "Designing a promo strategy for a drinks company", is now live, so if you're curious go check it out.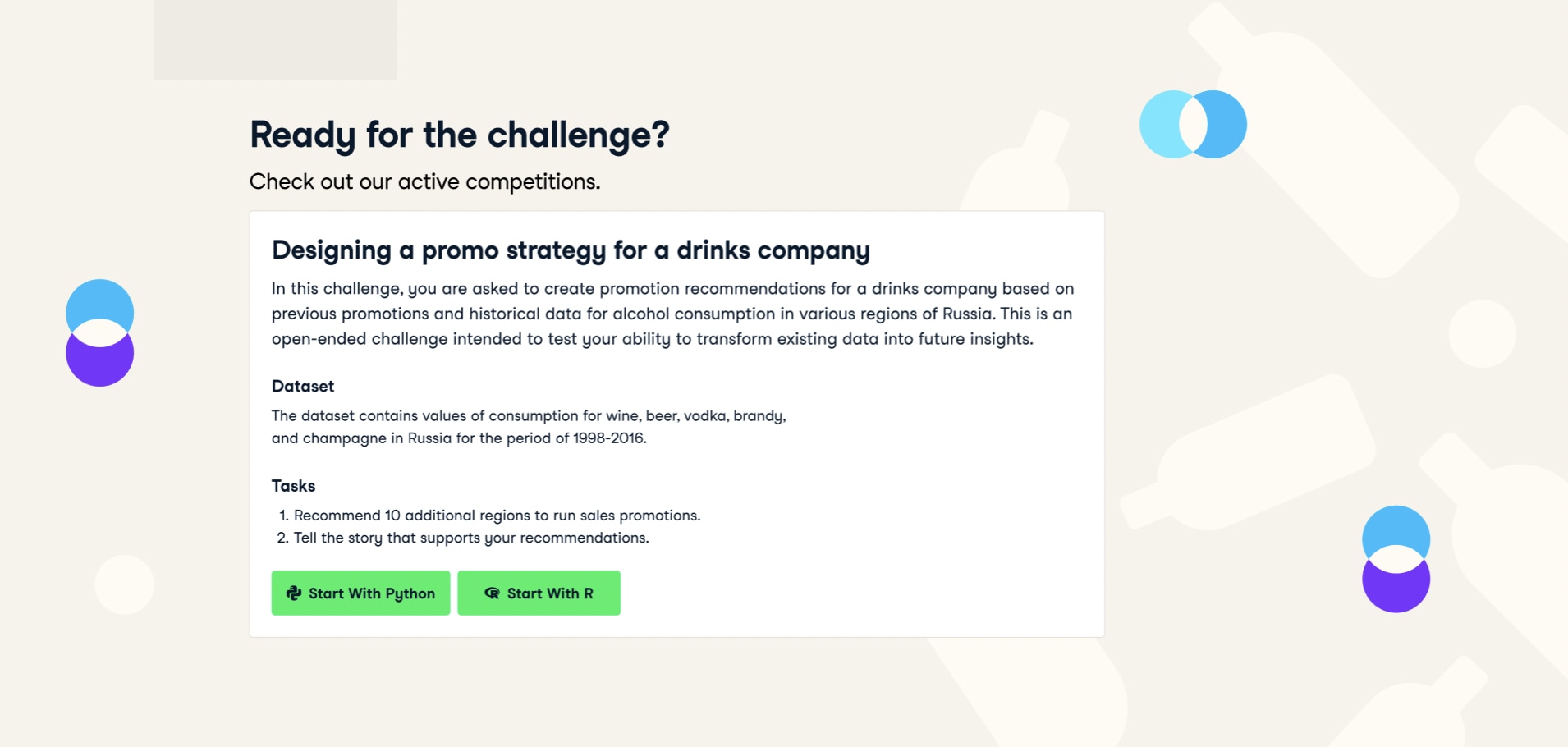 In this challenge, you're asked to create promotion recommendations for a drinks company based on previous promotions and historical alcohol consumption data in various regions of Russia.
What entering DataCamp competitions can do for your career?
DataCamp Competitions are designed to help users gain real-world data science experience—similar to what a data analyst would typically encounter in the workplace. All learners stand to strengthen their data science experience and coding skills by participating, as well as the opportunity to build a strong portfolio whose contents will be given an upvote score as part of the judging process. Furthermore, non-participants will have the opportunity to learn from submitted publications by seeing how others have found creative solutions to complex data problems.
What competitions entail
Every week a new challenge is launched based upon a real-world dataset and problem statement drawn up by our team. Once a competition is launched, learners have two weeks to complete their analysis and publish it using Workspace, our online data science notebook.
Once you've submitted your analysis you can share your publication with your friends and on your social media to get upvotes on it. This will also enable them to upvote it early, before voting to the wider public begins.
After the submission deadline, the judging process begins. This step is two-fold:
DataCamp learners and other data science enthusiasts give publications upvotes, and the most popular will be reviewed by the judges.
The judges will spend the following week evaluating these publications and selecting their own top five out of these.
In the case of "Designing a promo strategy for a drinks company":
Submissions will close on October 31, 2021 at 11:59 PM PT and voting will start on November 1. On this date all workspace notebook publications will be opened to the wider public for upvoting, and you'll be able to upvote your favorite publications to boost their chances of winning.
Voting will end on November 7.
Judges will determine 5 winners, then announce them by November 12.
What skill level DataCamp competitions are intended for?
DataCamp competitions are open-ended challenges intended to test your analytical, storytelling, and visualization skills. As a recommendation, we would say complete the skill track relevant to the tool you'll be using in your analysis. DataCamp competitions are similar in certain respects to Kaggle, although they will have more of a focus on real-world analytics so are more accessible to a wider audience.
What else is coming up?
If you haven't already, be sure to follow DataCamp on Facebook, Twitter, LinkedIn, and Instagram, where every week we will announce the launch and topic of new competitions!

Curious? You can learn more about our data science competitions here, and if you'd like some inspiration you can check out the winning publications of our Workspace competition.
---
---
← Back to blog