Data Manipulation with dplyr in R Cheat Sheet
With this data manipulation with dplyr in the R cheat sheet, you'll have a handy reference guide in your R upskilling journey.
Dplyr is one of the most widely used tools in data analysis in R. Part of the tidyverse, it provides practitioners with a host of tools and functions to manipulate data, transform columns and rows, calculate aggregations, and join different datasets together.
In this cheat sheet, you'll find a handy list of functions covering dplyr functions —all collected from our Data Manipulation with dplyr course.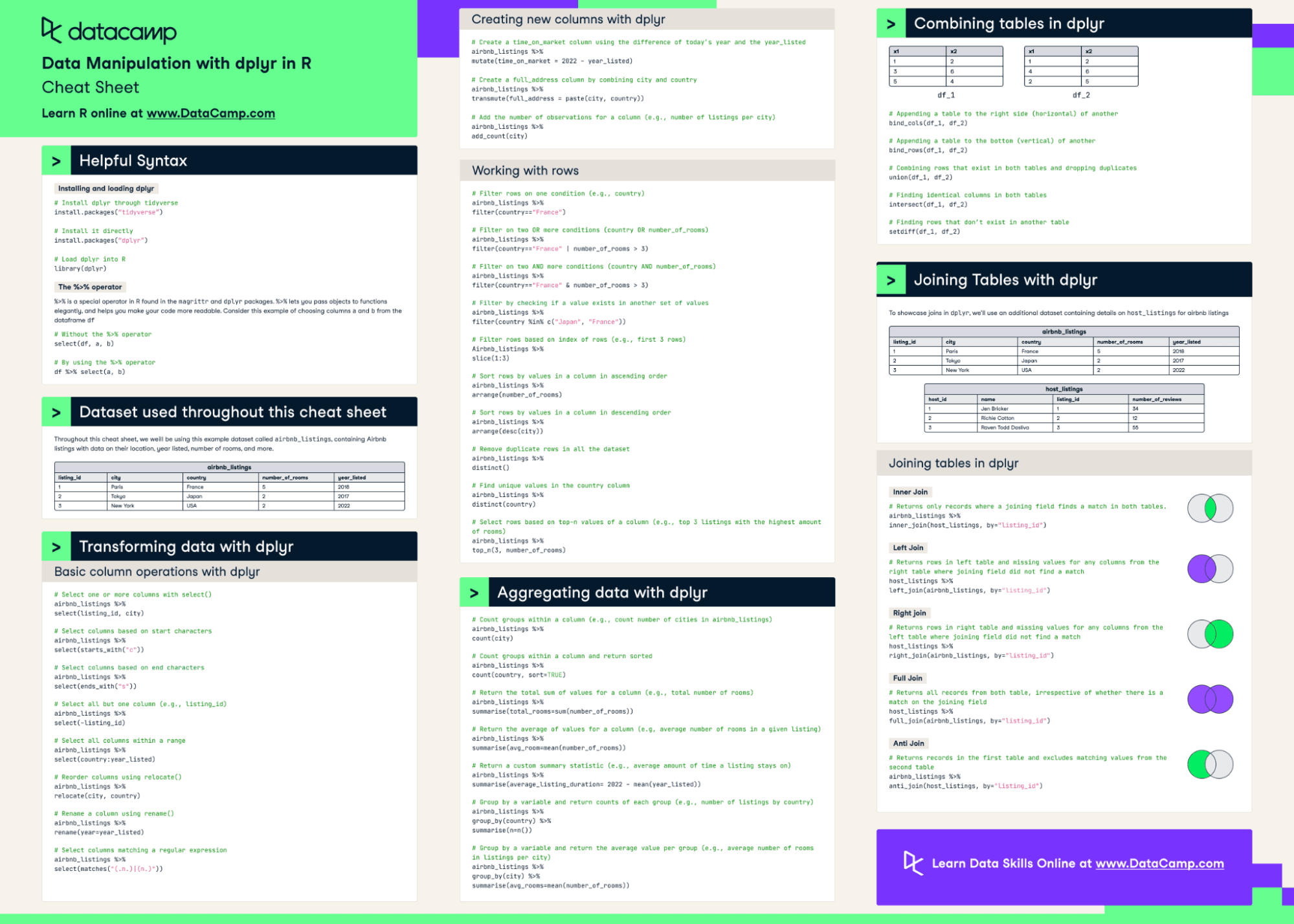 Helpful syntax to know
Installing and loading dplyr
# Install dplyr through tidyverse 
install.packages("tidyverse")

# Install it directly
install.packages("dplyr")

# Load dplyr into R
library(dplyr)
The >%> operator
%>% is a special operator in R found in the magrittr and dplyr packages. %>% lets you pass objects to functions elegantly, and helps you make your code more readable. Consider this example of choosing columns a and b from the dataframe df
# Without the %>% operator
select(df, a, b)

# By using the %>% operator
df %>% select(a, b)
Dataset used throughout this cheat sheet
Throughout this cheat sheet, we will be using this example dataset called airbnb_listings, containing Airbnb listings with data on their location, year listed, number of rooms, and more.
airbnb_listings
listing_id
city
country
number_of_rooms
year_listed
1
Paris
France
5
2018
2
Tokyo
Japan
2
2017
3
New York
USA
2
2022
Transforming data with dplyr
Basic column operations with dplyr
# Select one or more columns with select() 
airbnb_listings %>% 
select(listing_id, city)

# Select columns based on start characters 
airbnb_listings %>% 
select(starts_with("c"))

# Select columns based on end characters 
airbnb_listings %>% 
select(ends_with("s"))

# Select all but one column (e.g., listing_id) 
airbnb_listings %>% 
select(-listing_id)

# Select all columns within a range 
airbnb_listings %>% 
select(country : year_listed)

# Reorder columns using relocate() 
airbnb_listings %>% 
relocate(city, country)

# Rename a column using rename() 
airbnb_listings %>% 
rename(year = year_listed)

# Select columns matching a regular expression 
airbnb_listings %>% 
select(matches("(.n.) | (n.)"))
Creating new columns with dplyr
# Create a time_on_market column using the difference of today's year and the year_listed 
airbnb_listings %>% 
mutate(time_on_market = 2022 - year_listed)

# Create a full_address column by combining city and country 
airbnb_listings %>% 
transmute(full_address = paste(city, country))

# Add the number of observations for a column (e.g., number of listings per city) 
airbnb_listings %>% 
add_count(city)

Working with rows
# Filter rows on one condition (e.g., country) 
airbnb_listings %>% 
filter(country == "France")

# Filter on two OR more conditions (country OR number_of_rooms) 
airbnb_listings %>% 
filter(country == "France" | number_of_rooms > 3)

# Filter on two AND more conditions (country AND number_of_rooms) 
airbnb_listings %>% 
filter(country == "France" & number_of_rooms > 3)

# Filter by checking if a value exists in another set of values 
airbnb_listings %>% 
filter(country %in% c( "Japan", "France"))

# Filter rows based on index of rows (e.g., first 3 rows) 
Airbnb_listings %>% 
slice(1:3)

# Sort rows by values in a column in ascending order 
airbnb_listings %>% 
arrange(number_of_rooms)

# Sort rows by values in a column in descending order 
airbnb_listings %>% 
arrange(desc(city))

# Remove duplicate rows in all the dataset 
airbnb_listings %>% 
distinct()

# Find unique values in the country column 
airbnb_listings %>% 
distinct(country)

# Select rows based on top-n values of a column (e.g., top 3 listings with the highest amount of rooms)
airbnb_listings %>% 
top_n(3, number_of_rooms)
Aggregating data with dplyr
# Count groups within a column (e.g., count number of cities in airbnb_listings) 
airbnb_listings %>% 
count(city)

# Count groups within a column and return sorted 
airbnb_listings %>% 
count(country, sort = TRUE)

# Return the total sum of values for a column (e.g., total number of rooms) 
airbnb_listings %>% 
summarise(total_rooms=sum(number_of_rooms))

# Return the average of values for a column (e.g, average number of rooms in a given listing)
airbnb_listings %>% 
summarise(avg_room = mean(number_of_rooms))

# Return a custom summary statistic (e.g., average amount of time a listing stays on) 
airbnb_listings %>% 
summarise(average_listing_duration = 2022 - mean(year_listed))

# Group by a variable and return counts of each group (e.g., number of listings by country) 
airbnb_listings %>% 
group_by(country) %>% 
summarise(n = n())

# Group by a variable and return the average value per group (e.g., average number of rooms in listings per city) 
airbnb_listings %>% 
group_by(city) %>% 
summarise(avg_rooms = mean(number_of_rooms))
Combining tables in dplyr
df_1
df_2
# Appending a table to the right side (horizontal) of another 
bind_cols(df_1, df_2)

# Appending a table to the bottom (vertical) of another 
bind_rows(df_1, df_2)

# Combining rows that exist in both tables and dropping duplicates 
union(df_1, df_2)

# Finding identical columns in both tables 
intersect(df_1, df_2)

# Finding rows that don't exist in another table 
setdiff(df_1, df_2)

Joining tables with dplyr
To showcase joins in dplyr, we'll use an additional dataset containing details on *host_listings* for airbnb listings
airbnb_listings
listing_id
city
country
number_of_rooms
year_listed
1
Paris
France
5
2018
2
Tokyo
Japan
2
2017
3
New York
USA
2
2022
host_listings
host_id
name
listing_id
number_of_reviews
1
Jen Bricker
1
34
2
Richie Cotton
2
12
3
Raven Todd Dasilva
3
55
Joining tables with dplyr
Inner Join
# Returns only records where a joining field finds a match in both tables. 
airbnb_listings %>% 
inner_join(host_listings, by = "listing_id")
Left Join
# Returns rows in left table and missing values for any columns from the right table where joining field did not find a match 
host_listings %>% 
left_join(airbnb_listings, by = "listing_id")
Right Join
# Returns rows in right table and missing values for any columns from the left table where joining field did not find a match 
host_listings %>% 
right_join(airbnb_listings, by = "listing_id")

Full Join
# Returns all records from both table, irrespective of whether there is a match on the joining field
host_listings %>% 
full_join(airbnb_listings, by = "listing_id")

Anti Join
# Returns records in the first table and excludes matching values from the second table 
airbnb_listings %>% 
anti_join(host_listings, by = "listing_id")
---