DataCamp for Classrooms is Now Free to Polish Secondary School Teachers and Students
New milestone alert! We're bringing DataCamp for Classrooms to secondary schools in Poland. Apply today to join the 700,000 teachers and students worldwide who have learned on DataCamp for free!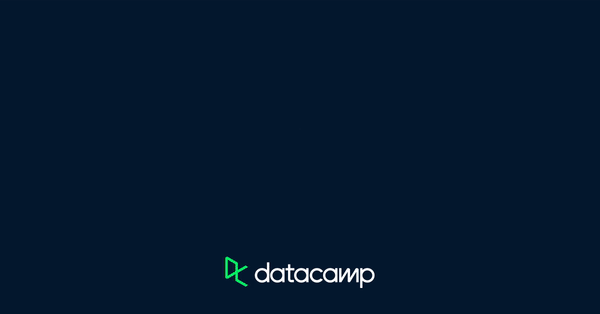 DataCamp continues to expand its global data literacy democratization efforts into new horizons. At the time of publication, we have crossed over 700,000 teachers and students all around the world who have received free data science education with DataCamp for Classrooms. This significant milestone is one of many contributing to our mission of bringing data literacy to the world's teachers and students.
Today, we are glad to announce that we have pushed the boundaries of our program even further. Through our determined vision of building a community of data-literate individuals everywhere, we're bringing DataCamp for Classrooms to secondary schools in Poland!
Imagine you are a teacher who has an influx of new students and needs a way to access reliable data science content fast and for free. High school teachers in Poland can easily apply for DataCamp for Classrooms in less than 5 minutes! This enables them full access to our entire curriculum for them and all their students ages 16 and up. Recruiters better prepare for these students, because they are about to break into the tech industry full of ideas and energy.
What do teachers and students get with DataCamp for Classrooms?
A comprehensive data science curriculum of over 380 courses that can take anyone from novice to expert, from basic Theory courses to all prominent coding technologies such as Python, SQL, R, and more.
Data science projects using real-world data sets and scenarios that give students experience applying their new skills toward an end goal.
An easy-to-use platform accessible all-in browser without ever having to download any software.
Practice exercises to boost your data science skills with quick daily challenges.
Polish subtitles for all of our course videos and best-in-class accessibility options.
Assignments and reporting tools to enhance your classroom management capabilities. You'll know exactly which of your students completed your assignments, and when. We'll even show you the results of their Skill Assessments.
High achievers can receive industry-recognized Data Scientist and Data Analyst Certifications and access our Jobs platform to kickstart their careers.
DataCamp Workspace, a creative space that lets teachers make custom assignments and enables students to share their portfolios of data-driven work.
The complete DataCamp app on iPhone and Android.
We even let you and your students download our course content for offline study.
All of this for free!
If you are a teacher or a student from Poland looking to learn more about data science from our curriculum, DataCamp is available for you free of charge. That's right —free of charge to those who are within one of over 2,500 schools in the country. Teachers with an official school email address from a Polish secondary school, college, or university are eligible to apply.
Why Poland, and why now?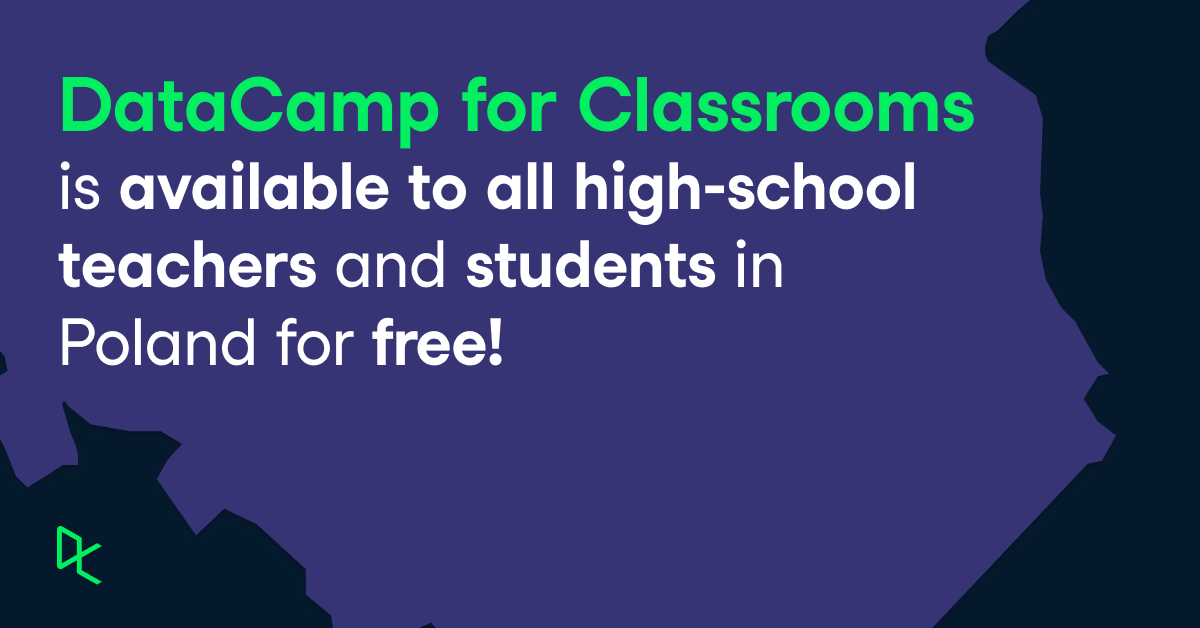 DataCamp for Classrooms for Secondary Schools is already available in countries where DataCamp has an office: Belgium, the United Kingdom, and the United States. We prioritized adding Poland to that shortlist because Poland has taken extensive efforts to aid in the Ukrainian refugee crisis, having taken in over 1 million people. Additionally, several of our remote employees live in the country. Now more than ever, youths from Ukraine and Poland should benefit from free and reliable access to data science education, which is where DataCamp comes in. Poland's secondary schools each have their own website and email domain, making it relatively easy for us to bring DataCamp for Classrooms to those schools. Combined with their integral role in taking in the majority of Ukrainian asylum seekers leaving the country, it was an obvious decision to expand access to Poland.
Why is this free, you ask? Here at DataCamp, we believe that data education is a basic human right. Like all basic education, everyone deserves it regardless of who they are and where they come from. And for students and educators whose lives have been upended by war, DataCamp will continue to do all we can to expedite their free access. Teachers can reapply every six months to continue having access to our curriculum, give assignments, and prepare their students for higher education and the job market. They don't need a credit card, and they can invite all of their students to their accounts.*
If you're a teacher in Poland, what are you waiting for? Teachers, start applying now! Don't wait for the next semester or the next academic year to start elevating your students' learning. Give them the tools to expand their knowledge over the summer. As long as you're a qualified teacher at a secondary school, college, or university, DataCamp will support you and your young scholars for your entire academic career.
*Students outside the US must be at least 16 years of age to make an account on DataCamp. In the US, students between the ages of 13 and 15 may make free DataCamp accounts once their teachers get written consent from the students' parents or guardians. We're sorry—students aged 12 and under cannot make accounts on DataCamp at this time.