DataCamp Makes In-Demand Data Skills Available to Everyone
Why Zeeshan Usmani, Pakistani data science and AI expert, recommends DataCamp as the best way to learn data science.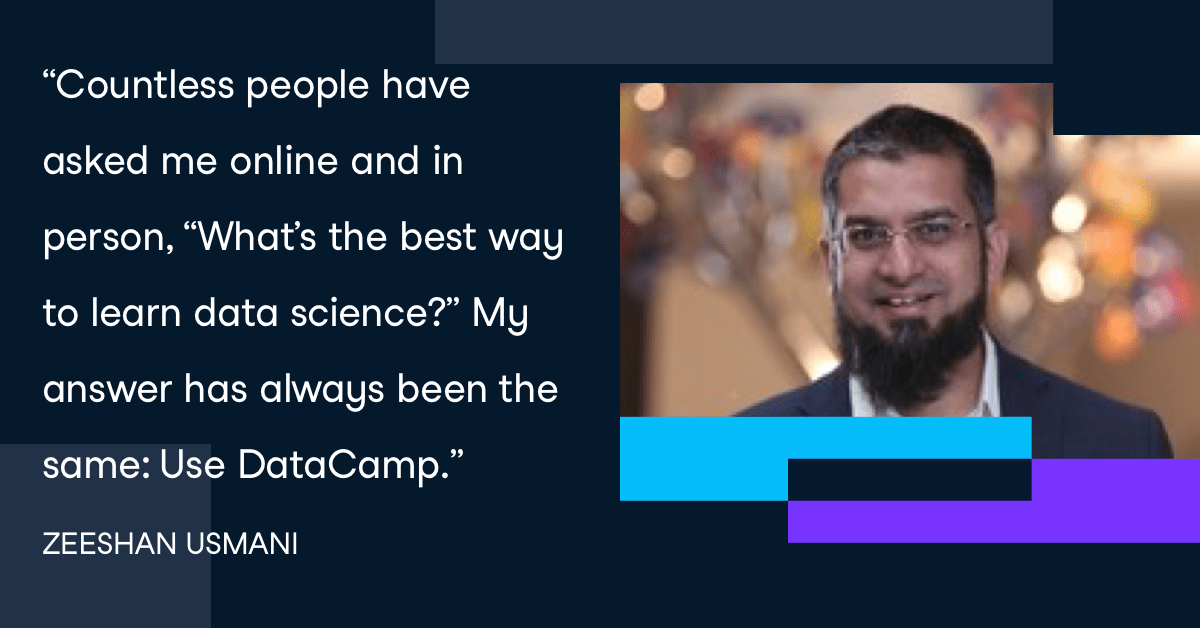 Join Zeeshan Usmani for a live panel discussion this Friday, March 26 at 12:00 PM ET: "Changing Lives Around the World with DataCamp Donates." He will join a diverse group of six influencers who live at the intersection of education, data science, and technology to shed light on how DataCamp Donates partners are providing free training for disadvantaged communities across the globe. You can watch the discussion on Facebook, YouTube, and LinkedIn.
Introduction to DataCamp Donates
I've been following DataCamp ever since it launched in 2014. Their innovative technology was lightyears ahead of any other online learning platform and still is. I was a big fan then, and am an even bigger fan now. And that's not because they still offer the best data education solution for individuals and businesses. It's because they are radically changing the global data landscape through DataCamp Donates. This initiative is making in-demand skills available for free to thousands of students and unemployed people around the world, and companies everywhere should take note.
Learn Data Science
Countless people have asked me online and in person, "What's the best way to learn data science?" My answer has always been the same: Use DataCamp.
Best Courses for Data Science
To be specific, I recommend the Data Scientist in Python career track to beginners. It's always been great, but now it's improved with guided projects incorporated alongside the courses. I'm heartened to see how their course catalog has blossomed to include even more offerings on both sides of the skill spectrum. DataCamp's new For Everyone courses are particularly crucial for individuals and businesses just dipping their toes into the world of data, no coding required. Amazingly, all these courses are available for free right now when you make a free account on DataCamp. I think everyone in the world would benefit from taking them.
Data Literacy for Everyone
DataCamp is the best way to learn data science at your own pace. That's never been in question. However, that's not the reason I offered to write this guest post on DataCamp's blog. I want to highlight the incredible opportunities DataCamp is affording disadvantaged communities worldwide with DataCamp Donates. When I saw firsthand how easy it was for student-led groups to attain free Premium one-year DataCamp subscriptions for aspiring scientists, analysts, and engineers in their network, I knew this was a movement I wanted to help spread around the world.
Many companies talk a lot about how they're democratizing tech skills. When it comes to data skills, DataCamp is the only one truly doing it. They are practicing a new radical form of corporate philanthropy with DataCamp Donates by committing to donate 25,000 subscriptions around the world. Nathaniel Taylor-Leach, the Community Partnerships Manager heading up the initiative, understands the specific needs and challenges facing schools and nonprofits in today's harsh economic climate. He works with them to support their networks of committed learners who are hungry for the skills, experience, and confidence they need to get the jobs they want. I look forward to working with him to bring DataCamp Donates to more schools and nonprofits in the United States, Middle East, and beyond.
Dr. Zeeshan-ul-hassan Usmani
Dr. Usmani is a Fulbright Scholar and Eisenhower Fellow. He holds a PhD and MS in Computer Science from the Florida Institute of Technology. His work has been mentioned in The Wall Street Journal, AOL News, Wired Magazine, NPR, MIT's Technology Review, Florida Today, The Economist, Brown Journal of World Affairs, Journal of Defense Modeling and Simulation and CNN. He has authored dozens of research papers, articles, and several books. His research strengths include artificial intelligence, data sciences and predictive analytics. He was a Visiting Scholar at Brown University and an Industry Professor at Coventry University. He divides his time between Princeton, NJ, Colombo (Sri Lanka), Dubai (UAE) and Islamabad (Pakistan).