Leveraging Data to Build Africa's Economic Future: Part One
Q&A with Richmond Chris-Koka, Data Engineering Graduate at Blossom Academy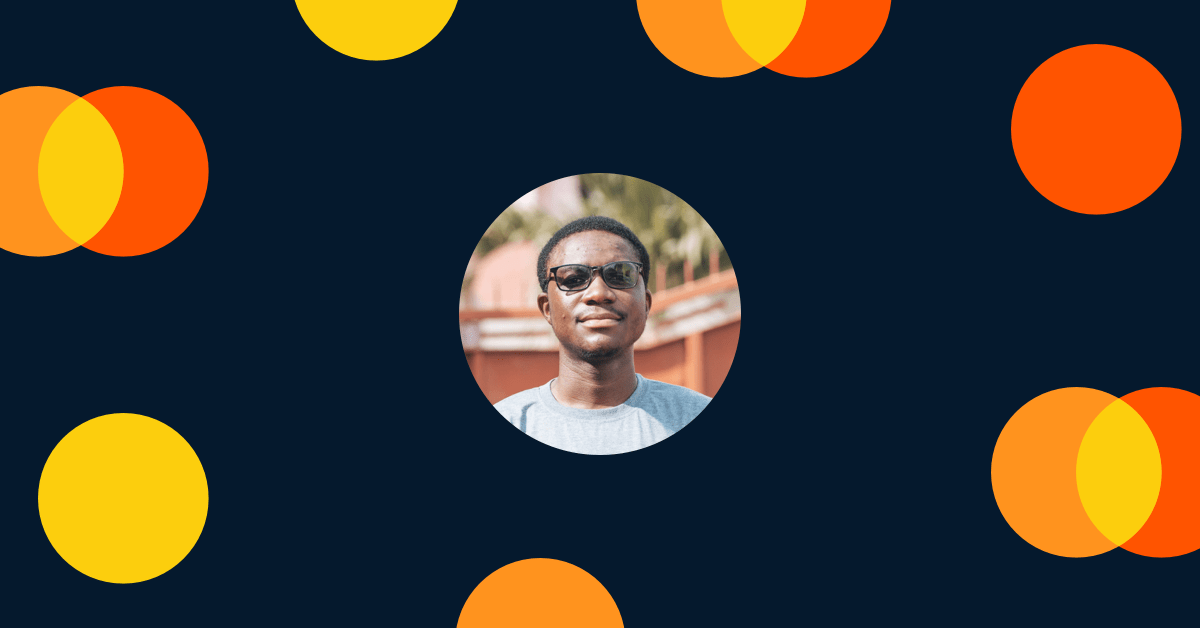 This blog post is part one of a two-part series, where Jeph Acheampong, the Founder & CEO of Blossom Academy, speaks with graduates to discover what drives their interest in working with data and what they hope to accomplish. Blossom Academy is a technology talent development company that recruits and develops African analytics talent, with the goal of connecting them with full-time job opportunities. Blossom Academy partners with DataCamp to scale their training program.
Richmond Chris-Koka is a proactive problem solver and communicator based in Ghana. He holds a Bachelor's degree in Computer Science and now works as a Junior Data Scientist at getINNOtized GmbH, a German software company with operations in Ghana and Kenya. He recently completed a Data Engineering Fellowship at Blossom Academy.
1. Tell us about your background and experience with data.
I completed my studies in Computer Science at the University of Ghana, Legon, and now have four months of experience as an entry-level Junior Data Scientist. I work with datasets using tools such as Excel and Python, and would say I have a good grasp of how to work with data.
2. What problem are you most interested in solving and why?
Over time, I've become interested in natural language processing (NLP) and its applications. It's inspired me to pursue solving problems like the recent proliferation of fraudulent financial transactions, especially with mobile payment transactions.
3. How are you planning to leverage data to solve this problem?
Solving these problems requires several skillsets, like analyzing spam messages, which are unstructured and sometimes aren't sent through the internet, which can block emails. I intend to do more research on spam text messages and investigate how such data can be leveraged in order to curb fraudulent transactions in the mobile money sector.
4. How has DataCamp prepared you for this journey?
Taking courses on DataCamp was definitely a step in the right direction. In their course Introduction to Natural Language Processing in Python, I loved learning how to extract topics from text and how to use basic libraries to solve common NLP problems.
5. What unique challenges do taking online data science courses present?
Taking an online course on data science requires dedication and consistency. Another challenge is patience because the learning approach is primarily a top-down approach. One needs to combine these three factors in order to successfully complete a data science course online.
6. Where do you see the African data landscape three years from now and what role do educational platforms/programs, such as DataCamp and Blossom Academy, play in it?
Three years from now, I see Africa's data landscape generating billions of unstructured data which will need a lot of hands on deck to solve some of our widespread challenges—especially in terms of processing and applications. Educational programs like DataCamp and Blossom Academy are a great way to prepare candidates for this field. A ton of data science and analytics jobs will be generated in the near future, and if there are enough African students dedicating themselves to upskilling via these programs, we can develop competencies to meet this demand right here in Africa.
7. What are some other exciting use cases for data across Africa?
Number one for me would be land ownership, which generates a lot of turmoil in the region. Generating and having access to data on land ownership to avoid fraudulent transactions on land purchase would be an exciting project.
Another use case is improving the quality and organization of citizens' data. For instance, in Ghana, for every identification card registration, applicants need to enter all personal details twice as there is no centralized form of data. An initiative focused on centralizing the database would be a great project not only in Ghana but across sub-Saharan Africa.
Jeph Acheampong is the Founder & CEO of Blossom Academy, a technology talent development company that recruits and develops African analytics talent, with the goal of connecting them with full-time job opportunities. Read part two of this series for another learner story.
Learn more about DataCamp's partnerships here. To become a partner, reach out to [email protected].
---
---
← Back to blog