Meet Your New and Improved DataCamp Navigation
We're excited to launch a new version of DataCamp navigation that makes it easier for you to achieve your learning goals.
This year our team has been focused on supporting each of you on your journey to becoming more data-fluent. Whether you are using DataCamp to shape up your data skills, or you're here to scale up data training at your organization, we want to make it effortless to do so.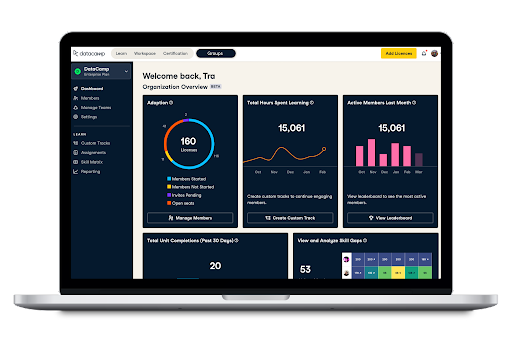 With the new navigation, you can expect:
Better organization of all your learning on DataCamp

Quicker access to group management and reporting tools

Faster paths to team-level insights
The navigation redesign is the result of many hours talking to users about their experiences on the platform. And the aim of the new navigation shares that common goal of eliminating distractions to sharpen your and your team's focus on growing your data skills.
The new interface and navigation experience will be rolled out to all users on DataCamp on October 11, 2021.
Let's take a closer look at some highlights you can look forward to in the new navigation:
What admins will see

Simpler navigation between hubs
Managing groups might be a time-consuming task, especially when it's an added responsibility at work. The new navigation simplifies the admin experience and reduces the time needed to complete your tasks.

The top navigation will now offer one-click access to admin tools providing admins and (team) managers with a clearer path and shorter time to get there. The "Groups" button will be visible only to admins and members of free groups, as all learning-related features will now sit in the Learn Hub.

Easier access to team-level insights
Teams help to sort learners into meaningful groups based on their role, department, geographical location, or even technical ability. However, our previous navigation made it challenging for admins to navigate between teams—there was no quick option to filter—making it hard for admins to fully benefit from this feature. The new navigation will make it more intuitive for admins to manage their teams and drill down into team-level insights across various areas of the website, including assignments, the leaderboard, and even the skill matrix.
What learners will see

Streamlined access to all learning content
As we simplified the navigation, we also wanted to create an effective learning environment for all users on the platform. The new interface does a better job at organizing all learning-related items in one place. Whether you are browsing around or come to the platform to complete an assignment, you can now find everything—custom tracks, assignments, and the leaderboard—in the left-side navigation of the Learn Hub.
The new interface and navigation experience will be rolled out to all users on DataCamp on October 11, 2021. If you are an admin, here are several things you can do now to prepare:
Check out the updated DataCamp System Requirements—aside from covering general recommendations, there's a section on our recent transition to a single URL structure.

Watch the recording of our Q3 Roadmap Webinar to see a preview of the changes and a Q&A.
We can't wait to make these updates live. Our mission is to help people and organizations get ahead using the power of their data, and we are excited to make another step forward to achieving it with the new DataCamp navigation.