Seven years ago, DataCamp was founded with the goal of making the world more data fluent by building an affordable, engaging and scalable data science education platform. Today, this mission to fight data illiteracy is shared by 100+ employees. With the cost of education skyrocketing in many countries around the world, and economic opportunity increasingly reliant on understanding and utilizing data, our mission has never been more important. In a world where data is the new gold, data skills give people and organizations the opportunity to get ahead, and at DataCamp, we want to expand that opportunity to everyone.
We have seen firsthand the incredible demand for data science education as DataCamp's growth has exceeded our wildest expectations: we're now helping well over 1,600 businesses and 150,000 individual subscribers build data skills. This year, over 2 million courses will be completed on DataCamp, and DataCamp's revenue has grown an astounding 1,232% in the past three years, landing us in the top 100 of Deloitte's Technology Fast500 ranking for 2019 and 2020!

But we believe we can do more.
There are still many significant obstacles on the journey to a more data fluent world.
We think the 3 biggest obstacles are:
Labor market inefficiency–
A huge supply-demand imbalance exists in the labor market across the spectrum (from highly technical roles like data engineers or data scientists to the less technical citizen data roles). Additionally, many applicants have trouble signaling their skill level and many organizations struggle to find the right talent. DataCamp is well positioned to address this labor market challenge by helping learners find the right job for them, and helping organizations find the right data talent. Offering scalable, affordable and trustworthy credentialing is an important aspect of resolving these labor market inefficiencies.

Most data tools lack collaboration–
Collaboration is at the heart of understanding and leveraging data. But despite the fact that the number of data professionals is growing rapidly, they lack access to tools that easily scale as data teams grow and help facilitate and encourage collaboration. As a consequence, insights from data teams are often scattered across various tools, analysis is duplicated, etc. Furthermore, in many organizations, it's not easy to get started as a data scientist or analyst. You are likely to waste time getting access to data, finding data, repeating analysis, using dashboards that are broken or have errors in them, etc. This fragmented approach and knowledge base is not only inefficient, but a threat to the quality control of data work, low productivity of data talent and a massive financial cost to organizations.

Lack of data fluency skills–
To ensure more people can acquire data skills we must have scalable, engaging and affordable educational tools. With more than 7 million registered learners, DataCamp has come a long way in providing the best learning-by-doing learning products and is a market leader today. That said, we believe that there is still a lot of room for improvement and innovation, as we look to reach many more learners. For example, there's an opportunity to provide DataCamp learning products for free or at a very low price point to lower-income customers throughout the world.
We believe that we can create a virtuous cycle to fight data illiteracy by tackling each of these 3 challenges.
This is how we envision our product offering to evolve in the next few years:
On the consumer side, learners are joining DataCamp to improve data fluency. We enable them to track their progress through assessments, get real-world experience through projects and ultimately provide them the option to get certified and use that credential to find a job. In parallel, we make it easy for learners to start to do data analysis and data science in the cloud and enable them to create a portfolio with their data science work that they can share with colleagues, friends and potential employers.
On the organizational side, the learning product helps lift data fluency of the organization while the assessment tools allow them to understand the skill level of people across the organization and its evolution over time. Furthermore, credentialing can be a simple tool to create clarity around that skill level as well as help the organization evaluate and find the right people to join the organization. As the data fluency of the organization increases, a knowledge base emerges that is accessible to anyone with all key insights and with the ability to efficiently collaborate and build on these insights.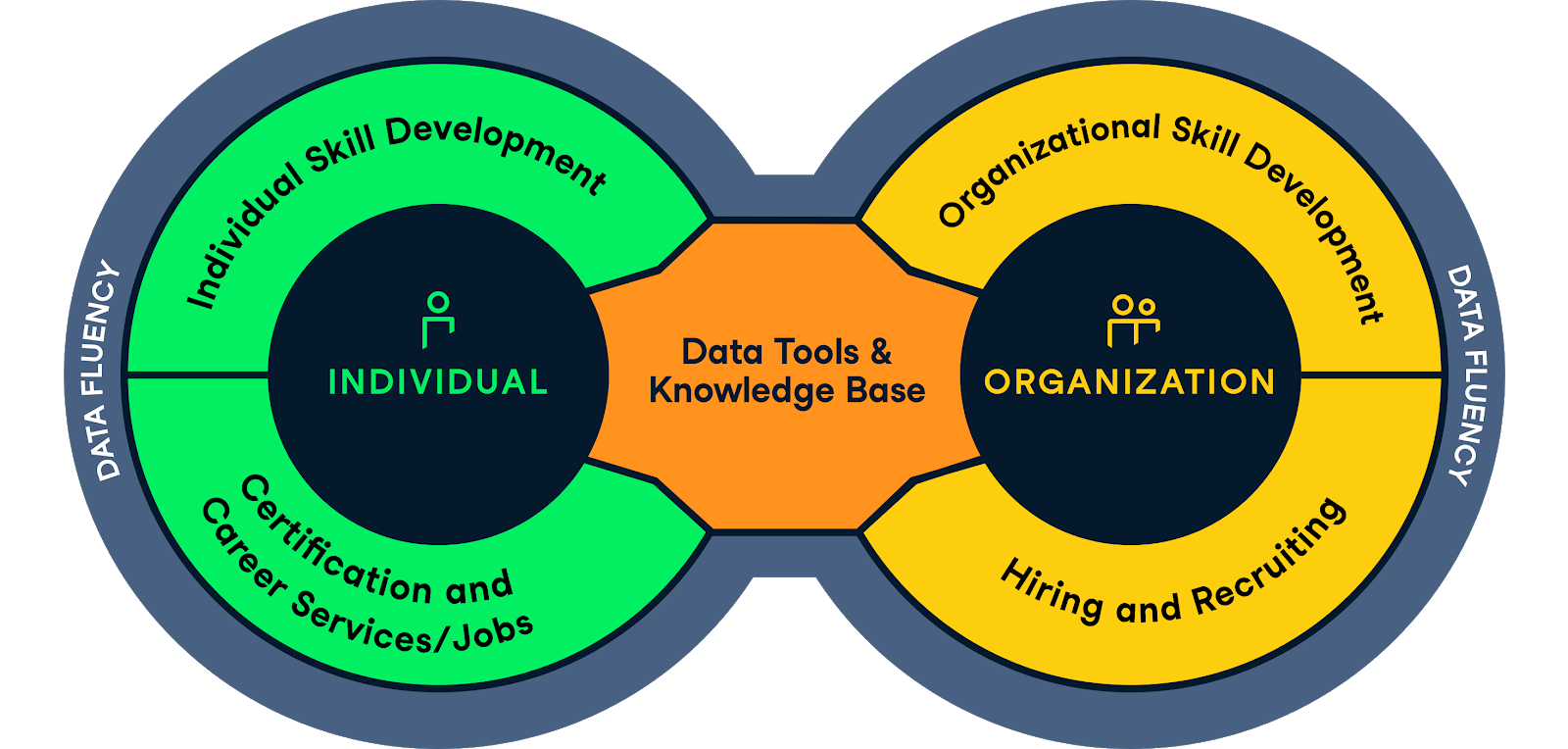 Growing the team and leadership changes
The DataCamp 2.0 vision is the result of conversations with customers, employees, leadership members, and investors; and it is exciting to finally be able to start sharing it publicly.
As part of this new vision we are realigning our executive team. I will step back into the CEO role. As one of DataCamp's founders I am thrilled to be leading DataCamp again as we work to create a data-fluent world through the democratization of data science. Martijn will step into the Chief Operating Officer role with an initial focus on growing the B2B business, while Dieter will lead our innovation efforts around the collaboration platform for data teams and career services & recruiting as the Head of New Products. We made this decision together with the full support of the Board of Directors and all our major investors and we are excited to move forward with this vision.
To realize DataCamp 2.0, we're planning to hire more than 50 new DataCamp'ers in the next year. If you are interested in joining us, and are excited about our future path, make sure to keep an eye open on our careers page.
— Jonathan
---
---
← Back to blog