Datacamp Recruit
Get access to job-ready data talent, helping you get to right hire faster
Improve your hiring practices with access to pre-qualified job ready data talent
Hire faster through access to job-ready data talent
Hire better through clear insights into a candidate's skills
Match with candidates and skill sets that you need to hire for
Access to certified data talent
From the leader in data science education
Money back guarantee if no hires are made in the first 12 months
Recruiting data scientists and data talent is extremely competitive and highly complex
If you've tried to recruit for data talent, you know the process comes with its own challenges.
From a high demand in roles with a low supply of talent, to challenges in testing technical skills, we know how difficult it can be to recruit top talent for your open data roles.
Top-3 most in-demand jobs
46% increase in demand
Roles stay open for 15% longer

DataCamp Recruit simplifies hiring top data talent
With access to one of the largest sources of data talent, you can effectively find and filter professionals with the precise set of skills, experience, and backgrounds that you need to hire for.
Find and hire

the right data talent

Data talent on DataCamp comes from diverse professional backgrounds. Through our filtering tool, you can find the right data scientist for the skills that you need.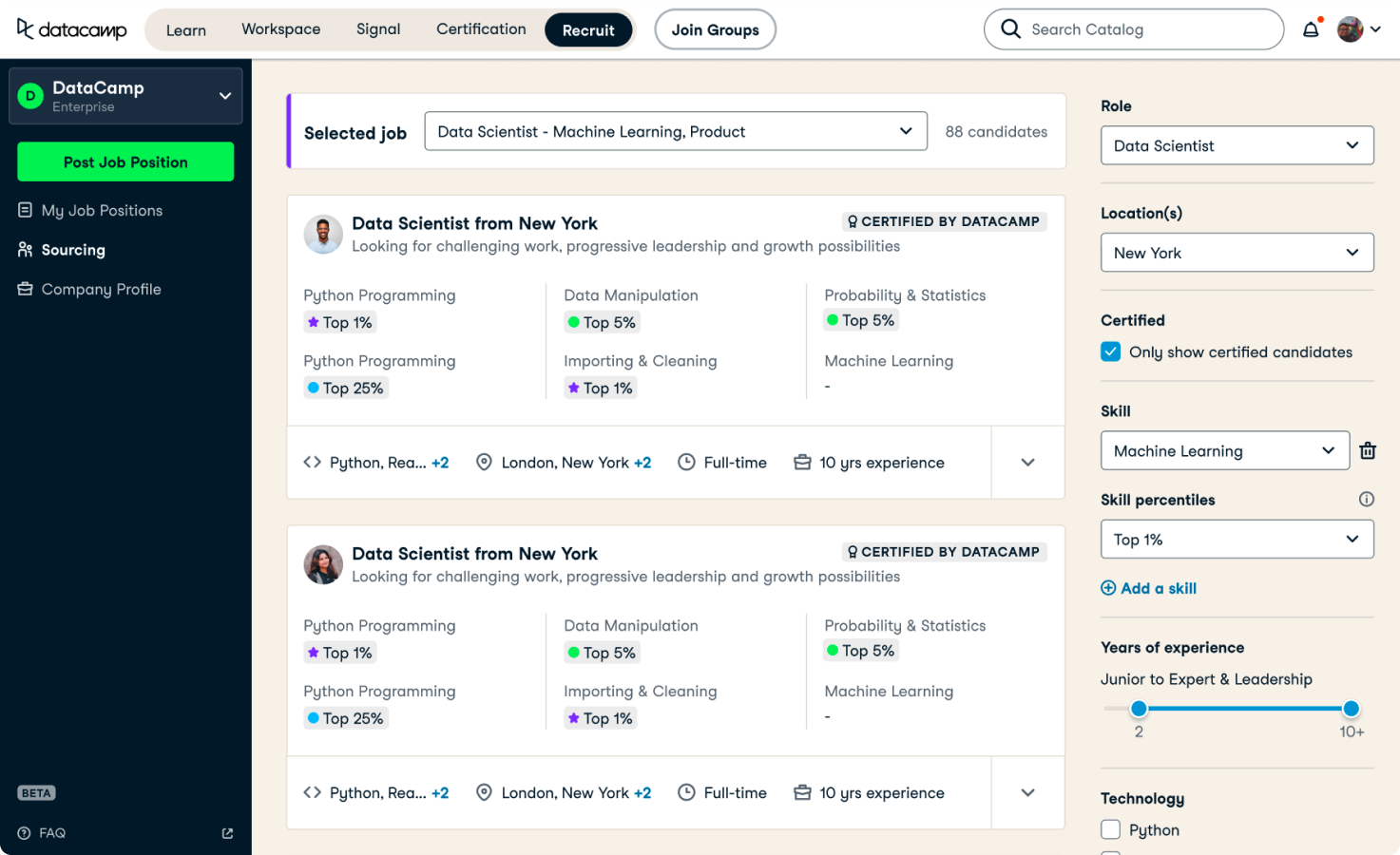 Hire
faster
It can take months to find and hire the right data professional. With DataCamp Recruit, we streamline your candidate search and help you get to the right hire faster.
Access
certified

data talent

With DataCamp Recruit you get access to job-seekers that have been certified by DataCamp. Not only have they proven their technical skills, but also their abilities to communicate insights and put together compelling analysis.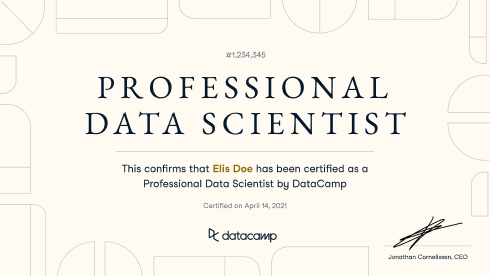 From
the leader

in data science education

Our content and curriculum are designed by data science leaders, so when you interview candidates from DataCamp Recruit, you know they have the skills needed to hit the ground running.
DataCamp learners work at top data-led companies around the world
Don't just take our word for it
''As an executive I can say that I trust profesionals with the DataCamp Professional Data Scientist certification.''
Eduardo Pacheco
''It was a worthwhile process, which inspired me to elevate my data science skills to a whole new level.''
Radhika Garg
''This experience in DataCamp really went beyond my expectations.''
Qiwei Men
Get access to
certified DataCamp data talent
Certified job-ready skills
We designed our certification in partnership with leading data science professionals, so we specifically test for the skills required to succeed in the field.
Testing communication skills
Not only do we test technical competencies, but also a candidate's ability to communicate their findings. Effective communication skills are key to succeeding as a data professional.
Interview ready candidates
Through working with our career services team, our certified learners are prepared well prepared for their interviews. Helping them put their best foot forward.
We test six key skills
Statistical experimentation
Coding in production environments
| Our Certification Process | Skills Tested |
| --- | --- |
| Timed assessments | |
| Case study | |