DataCampers Volunteer Summer 2022
Many nonprofits need volunteers to participate in their workshops and training. Therefore, all year long we try to find volunteering opportunities.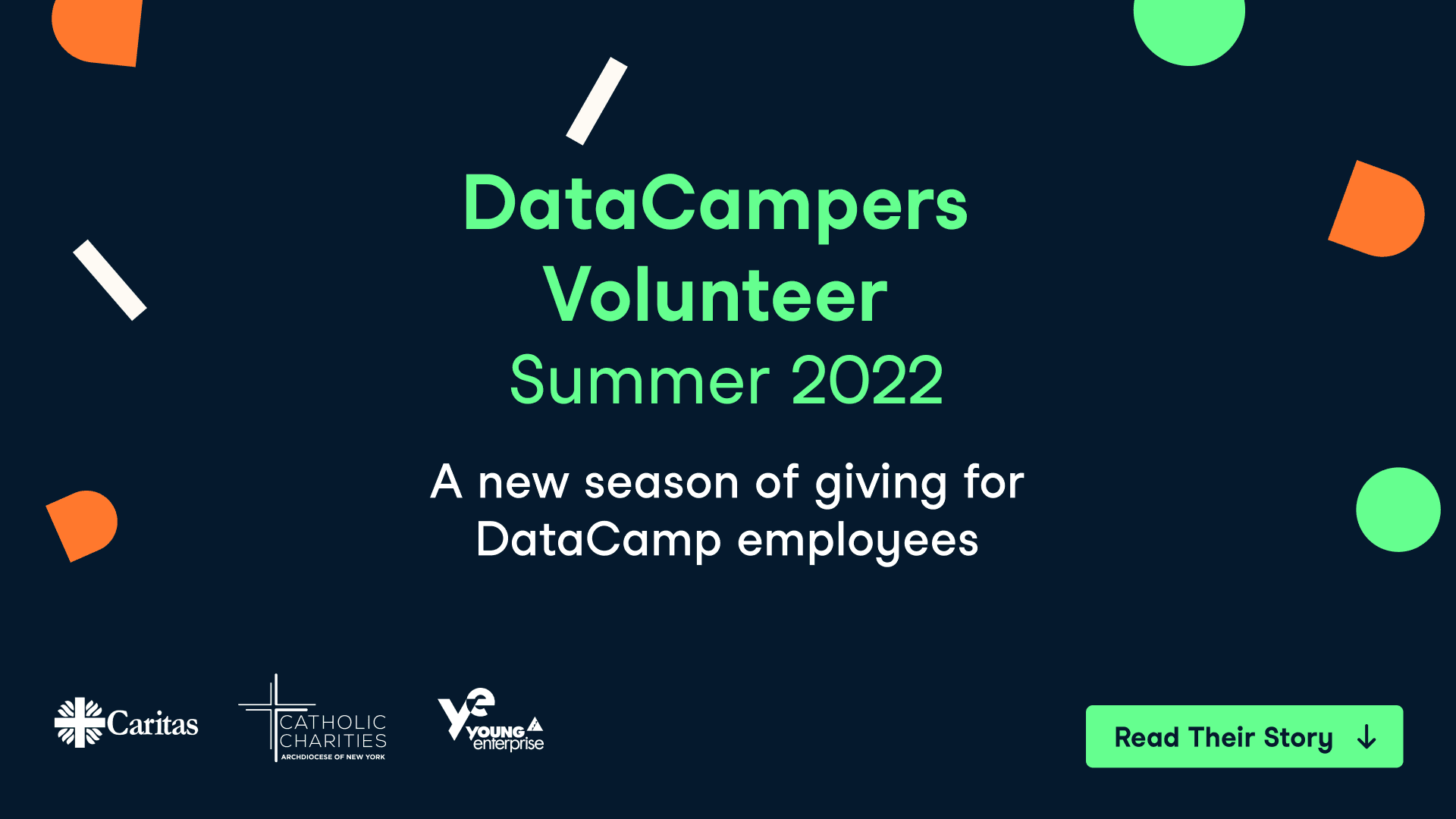 After COVID-19, many nonprofits were left with an even more sizeable need for volunteers to participate in their workshops and training. Having such a close relationship with nonprofits thanks to the DataCamp Donates, we were aware of this challenge. Therefore, all year long we try to find volunteering opportunities for our DataCampers. We are eager to give back and impact nonprofits and their beneficiaries. It is also fantastic for us to feel rewarded and contribute to a cause bigger than ourselves. We partnered with Percent Pledge to organize these events.
Being a global remote-first company, we may think that it's not always easy to organize such events but we believe in the opposite. These volunteering opportunities are an excellent time to bring our employees together. It was first important to set up a volunteering event for each of the three DataCamp offices. For our volunteering event in the UK, Nathaniel, Social Impact Manager flew from the US to the UK for the occasion. In the US, 10 employees tuning in from the east to the west coast participated.
Young Enterprise and DataCampers inspire young girls to dream about their futures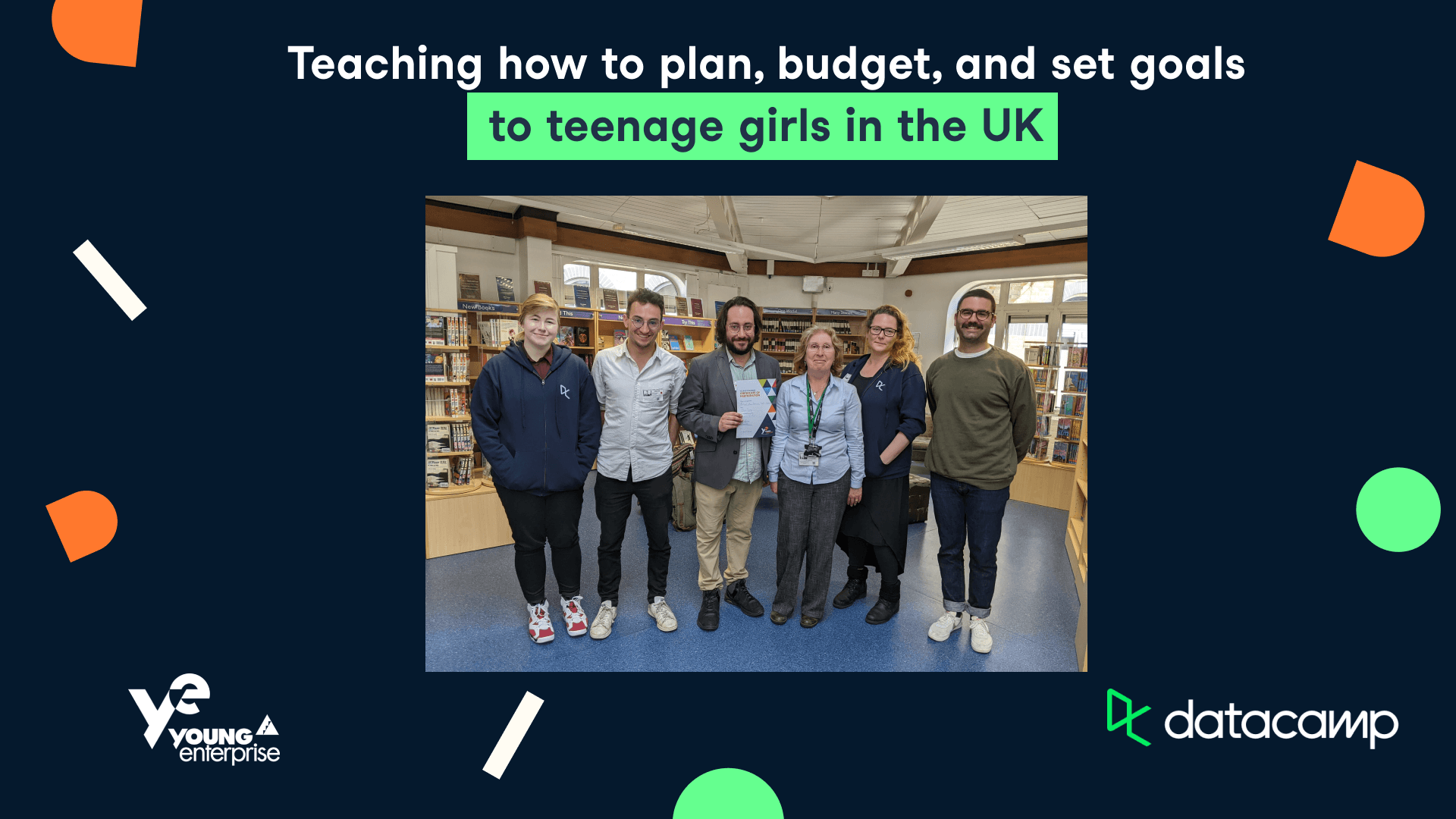 Our first volunteer event of the summer actually happened a bit earlier in Spring when a few of our London-based employees volunteered to support the "Learn to Earn" program run by the education charity Young Enterprise. The Learn to Earn program helps girls ages 12-13 dream about their futures and understand how to improve their chances to achieve the jobs and lifestyles they want. Volunteers worked with the teachers in small group activities and one-on-one discussions with the girls, sharing their experiences at DataCamp and in the work world. The day ended with our volunteers running mock interviews for the girls to land their dream jobs.
"I didn't realize how much I missed working with teenagers until I was there in the classroom learning about their dreams and interests," said Nathaniel Taylor-Leach, DataCamp's Social Impact Manager and former Theatre teacher of ten years. Our volunteers were also quite impressed by the focused workshop Young Enterprise has designed for students from poorer backgrounds. Nathaniel continued, "I wish someone came into my classroom when I was 13 and taught me how to make a personal budget, gave me up-to-date insights on the current job market, and shared tips on creating a multi-year a plan for learning the necessary skills to attain a high-paying position."
Our five volunteers were able to provide guidance to 108 students across four classes. Not only were our employees enthralled by the opportunity to do something completely different but just as meaningful as their normal work at DataCamp, but our friends at Young Enterprise were also enamored with our employees' ebullient participation.
This definitely gave the students food for thought. Their support and 1:1 involvement ensured the students gained as much as possible. It was great to have positive female role models in the classes in an all-girls school, who had knowledge of or chosen to follow a path in a more male-dominated sector.

Ruth Sullivan, Area Manager at Young Enterprise
Caritas and DataCampers support women asylum seekers with fundamental skills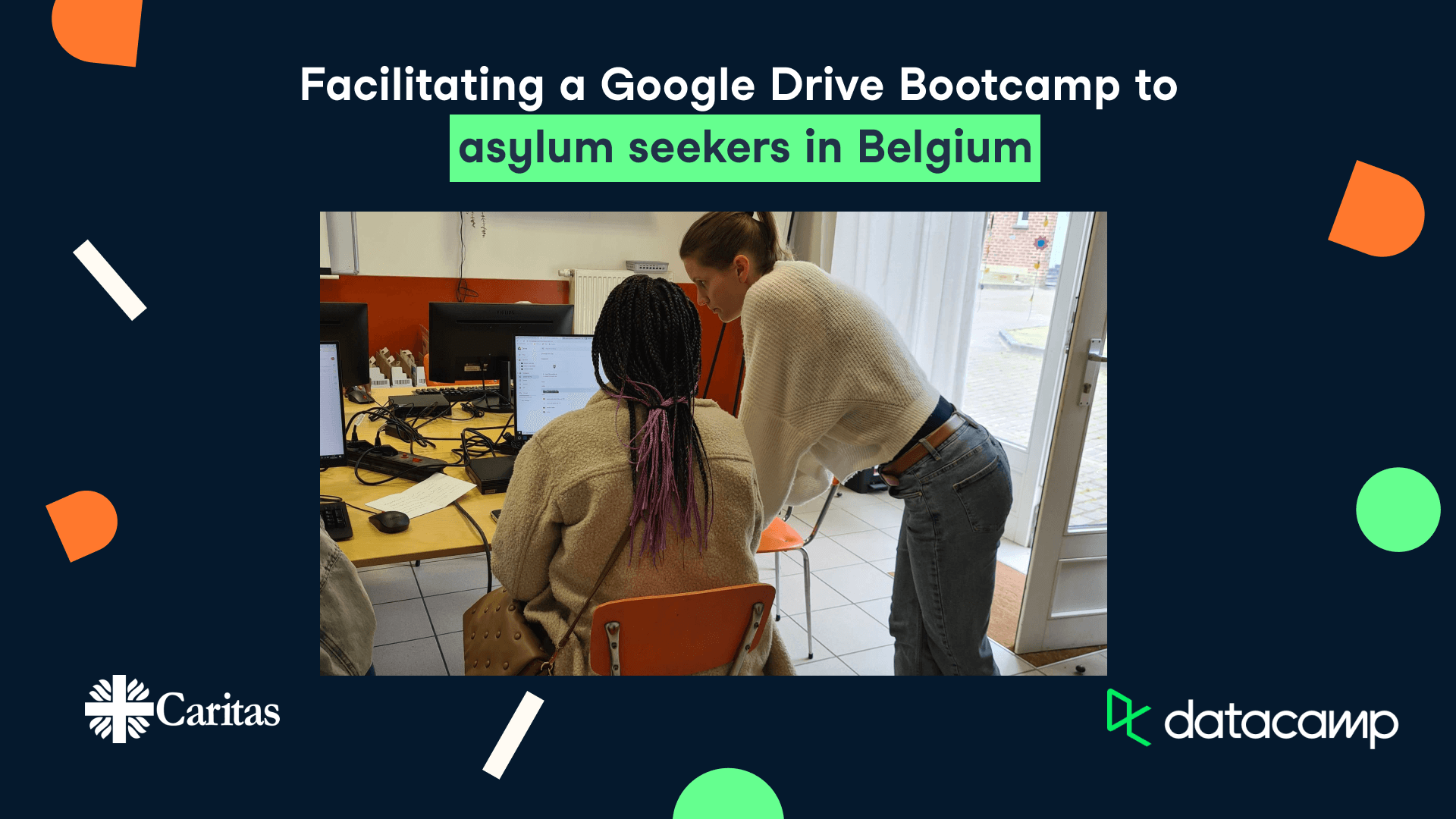 Our next volunteering event took place in Belgium!
Caritas Internationalis has for mission to serve the poor and to promote charity and justice throughout the world. They have been operating in more than 200 countries and territories for 125 years. We partnered with Caritas Belgium to bring essential support to 15 women refugees and asylum seekers.
These women come from different backgrounds and need to be equipped with fundamental skills to thrive in this new country far from home. Gaining digital skills is an innate part of their integration process. It is vital not only from a career but also from a personal perspective. When our Belgian office heard about the need for instructors, DataCamp employees volunteered to impact local communities in need.
Three DataCampers gave a 4-hour workshop about using Google Drive, Docs, and Sheets. This session culminated in the creation of their CVs, Cover Letters, and mock analysis project. The spreadsheet section of the workshop was taught using DataCamp. Each of these 15 women also received 1-year of free access to DataCamp Learn and Workspace allowing them to take full advantage of everything the platform has to offer. They now have the opportunity to get certified as data analysts and data scientists for free. These certifications have been recognized as the most valuable data science certifications to add to one's resume. They will also be able to use our Jobs tool to find job opportunities specific to DataCamp users.
We know that 4 hours is not enough to become proficient in any subject. We used this valuable time with these women to teach them essential basic knowledge and make them feel welcomed in their new home. Thanks to this session they can continue their learning outside of the workshop. We hope that this free year of access will empower them to become data professionals. They now hope to launch their careers and start a new life.
Hosting this workshop was an incredible opportunity for these women and our employees.
My experience with volunteering for the asylum seekers was amazing. It was a pleasure to see these women learn new skills and gain confidence. They were grateful for our help which made it an even more satisfying experience.

Katleen Claesen, People Business Partner at DataCamp
Catholic Church Charities and DataCampers partner up to prepare refugees for their future jobs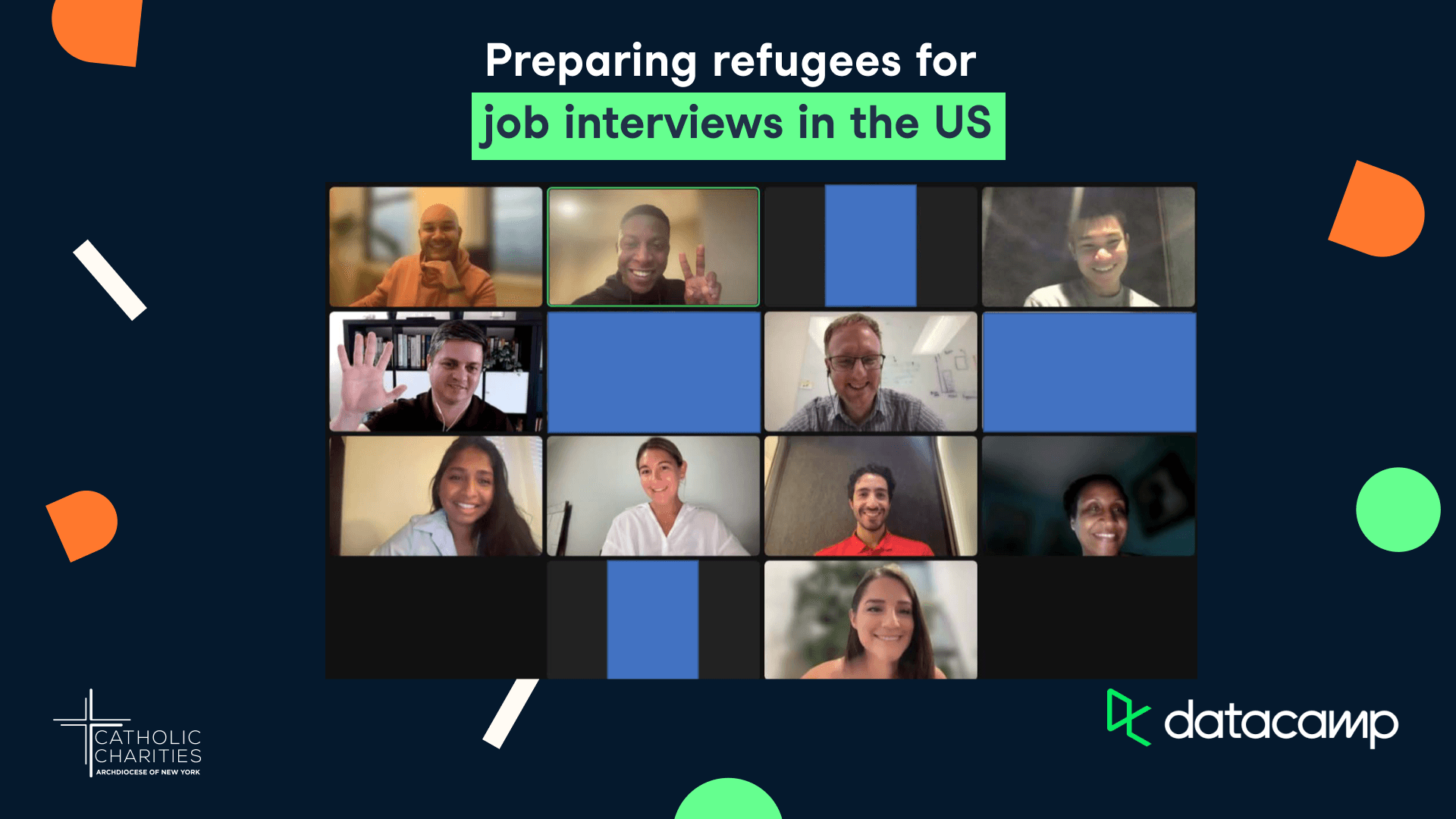 Finally, DataCampers in the NYC office had the chance to help refugees prepare themselves for their work life here in the US thanks to Catholic Chruch Charity.
Searching for jobs in the United States is difficult and scary, but these refugees have shown that they are more than ready to enter the workforce, regardless of difficulty.
The volunteers conducted mock job interviews and asked common interview questions in English to simulate a real-life setup for these refugees. Although English isn't native to them, the refugees were adamant about learning how to better communicate their answers and professionally exude their most defining qualities. On a side note, some of the volunteers provided constructive feedback to these refugees in their own language - whether it be in French, Spanish, or other languages - so that they can understand what to improve on.
Richie, Data Evangelist at DataCamp, recounts the experience: "Job interviews are scary! I always need lots of practice beforehand to make sure I don't say too many stupid things. So I was happy to help others get some practice. The session run by Catholic Charities NY was very well organized, and there was even a professional translator involved to help with language difficulties. The event was a lot of fun, and we had a lot of laughs as well as learning things."
Looking forward to our next volunteering events
These three events were a true success and we would not have imagined generating such a significant effect on the members of these nonprofits. A total of 10 DataCampers volunteered their time in NYC for refugees which amounted to 20 hours served in only one evening and an in-kind value of $2,220. In the UK, 108 girls were given speeches by 5 DataCamp volunteers which amounted to almost 34 hours served and an in-kind value of $3,746 in one afternoon.
Thank you to all DataCampers, Percent Pledge, Nonprofit partners, and most importantly beneficiaries for participating in these volunteering events. They remind us that nothing is more rewarding than sharing.
As we are wrapping up this season of giving, we are already planning our first event of the fall during our company-wide workweek retreat with We Need Books in Greece. Stay tuned for more volunteering stories!