Qualified Nonprofits Get DataCamp for Free! Apply to DataCamp Donates
Becoming a DataCamp Donates Partner Organization is a free and reliable way for nonprofits to help their community thrive during trying times. Apply on behalf of an organization today!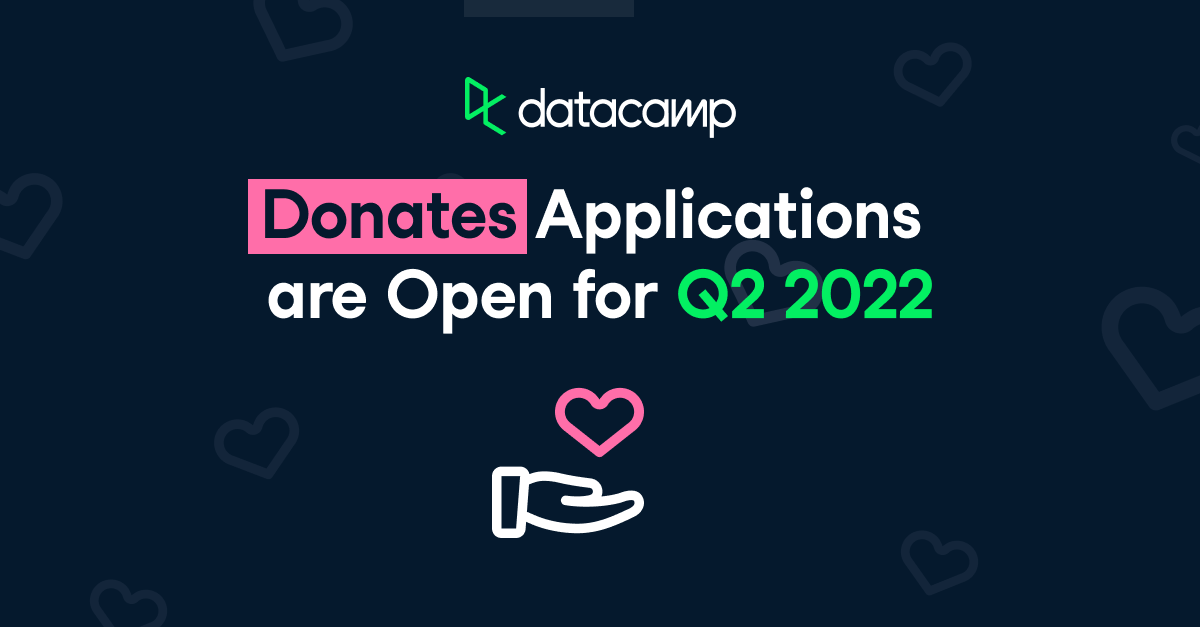 The Social Impact Team at DataCamp is once again accepting applications to join DataCamp Donates! If you work or volunteer at a nonprofit organization, you owe it to yourself and your community to apply for free, unlimited DataCamp access for an entire year.
To all Ukrainian organizations providing direct support to Ukrainian refugees, please do apply. We will process your application as quickly as possible so that you can receive free 1 year of free access to DataCamp to provide to your community. Aiding the people of Ukraine to learn data science safely and get new jobs is a major priority of the DataCamp Social Impact Team.
How To Apply?
Go to www.datacamp.com/donates/apply to fill out an application form. Our Social Impact team will respond to your application in 1-3 business days, and many new partner organizations gain access in less than two weeks. DataCamp Donates offers free access to DataCamp learning platform to:
Professional development and job placement nonprofits
Nonprofit data science and/or coding organizations serving historically disadvantaged communities
Environmental, health, economic, and social science research nonprofits
Student-run clubs/societies accredited to secondary or postsecondary schools
DataCamp Donates' goal is to help disadvantaged communities become more data-literate, attain better-paying jobs, and thus be better prepared for tomorrow's world. Hence, please be ready to demonstrate during the application process how your organization and your members meet these criteria. The more information you provide, the more easily and quickly you will be able to process your application.
Priority will be given to institutions supporting people who are:
Unemployed
Underemployed (too low of a wage and/or not enough hours)
Living below their country's national poverty line
Lost work, wages, and/or loved ones due to COVID-19
Refugees of war and/or environmental disaster
Members of historically disadvantaged groups and communities
Students ages 16 - 26
Remember, if you are applying on behalf of a Ukrainian nonprofit or organization supporting Ukrainian refugees, you automatically qualify.
What Does Your Community Get With DataCamp Donates?
DataCamp Donates gives nonprofits and their members:
Autonomy: DataCamp enables people to follow real-world data courses and exercises at their own pace for a full year and we give their administrator the tools to organize their learners, give them assignments, and effectively track their progress year-round.
Accessibility: All of DataCamp's curriculum of assessments, courses, projects, and more are freely available to DataCamp Donates partners. There's never a need to purchase any additional software. Our platform runs on almost any computer, but unlimited access through our mobile app is also included. The Internet is not cheap or ubiquitous everywhere our learners are, which is why we also let them download our videos and slides for offline viewing. They can even slow down (or speed up) our videos or watch them with closed captions in 15+ languages because accessibility is core to DataCamp's ethos.
Career Building: Data and coding-related skills are part of the most sought-after skills by recruiters. Boost your members' careers by using the most fundamental tools for any aspiring data-scientists. Workspace helps learners showcase their talent by sharing your data science insights with peers and recruiters. Receive industry-recognized certifications as well as personal career support. Even better, get a free Data Analyst or Scientist Certification and benefit from the DataCamp Talent feature to have your profile matched with the best employers, take position-specific assessments, and land your dream job!
Why Should You Apply?
Uncertainty has widened on a global scale as international tensions increase while the world is still recovering from a global pandemic. Besides, a strong focus should be kept on disadvantaged communities that have been historically more impacted by a crisis. Giving free, flexible access to online learning resources becomes primal as education and resourcefulness are key for us all during these dreadful situations.
Nonprofit organizations are an integral part of the solution to the current health and economic climate. Yet, they are also the most in need of additional help and resources.
Applying to DataCamp Donates is a free and reliable way for nonprofits to help their members thrive as best during times of distress by encouraging them to learn essential skills that will prepare them for the future. We've given away over 30,000 scholarships to our nonprofit partner organizations in over 100 countries since DataCamp Donates began in August 2020. In Q1 2022 alone, we've dedicated at least 7,000 licenses to aspiring data professionals in need. By joining DataCamp Donates, you contribute to democratizing data literacy for all.
Apply here or contact us at [email protected] so that we can assist you to benefit from a 1-year free direct access to one of the most comprehensive and industry-recognized data science learning platforms.