Donating 25,000 DataCamp Subscriptions to Organizations Around the World
Nonprofits, public schools, and social welfare organizations are now eligible to receive free hands-on data education through DataCamp Donates.
In the midst of a global economic downturn and record unemployment last summer, we saw an opportunity to help people experiencing unprecedented hardships. We decided to help in the most direct way possible—by donating DataCamp subscriptions to nonprofit organizations that provide communities with free education, job training, and workforce development. Five months later, we've surpassed our initial goal of donating 10,000 licenses by partnering with over 35 nonprofits in 24 countries in every continent save for Antarctica. The success stories are pouring in:
DataCamp has allowed more women to enter the field of technology, learn about data science, and practice their English. With this knowledge, many of us have attained jobs at technology companies. —Sharon Camacho, Management Engineer at Data Science FEM
"Putting together this scholarship has been one of the most fulfilling initiatives for the employees here at DataCamp," said Weston Stearns, DataCamp's Head of Talent and Certification. "Our mission is to democratize data science and bring data fluency to the masses. We are getting significantly closer to accomplishing this mission by enabling free access for learners to gain the skills they need to advance their careers."
The scope of our initiative must evolve in tandem with the growing enthusiasm and need for data fluency. That's why we're formally announcing three exciting developments: We've officially named this initiative DataCamp Donates, we've increased our commitment to 25,000 subscriptions, and we're expanding the program to scientific research nonprofits, public secondary schools, and social welfare agencies.
The giveaway program is now called "DataCamp Donates"
"DataCamp Donates" clearly describes exactly what we're doing—donating thousands of Premium one-year subscriptions (each one normally valued at $399 USD) to nonprofits as well as features typically reserved for our business customers, including 24/7 customer support. This is all in addition to our long-running DataCamp for the Classroom program, which provided free six-month subscriptions to over 170,000 students and professors in 2020 alone.
We've increased our commitment to 25,000 subscriptions
We're matching the purchases of an additional 15,000 DataCamp learners—individuals like you who want to improve data skills while also helping others get a leg up. That brings our total number of committed subscriptions to 25,000. We're confident we will achieve this goal by the first anniversary of DataCamp Donates in July 2021, if not sooner! We will achieve this by strengthening our preexisting partnerships and forging new ones in other parts of the world. Wherever there's a need for free data science, analysis, and data engineering education, that's where we want to be.
DataCamp Donates is now available to more types of qualified organizations
Since everyone stands to benefit from becoming data fluent, we're expanding the scope of eligible partners for DataCamp Donates. DataCamp will now donate subscriptions to registered scientific research nonprofits, since research scientists are solving the great problems of our time, like climate change and COVID-19.
We are also seeking to partner with governmental social welfare agencies to support their unemployed citizens in great numbers. We hope to empower these communities with the best knowledge and tools to collect, visualize, and analyze their data for the benefit of their local communities and the world at large.
We've long supported university education with free access to DataCamp for the Classroom. Now, we're expanding access to DataCamp Donates for public secondary schools. Any school administrator, teacher, and their students ages 16-18 are eligible to gain free Premium access. Read on to find out how to apply.
Become a DataCamp Donates Partner
If you are an administrator or teacher at a nonprofit organization or public school, or an official at a governmental social welfare organization, follow these three easy steps to become a DataCamp Donates partner.
First, send an email to

[email protected]

that details your organization's goals and how you intend to use the donated subscriptions. Our team reads every email and responds to the organizations that will help us make a significant impact.
Next, qualified organizations will be invited to complete an official application form.
If chosen, the final step is a meeting conducted on Zoom to finalize the terms of the partnership. We then donate the licenses to our new partner organization within a week.

Partners of DataCamp Donates
DataCamp Donates would not be a success without you: our learners and our partners. Thank you for sending us your insight and encouragement, and for spreading the word about our initiative on your social networks. We could not have been able to donate so many subscriptions without individuals and organizations reaching out to us directly. Stay tuned to this blog for more posts spotlighting partners like Data Science Nigeria and DataU and inspiring success stories like this one.
You can also help us spread the word and find more partners by reaching out to us on social media @DataCamp and use the hashtag #DataCampDonates.
View our full list of partners, including their websites, the reach of DataCamp Donates by country, and an FAQ about the specific terms of the program. A massive thanks to all of our partners for helping us achieve our goal of democratizing data science education.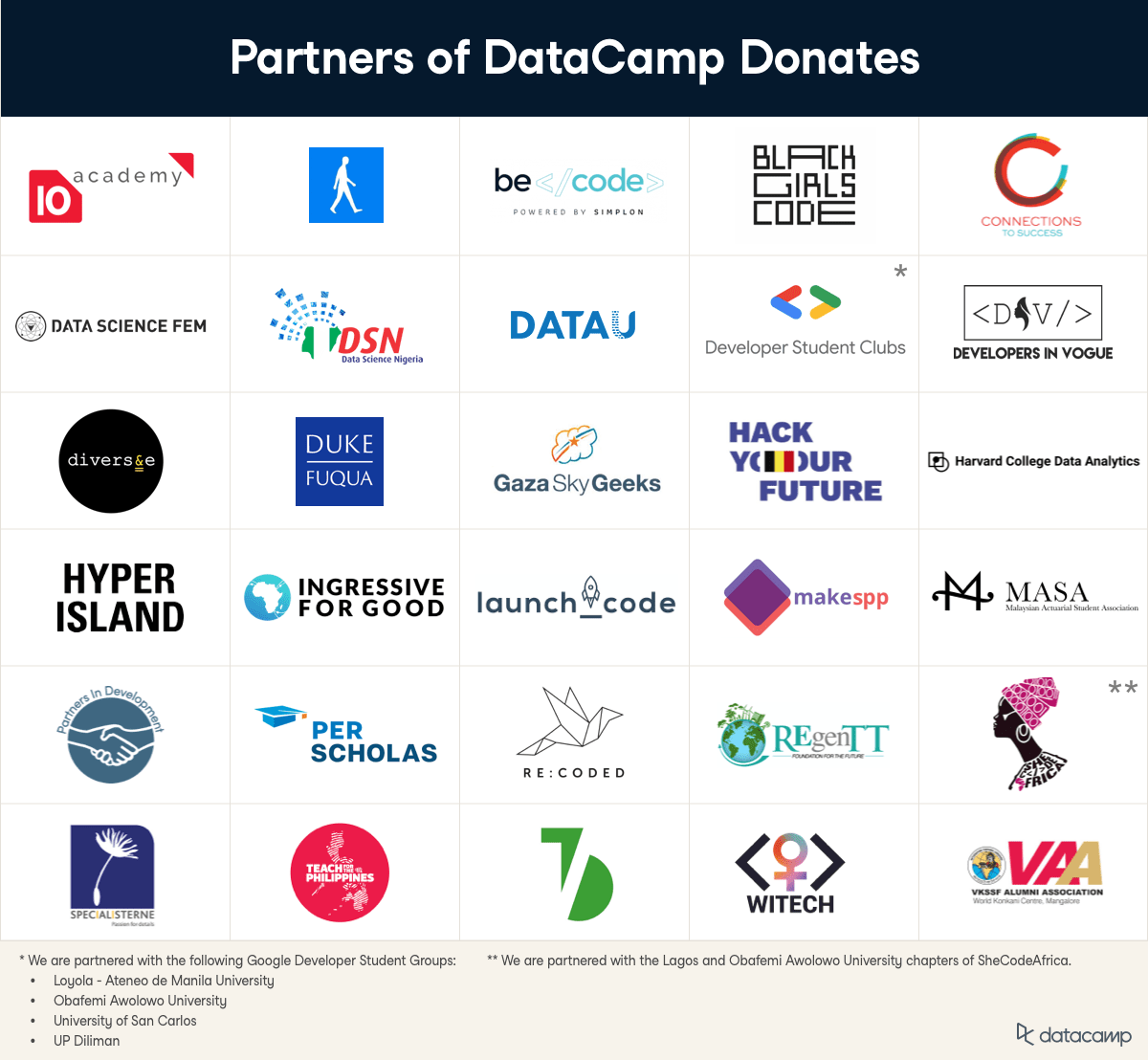 ---
---
← Back to blog