Employee Spotlight: Jeremaia
Jeremaia came to us after a career change, going from marketing and entrepreneurship to webdesign, and now he works with us as a software engineering intern. Read on to find out how one man's knack for learning got him here!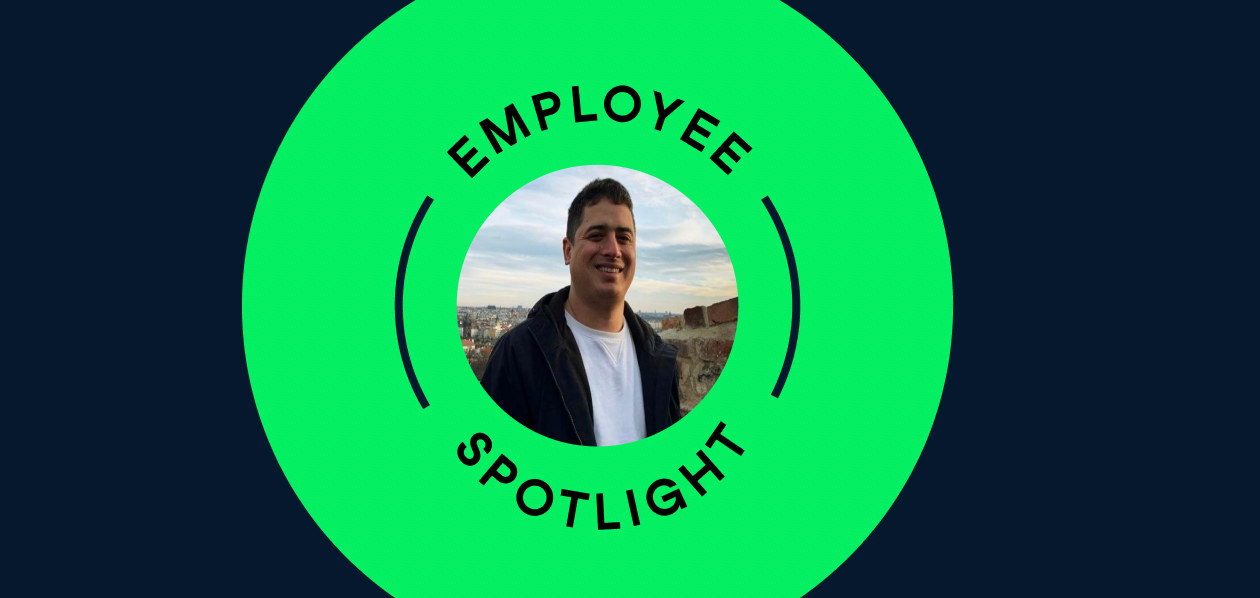 What do you do at DataCamp and what does a typical day look like?
I am a Software Engineering intern for the Enterprise team—that's DataCamp's service designed for managing our B2B customers' employees in all things data science. So, my team's responsibility is to both maintain and expand the Enterprise product.
What led you to your role at DataCamp?
For the 12 years prior to joining DataCamp, I worked in the events industry, in ticket sales and marketing-focused roles, for a variety of different organizations: large scale venues, festivals, and prominent ticketing agencies. In these roles, I would closely monitor marketing activity against ticket sales, including using analytics to see how well ads had performed and to gain insights on our customers. I reapplied that knowledge when I founded a ticketing startup shortly after graduating in 2012.
Was this experience where your interest in engineering began?
That's right, I hired some back-end engineers to develop the platform, taking care of the front-end myself. Through online tutorials and forums, I learned the skills needed to style and design the site's pages and learned a lot about software development and project management along the way. Those learning experiences really stuck with me.
Last year I was running the ticketing department for The Roundhouse in London, when the pandemic struck and I was put on furlough. At this point, I had the breathing space to rethink my career, and I decided to give coding more of a try. In January of this year I enrolled in a full-stack web development bootcamp called Le Wagon where I was able to hone my skills through three months of intensive learning. After this, I went out and looked for employment within web development, and that was when I came across DataCamp.
Was there anything you would do differently?
Ultimately I did make mistakes, and if I was to do it again I would do it completely differently—everything from the project management to the types of languages we were using. All the same, it made for a great learning experience.
Some of the advice I'd give to CEOs and entrepreneurs who encounter knowledge gaps, especially with regards to software engineering, is to hire people who can fill these gaps, form a good relationship with them and trust in what they're doing. If you would like to learn it yourself, reach out and talk to people. People love to talk about themselves and what they do to people with an interest. So, don't be afraid to reach out on LinkedIn, Twitter or go to meetups.
Also: use Ruby to code your website. It's easy enough to learn by yourself, but there are also a sizable number of developers who specialize in it should you require outside help.
You've been interning for a month, what do you think so far?
It has been great, this company has a great culture and my team has been amazing to work with. And my mentor, Francisco, is very supportive, if I have any questions or doubts he'll be in touch to help almost immediately. I spent a couple of weeks in the onboarding process, and although DataCamp has a startup culture it is a fair bit larger than some of the other organizations I've worked in previously, so part of it was just to get familiar with who does what and how different departments work. The other major part was getting to know the different projects I work on and the range of technologies and tools we use.
What do you like doing in your spare time?
Most of my time this past year has been spent studying software development since I'm still learning, and trying to improve my skills. Probably not the most exciting answer admittedly, but it's true. It takes a lot of time and energy to upskill and switch careers especially in technical fields, so a lot of my free time is focused on that. This internship is definitely helping in that regard, and my top goal this summer will be to get as much out of it as possible.
I do spend quite a bit of free time reading science fiction books, right now I'm reading book six of The Expanse, and now that lockdown is easing I'm going to try to get out and see as many people as possible. Of course, I would love to go on holiday at some point but I guess with everything that's going on I'll need to see about that one.
Would you like to join Jeremaia at DataCamp? We're currently hiring in New York; London; Leuven, Belgium; and remote locations. Check out our open roles.
---
---
← Back to blog