Get DataCamp for the Classroom for Free
The new semester is beginning—it's time to sign up your classroom for free access to DataCamp.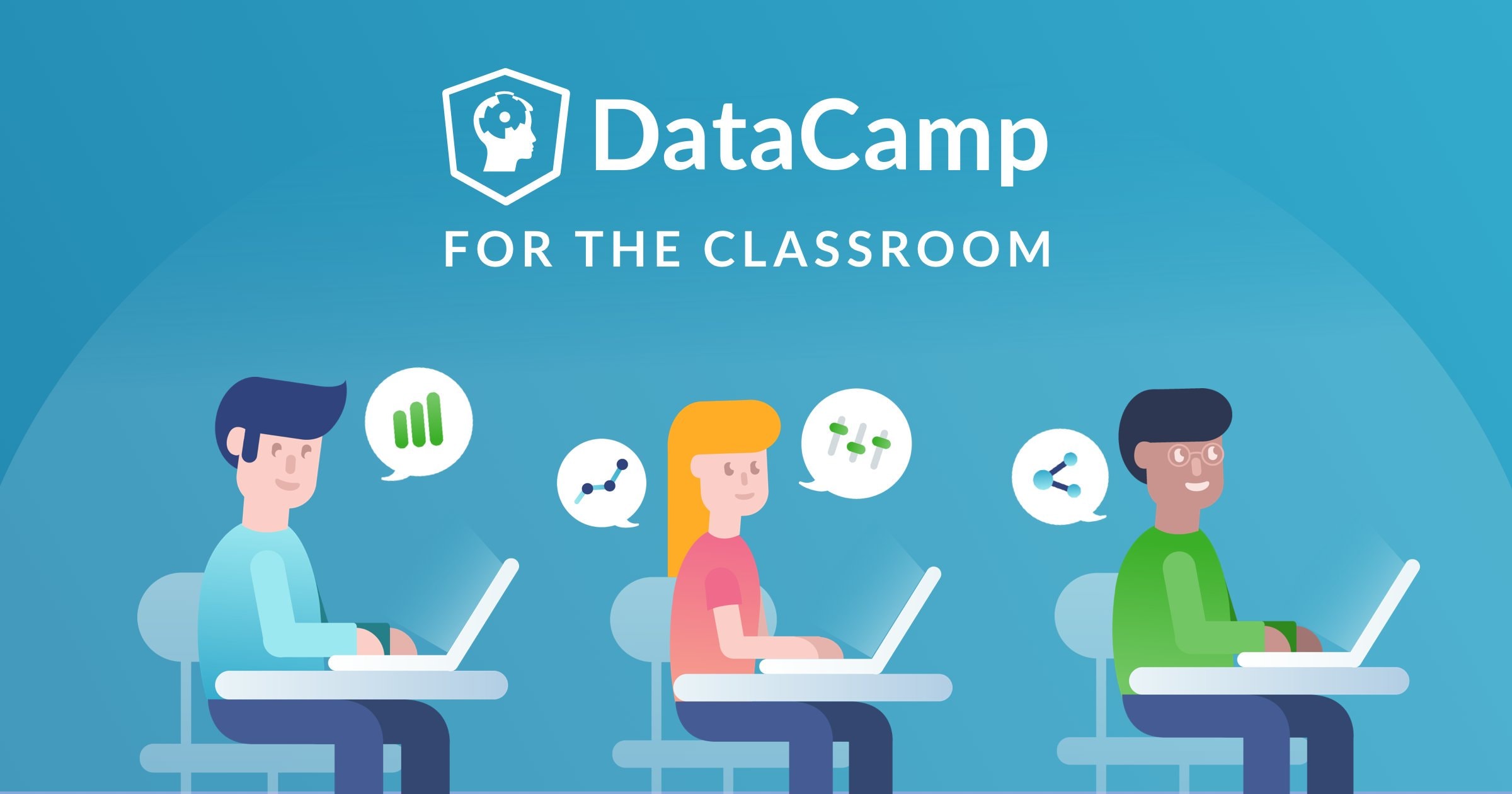 Are you a student looking to learn R? Or are you an educator who teaches Python or SQL? Either way, DataCamp for the Classroom can be of service—and it's 100% free
"DataCamp is the best method to learn coding I've encountered so far."—DataCamp learner
According to LinkedIn's August 2018 Workforce Report, the field of data science and analytics is continuing to grow at an astonishing rate in terms of importance and demand. We believe data fluency is absolutely essential in the 21st century. So we've aligned our mission accordingly: we strive to provide the best platform and curriculum for learning data skills online. In other words, we want to make the process of learning these skills the best possible experience it can be.
Part of building that positive learning experience to encourage data fluency is access. We know that the students of today will become the workers, innovators, and leaders of tomorrow. That's why we've been offering DataCamp for the Classroom for FREE since 2017 and have helped over 176,000 students become more data fluent. DataCamp for the Classroom allows professors, teachers, and TAs to give their students six months of full access to our entire curriculum. All they have to do is fill out a simple application.
Currently, we offer over 275 courses and more than 1,000 hours of learning content. Our courses cover many coding languages, including Python, R, SQL, Git, Shell, and spreadsheets. New courses in data engineering, Scala, and non-coding courses are coming soon.
Sign up your class today!

Let's take a closer look at the benefits of DataCamp for the Classroom for students and instructors.
Benefits for Students
With DataCamp for the Classroom, students can learn from 275+ courses and practice what they learn with our interactive coding challenges. They can even code on the go with the DataCamp mobile app. Also, they'll have full access to our projects, which allow learners to get hands-on experience solving real-world problems and add to their professional portfolio.
"The mix of mobile and desktop courses is perfect to learn Python!"—DataCamp learner
DataCamp's modern learning experience encourages learning by doing through hands-on coding. Our commitment to quality learning means we only partner with the best instructors across academia and industry. Our ever-growing content library ensures a mix of perspectives and expertise to meet a variety of learning needs.
"High-quality teaching."—DataCamp learner
We also make learning fun with features like gamification (where learners gain XP) and leaderboard.
Benefits for Educators
DataCamp for the Classroom supplements course materials by allowing educators to assign related chapter and course assignments. We offer several handy group features:
Progress Tracking: Educators can track each student's progress in detail, including how many XP points they've gained, the number of courses they've completed, and the chapters they've finished.
Assignments & Deadlines: Educators can save time by automatically setting homework assignments and deadlines throughout the semester.
Export Data: Educators can access student data with our export functionality. They can explore in-depth data on students' DataCamp usage, including when they start and complete chapters.
Course Categories: DataCamp has related course materials for almost every subject and skill level. We offer intro and intermediate courses for several languages as well as courses on specific topics such as marketing, finance, HR, biology, and statistics.
Start Learning Data Science and Analytics For Free
Get started with DataCamp for the Classroom and join students and professors from Columbia University, Virginia, Harvard, University College London, UC Berkeley, and many more. If you're a student, tell your professor about this opportunity and ask them to sign up your class. If you're an educator, sign up your class here!