[Infographic] Data & Machine Learning Tools Landscape
2022 has seen the proliferation and evolution of data and AI tools. This infographic will provide an overview of the Data and Machine Learning tools landscape.
Data Science and machine learning have never been more popular. With the growth of the field, comes the maturation of the entire spectrum of tools available for practitioners today.
A notable welcome has been the emergence of a wide variety of new tools, startups, and entire categories aimed at solving specific problems faced by practitioners and organizations. In this infographic, we provide an overview of the tools landscape in data science and machine learning in 2022.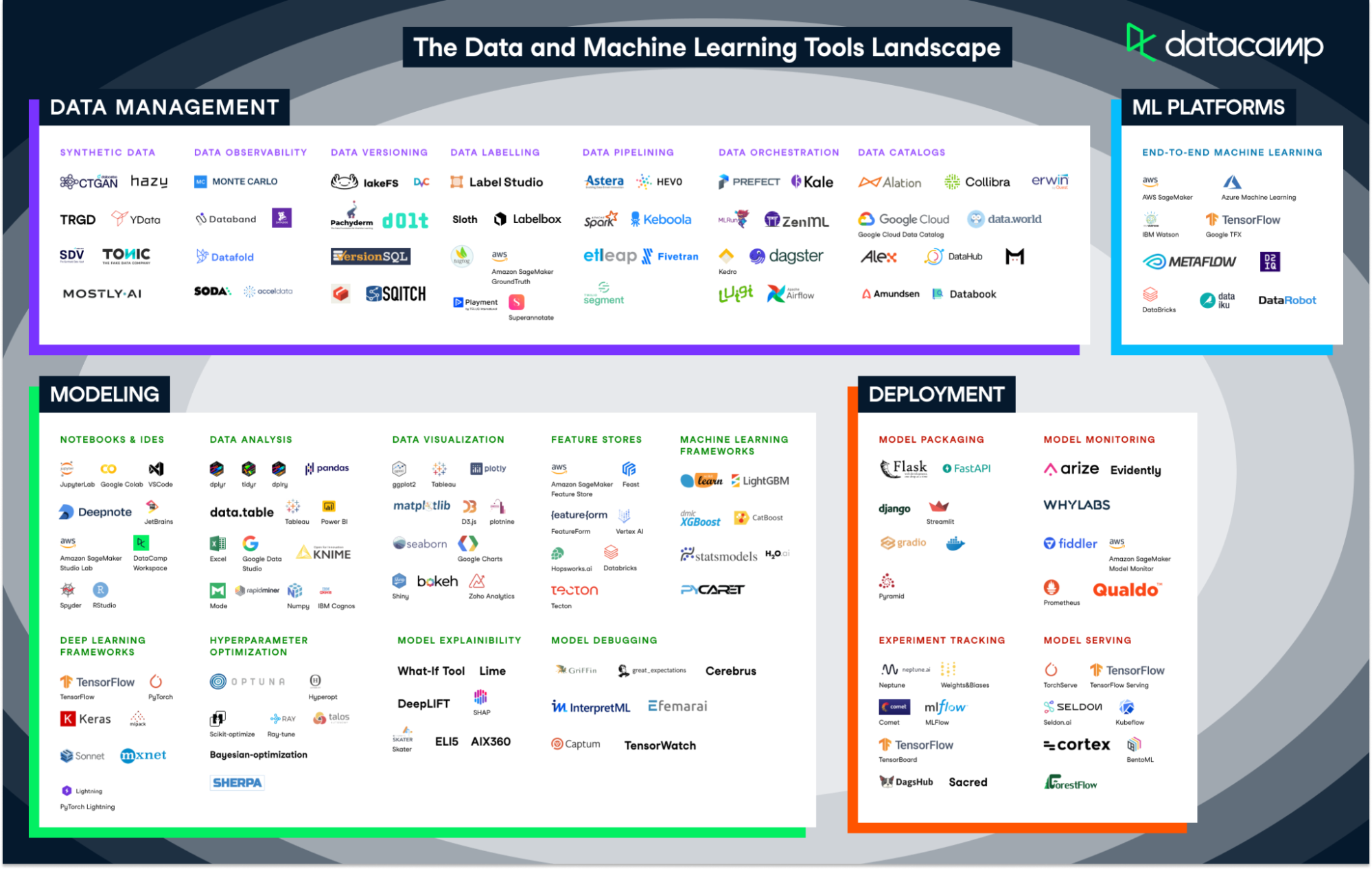 For a downloadable version of this infographic, press on the image above.
Below, you will find a detailed overview of the tools mentioned in the infographic above.
Data Management
A great advancement in the state of tooling over the past few years has been the arrival of many tools that allow practitioners to manage data better for data science and machine learning workflows. These range from synthetic data generation tools that allow for generating data, data observability tools that monitor data pipelines in production, data versioning tools that provide version control over data, data pipelining tools and orchestration tools that let practitioners orchestrate workflows, data catalogs that showcase the organization's data for consumption, and more.
Synthetic Data
Data Observability
Data Versioning
Data Labeling
Data Pipelining
Data Orchestration
Data Catalogs
End-to-End Machine Learning Platforms
Machine learning platforms are inching to become the norm. These platforms provide the ability to do end-to-machine learning from feature processing to deployment, with certain tools providing the ability for automated machine learning and deployment.
Modeling
Within the data science ecosystem, falls a plethora of tools ranging from Notebooks & IDEs, data analysis packages and software, data visualization, feature stores for storing features used in machine learning, deep learning and machine learning libraries, and hyperparameter optimization libraries, model debugging tools, and more.
Notebooks & IDEs
Data Analysis
Data Visualization
Feature Stores
Machine Learning Frameworks
Deep Learning Frameworks
Hyperparameter Optimization
Model Explainability
Model Debugging
Deployment
The past two years have seen the rise of MLOps and the importance of deploying machine learning models in production. This has spurred the development and evolution of tools that allow practitioners to package models into applications, monitor models in production, track experiments at scale, and serve models into production.
Model Packaging
Model Monitoring
Experimenting Tracking
Model Serving
Learn more about data science and machine learning