Brand New: DataCamp for Business Experience
Discover DataCamp for Business and its new dashboard design for organization admins.
We've been hard at work the past few months creating a better experience for our DataCamp for Business customers and we are excited to finally share our new dashboard design for organization admins!
DataCamp for Business is used by managers to improve data literacy in their organizations by upskilling teams in key data science and analytics topics like R programming, Python for Data Science, SQL, Statistics, Machine Learning and more.
Our new dashboard design makes it easier than ever to implement a training initiative based on your organization's specific learning goals.
Here are a couple things we improved in our latest design:
Ability to generate invite links for easy, seamless onboarding
Create teams to segment your organization into different roles, skill levels, and more
Assign content to specific individuals and teams as well as your whole organization
A simple, more intuitive export report format
Not taking courses as an admin? You can give yourself dashboard access only permissions so you don't take up a paid license
Invite links
DataCamp for Business currently supports two ways to invite members to your organization: invite by email and invite by a link.
Invite links are a new onboarding feature that we added in this latest design. You can generate multiple invite links registered to specific email domains of your company or organization. This way, only members with these pre-approved domains can join your organization.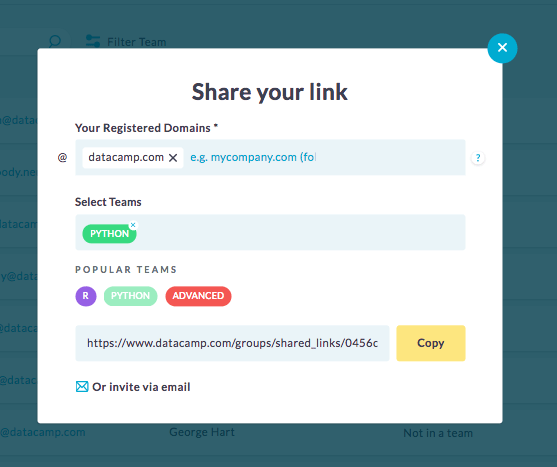 You can share these links on your organization's intranet site, internal discussion forums, and more so that members can join seamlessly. You'll always be able to delete these links from your settings if you're ready to make them inactive.
Create teams
Our new design includes a new way to segment members in your organization by team. You can create multiple teams based on skill level, learning focus, department, geography and more.

Segmenting your members into teams makes it even more simple to set assignments and run reports that are relevant to that specific group of people in your organization.
You'll also easily be able to filter your list of members by team so you can track all of your program's members in one place.
Assign content to individuals, teams and the whole organization
The previous version of DataCamp for Business allowed admins to assign content to the whole organization.
Our new design now allows you to set assignments at an individual, team, or organization level. This gives you more flexibility to create training programs for specific groups in your organization based on their learning goals.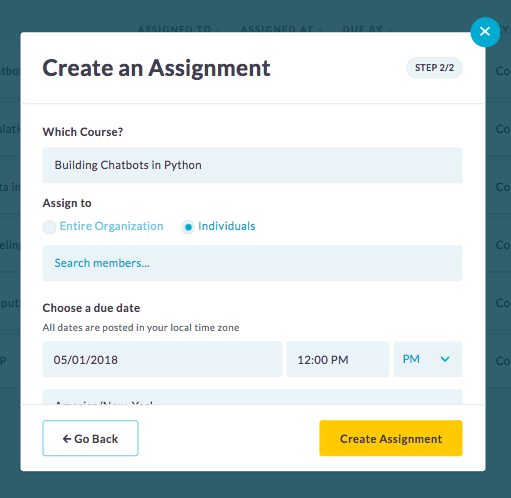 Export data with ease
It's very important that you understand how your teams and organization are engaging with DataCamp. We've added a new export option which gives you key insights into your organization's engagement right away.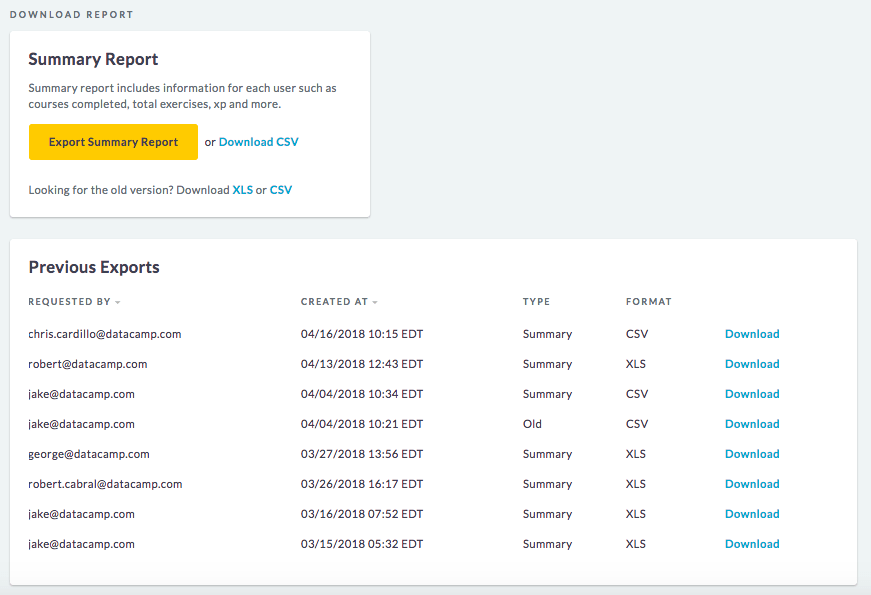 You'll be able to view summary usage data for all the members of your organization across multiple content types including courses, tracks, and practice sessions.
Dashboard-only access
As an admin, you may not want access to DataCamp's premium library yourself. We've created a new "dashboard-only" access permission for admins so that you can manage your organization's training worrying about occupying a paid license.
This way you'll always be sure to maximize the value of the platform and make sure licenses are saved for those who are taking courses.

What's next
We're not done! We have many new and exciting features on our roadmap that will continue to improve the DataCamp for Business experience for admins and their teams.
Have something you would like to see? Don't hesitate to reach out and let us know.
If you aren't already a customer but would like to learn more, you can schedule a demo here.
For existing customers, if you have any questions, be sure to check out our DataCamp for Business administrator overview, contact your Customer Success Manager or the Support team here.