Bridging the Communications Gap with Data Literacy
Marc Wintjen, Bloomberg's Risk Analytics Architect and author of Practical Data Analysis using Jupyter Notebooks, will join us this 5th of August to discuss how the key principles to building data literacy in your organization can empower your team to make better and informed decisions.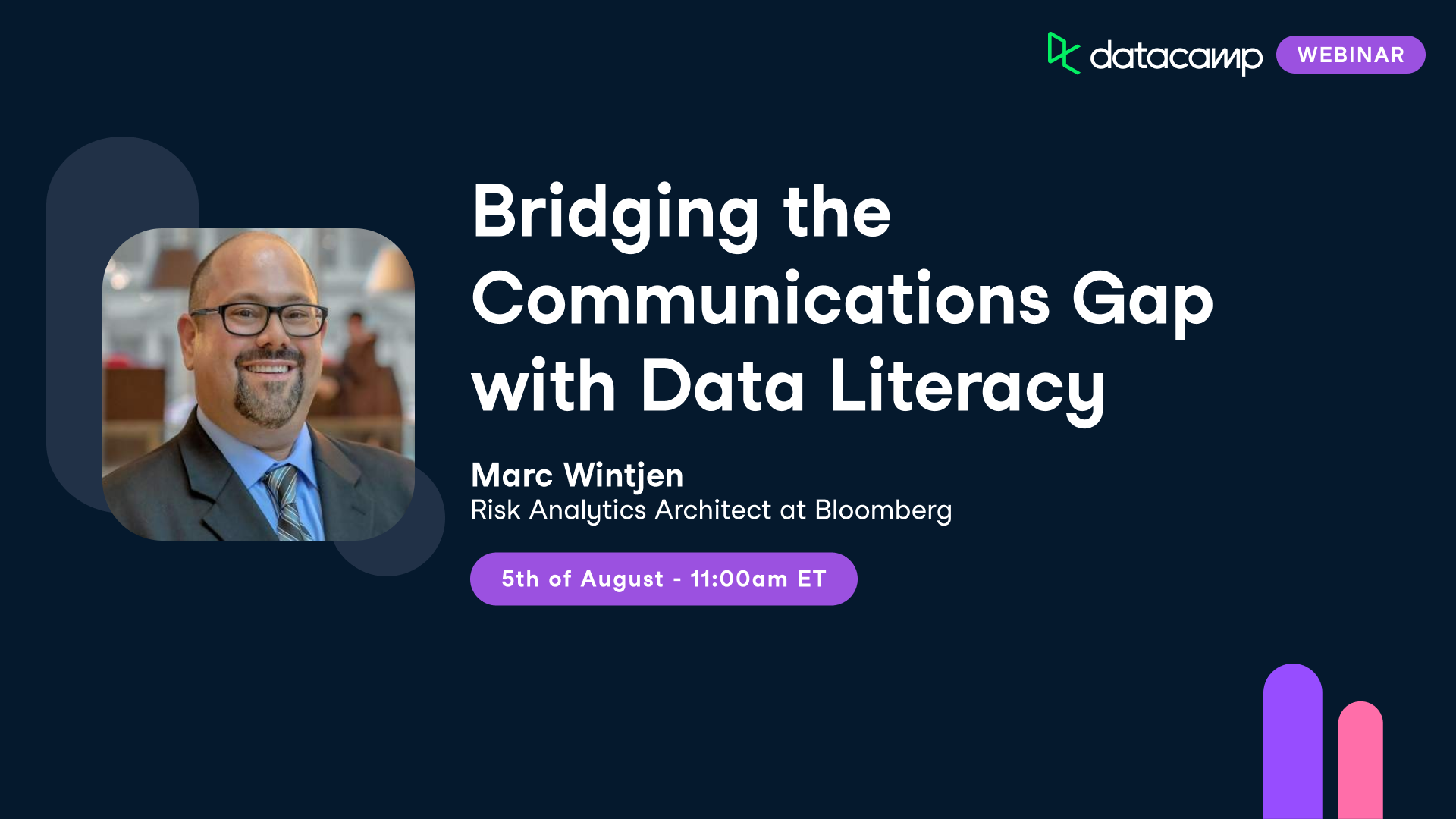 The real business value of data literacy comes from empowering members of an organization to understand and extract insights from data. When data literacy is infused into the company's culture, it can act as a powerful tool to break down analytics siloes and enable scalable data storytelling throughout the organization.
During this webinar, Marc will explore some of the key components of building a data literate organization, and what subject matter experts need to know to start thinking "data literate". Here's a breakdown of what to expect:
Nowadays, companies work with huge amounts of data and analysts can easily lose track of the signal in the noise. Hence, It is vital that you are selective about what to include in your visualization. Data visualization combines skills from art and science to express the right information, while making data insights easily accessible to non-technical team members. To construct clear and efficient data visualization plots, it takes time, patience, and the ability to ask the right questions. Before building your plots, you should always start by asking the right questions about your data, such as: "What is the purpose of this visualization?".
Understand data types and data flows
Knowing what data types you are dealing with is vital in order to select the right visualization method. Having a good understanding about the wide variety of data types can help you perform better exploratory data analysis (EDA) and building adequate data models.
Extracting insights from data
Many organizations generate large amounts of raw data; however, they fail to effectively harness its business applications. Hence, building a culture where most team members are empowered to understand and differentiate data insights is crucial in today's world. Understanding different data types and choosing the appropriate chart or visualization method greatly contributes to convey the message of your data insights. During this webinar Marc Wintjen will share different techniques that will empower your team to extract actionable insights from data.
If you want to stay ahead of the competition, extracting actionable insights from your data is a necessity, not an option. Therefore, building a data literate culture that empowers your team to generate, capture, and analyse data will give your business a great competitive advantage over the rest of the market.
To learn more about how data culture can be adopted within your organization and empower your team to make better data-driven decisions join our webinar with Marc Wintjen, Bloomberg's Risk Analytics Architect.