Data Fluency in 2021
DataCamp is hosting a monthly webinar in series in 2021 focused on scaling data science and building organization-wide data fluency with our IPTOP Framework.
Last August, DataCamp's VP of Product Research, Ramnath Vaidyanathan, hosted a three-part webinar series on scaling data science with our IPTOP framework. The IPTOP framework breaks down every organizational lever to democratize data science and become data fluent organization-wide.
IPTOP stands for Infrastructure, People, Tools, Organization, and Processes. The three-part webinar series goes into great detail on how organizations can scale each of these levers to democratize data science and become data fluent in the process. Here's a breakdown of each of those levers: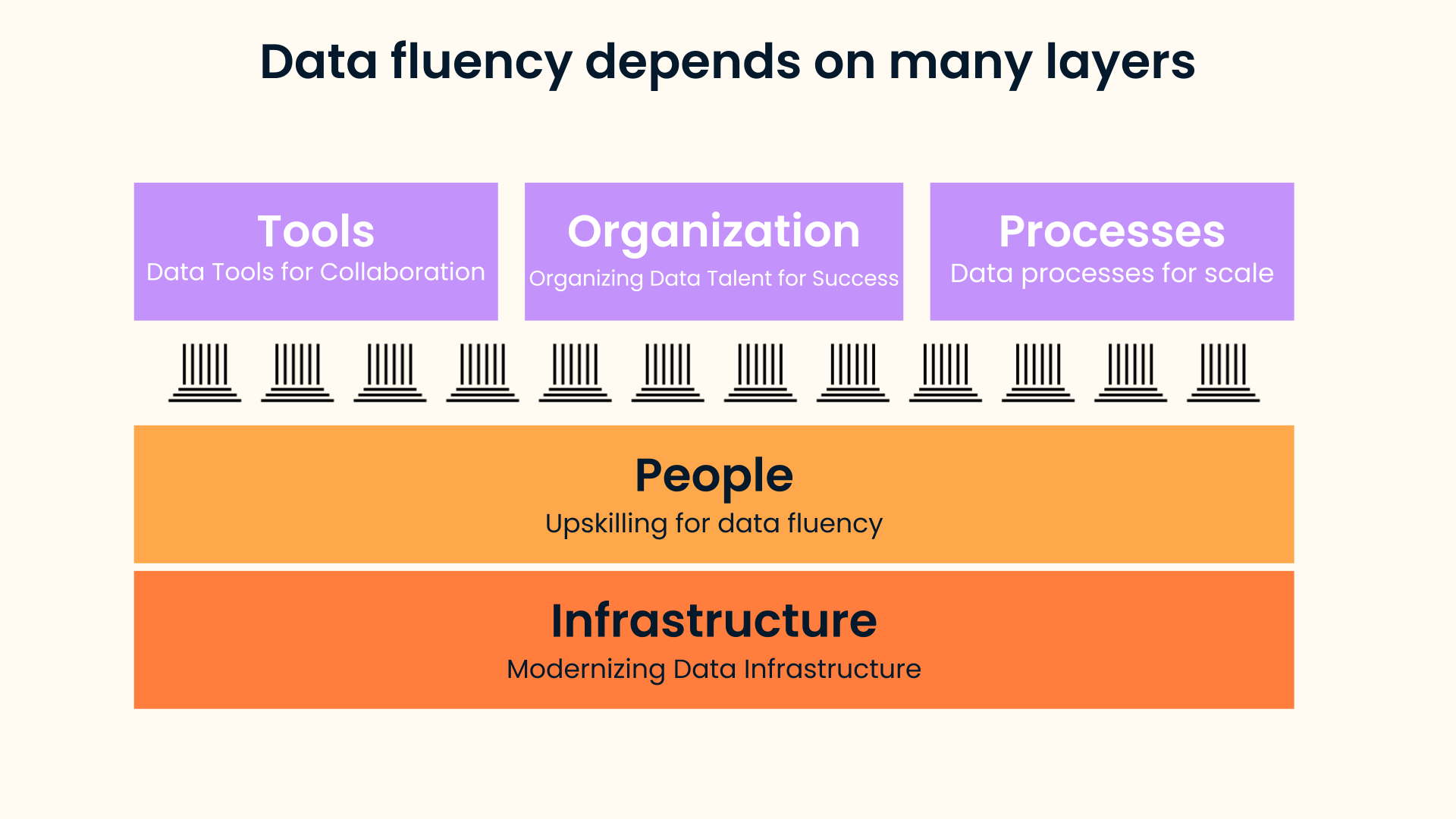 1 - Infrastructure
The goal of any data strategy is to transform raw data into insights and decisions. This requires organizations to collect, record, and store their data safely and efficiently to be accessible by all. As such, this involves understanding best practices and frameworks for enabling data access, ensuring data governance, clarifying data lineage, and more.
2 - People
People are arguably the most critical lever in the framework, as organizations won't make the most of their data if their members don't have the skills to work with data. This is why cultivating the necessary data skills across every persona in an organization is imperative for democratizing data science and becoming data fluent.
3 - Tools
While infrastructure enables organizations to deliver insights from data, tools facilitate and incentivize a common data language across the organization. This is why it's necessary to understand the range of possible tools that can be used for a specific task and invest and build tools that lower the barrier to entry for data science work.
4 - Organization
An essential dimension of scaling data science is how data professionals are organized. Given that reporting structures and agendas drive work in most firms, the organizational structure must set up your company for sustainable success. As such, setting up and organizing data science talent within an organization requires careful consideration.
5 - Processes
Finally, scaling data science requires alignment on conventions, best practices, and processes. Fostering alignment is essential to facilitating collaboration and avoiding a siloed organization. This allows all teams to work together and seamlessly communicate under a common data language.
Last week, we released our data trends and predictions for 2021. Our predictions touch upon every lever in the IPTOP framework, from enabling more robust data access through increased cloud adoption and metadata tools (Infrastructure), a higher commitment to data upskilling (People), more collaborative and robust tooling (Tools), emergent roles for managing machine learning models in operation (Organization), and finally, best practices in data storytelling and visualization (Processes).
This is why we're excited to renew our commitment to bringing the latest and most important insights from data science practitioners and leaders on how to best scale data science and become data fluent.
In 2021, we'll be hosting a series of monthly webinars tackling how different industries can leverage data science, how organizations can govern their data and enable better data access, best practices to upskill people for data science, how to lower the barrier to entry to working with data with modern tooling, how to organize and hire the best data science talent, and how to set up processes to become data-driven, and more.
Keep an eye on our Upcoming Events page to stay in the loop—see you in 2021!